College Sports
From the NFL Draft to preparing for next season, here's the latest with BC football
Jeff Hafley is pleased with the program's development and excited for what's to come.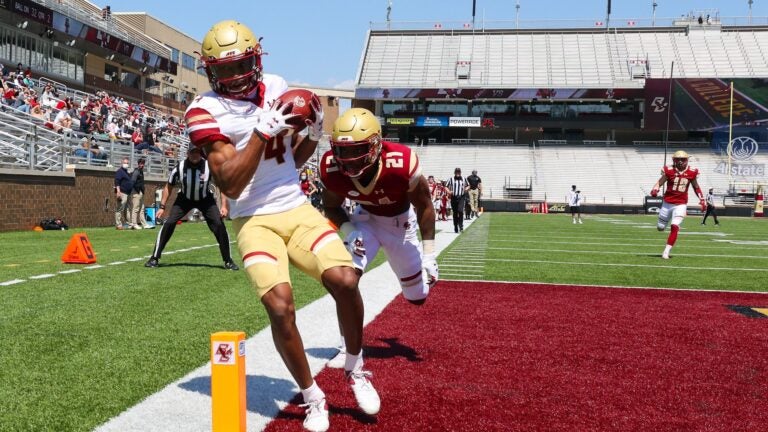 With Boston College football spring practice wrapping up, and a break before summer ball (and eventually training camp) get going, head coach Jeff Hafley took time Thursday afternoon to discuss the state of the Eagles.
Here are some highlights, including his thoughts on the BC players hoping to turn pro, the growth of the team, and what the next few months will look like.
Hafley shared his thoughts on the NFL Draft.
Much like it is for football fans around the world, the NFL Draft is a chance for Hafley to watch the action as it unfolds and analyze the picks from start to finish.
It's also an opportunity for him to support his players, and this year's group of Boston College standouts is a strong one featuring tight end Hunter Long, linebacker Isaiah McDuffie, linebacker Max Richardson, and defensive end Max Roberts.
"I'm excited for them and for this opportunity," Hafley said. "We'll be watching closely. We'll be rooting for them."
Hafley called the 6-foot-5, 254-pound Long – who has a chance to be drafted in one of the first few rounds – a complete tight end who will pick up an NFL offense extremely quickly.
"I think he's going to make a team very, very happy, and I hope he's picked sooner than later," Hafley said. "I think he's going to have a big future in the NFL."
"@HunterLong80 is certainly going to be a guy that can play for a very long time in this league."
—@EJManuel3 🦅@BCFootball x #NFLDraft pic.twitter.com/HNTaIIOaMF

— ACC Network (@accnetwork) April 23, 2021
Tight ends coach Steve Shimko said Long prepares like a pro, practices like a pro, and performs like a pro, and he never hesitates on the field because he always knows what to expect due to his sterling preparation.
"He's relentless in the path to perfection," Shimko said. "He wants to be perfect in everything he does. He wants to be the most dominant blocker out there, he wants to catch the most passes, and he doesn't think anyone can cover him."
Hafley said McDuffie – who could be drafted in one of the late rounds – is fast, physical, and relentless, noting that he believes his best football is ahead of him. Richardson is "going to make a team very happy," in Hafley's eyes, because of the way he approaches and studies the game.
He said he expects all three to play in the league for a while, and he's looking forward to fielding calls during the Draft to help inform NFL teams as they make their picks.
The offense returns plenty of familiar faces.
Though Long is gone, the Eagles return many key pieces from last year's explosive, new-look offense that finished third in the Atlantic Coast Conference in passing yards per game during Hafley's first year.
Quarterback Phil Jurkovec was one of the ACC's most prolific passers, and he's back for another year with Zay Flowers, Jaelen Gill, Kobay White, CJ Lewis, Jehlani Galloway, Ethon Williams, and Taji Johnson highlighting one of the deepest wide receiving corps in the conference.
Jurkovec hit Flowers for a touchdown in the Spring Game, a sight BC fans are getting awfully accustomed to and should expect again this year. Former BC star and current Green Bay Packers running back AJ Dillon has already started the Flowers for Heisman campaign, but it's clear this offense is more than just Flowers.
Where is @ZayFlowers ?! @BCFootball https://t.co/PChdaM0cgt

— AJ "The Sauce" Dillon (@ajdillon7) April 23, 2021
"Any defense has to focus on Zay, but we have so many weapons," Jurkovec said. "Zay's speed is really going to draw defenses to him, which opens things up for everyone else."
Toe tap @ZayFlowers pic.twitter.com/skHCZgzYLe

— BC Football (@BCFootball) April 24, 2021
One other name to keep an eye on is Joey Luchetti, the former No. 2 tight end in Massachusetts out of Lawrence Academy who has stood out in his return to the field this spring. The Wayland native has emerged as a physical blocker and reliable pass-catcher and should lead the group along with Spencer Witter and Charlie Gordinier.
Hafley said the Eagles missed Luchetti's toughness and leadership, and he said he "popped off the film" in a recent session. Shimko said Luchetti was going to be the second tight end last year before he missed the season due to a shoulder injury.
"He's dominant at the point of attack," Shimko said. "He's strong, he's physical, he does command a serious presence in the room."
Zion Johnson, Christian Mahogany, Alec Lindstrom, Ben Petrula, and Tyler Vrabel form one of the most experienced offensive lines in the country, and Drew Kendall, Jack Conley, Ozzy Trapilo, and Illija Krajnovic all have a chance to contribute. 
Travis Levy and Pat Garwo will likely get the bulk of the carries.
Hafley said the Eagles have been able to implement a lot more schematically than they did last year due to the pandemic and other factors, so it's likely the offense will feature more creativity.
The defense has lots of experience and some new potential standouts.
Losing McDuffie and Richardson – who finished fifth and 11th in the nation, respectively, in tackles last year – won't be easy for the Eagles. 
Both were reliable players and leaders, and there's a clear void that will need to be filled. Fortunately, the Eagles do have plenty of returners from last year's team back for another season.
Marcus Valdez, Brandon Barlow, and Shitta Sillah will be catalysts at defensive end, Bryce Steele, Isaiah Graham-Mobley, and Joe Sparacio will be in the mix at linebacker, and Chibueze Onwuka, Khris Banks, and TJ Rayam are names to know at defensive tackle. Brandon Sebastian, Mike Palmer, CJ Burton, Jason Maitre, Elijah Jones, Josh DeBerry, Deon Jones, Jahmin Muse, and Shawn Asbury II all either have lots of experience or have shown flashes at defensive back. 
These are rough projections as of late April, and Hafley made it clear positional battles are ongoing in several spots. 
Palmer is thrilled to return for another year and help lead what he believes is a talented defense brimming with potential.
"I feel like I'm probably in the best shape I've ever been in," Palmer said. "I'm the heaviest I've ever been, and I feel like I'm the most athletic I've been since I've been at BC. The full offseason has been huge for us."
On special teams, kicker Aaron Boumerhi, holder John Tessitore, punter Grant Carlson, and the returner Levy should all contribute once again.
With adidas in the mix, the Eagles are gearing up for the season.
Fans can expect to see the Eagles sporting new uniforms this fall, as the football program recently entered a three-year partnership with adidas.
Hafley and Director of Athletics Pat Kraft said the move was met with a lot of excitement, and Hafley gave a glimpse into what to expect.
"There's not going to be any wings flying off of our shoulder pads," Hafley said. "Nothing crazy. It'll be clean, it'll be classy, they'll pop. They'll have a little bit of a fresher look, but we're not going to change who we are."
Three Stripe Life 🦅#TeamAdidas pic.twitter.com/j9clVzrr0C

— BC Football (@BCFootball) April 28, 2021
Hafley is looking forward to recruiting this summer and bringing potential targets on campus for essentially the first time since the new staff arrived, and he's eager to use the adidas deal as one of many ways to authentically connect with recruits.
As for the next few months from a team standpoint, before Boston College debuts those uniforms, Hafley said his approach is to continue to preach competition. He said the Eagles are getting closer to where they need to be but aren't there yet, however he made it clear he doesn't want to overwork them this summer.
"I want fresh minds, fresh bodies, excited players, confident players coming into training camp in great shape with great attitudes," Hafley said. "I don't want to wear them out this summer. That's going to be very important to me."
Get Boston.com's browser alerts:
Enable breaking news notifications straight to your internet browser.