College Sports
'A completely different animal.' How Lexington's Sal Frelick blossomed into a BC baseball star with Major League talent
"He's a spark plug out there. He's going to do something great every single game."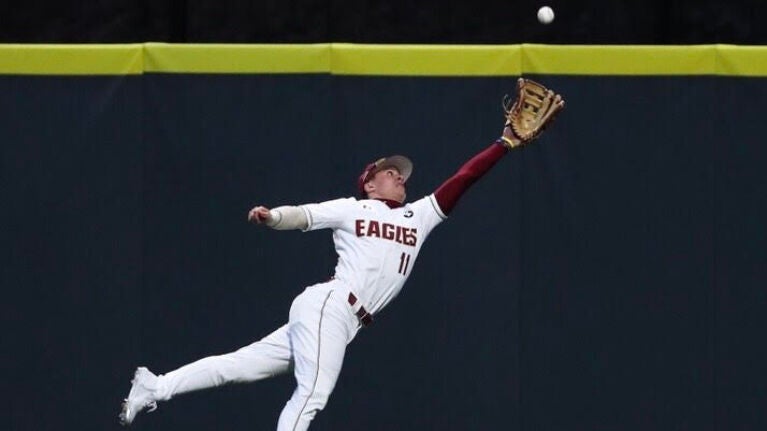 When Sal Frelick received an offer to play football at Boston College, he called BC baseball coach Mike Gambino and told him he was strongly considering pursuing both sports if possible.
Frelick, who had already committed to play baseball for the Eagles, sat down with his parents and coaches to weigh his options. They asked him if he was trying to play as many sports as possible or to make a career out of something, and that got Frelick's mind racing.
"I guess I didn't really realize my full potential in baseball like some people did," Frelick said.
Frelick, a former football, hockey, and baseball star at Lexington High School, re-evaluated his plan with some guidance from Gambino. While it's hard to say what would have happened had he played both sports, it is clear that focusing solely on baseball has been a wise move.
After earning All-ACC second-team honors as a freshman and starting all 15 games as a sophomore, the 5-foot-9, 175-pound infielder/outfielder hit .359 with a .443 on-base percentage this spring as a junior, also becoming the first ACC Defensive Player of the Year in BC history.
Frelick is widely regarded as a first-round pick in the Major League Baseball Draft scheduled for July 11-13. As he's established himself as a versatile and dynamic player, and the best center fielder in the country in his coach's eyes, it seems improbable now that baseball wasn't always his clear-cut No. 1 option.
"I really, really believed in my heart that he would be a really good player for us and a really good draft pick and have a chance to play in the big leagues," Gambino said. "That was my messaging. I told him what I believed."
He excelled in many sports growing up.
As a young kid at Saint Agnes School in Arlington and eventually a standout at Lexington High, Frelick latched onto any sport he could find.
His brother, Nico, who plays baseball at Northeastern, said they used to wrestle in front of the TV at night, and their father, Jeff – who played football at the University of Pittsburgh – would typically let them go at each other.
Whenever people asked Frelick what sport was his favorite, he would simply reply that his favorite was whatever season it was at the time. Though it left many curious for more details, it accurately reflected how he felt.
"Whatever task was put in front of him, he'd chase that goal with unrelenting determination," Nico said.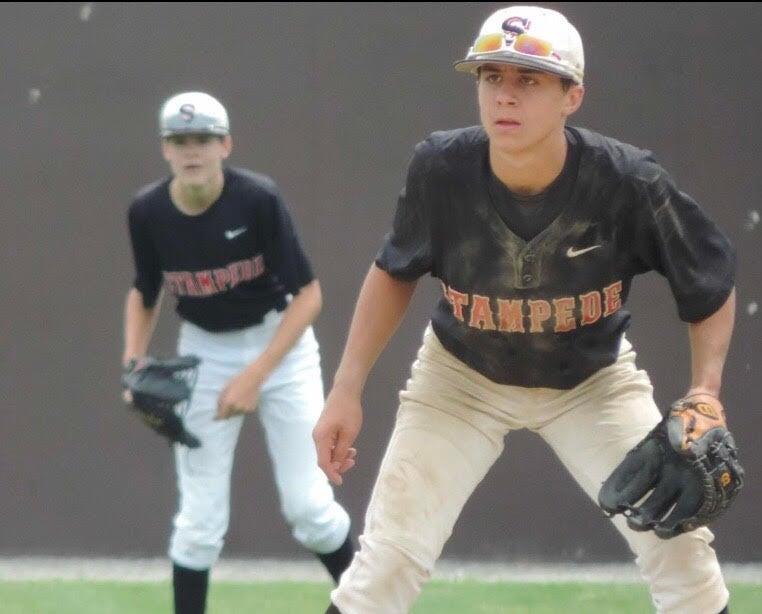 Ever since Frelick's freshman year of high school, Nico has believed that his brother had a legitimate chance to be a first-round pick in the MLB Draft. His parents encouraged him not to tell Frelick, to make sure he kept working, but Nico was convinced.
In his eyes, though Frelick was the Gatorade Player of the Year as a quarterback and a hockey catalyst as well, baseball was always his best sport.
"Every single day, he'd be making SportsCenter Top 10 plays," Nico said. "Things that I've come to see as normal for him but other people think are amazing."
When BC baseball reached out between his freshman and sophomore years, Frelick was too enticed to turn it down. Once he got football offers his junior year, though – including one from the Eagles – he paused and contemplated his future.
Gambino played a major role in helping him carve out his current path. He believed his upside was so high that Frelick would be selling himself short if he continued to bounce around between sports. Gambino is all about athletes showing their versatility in high school, but with Frelick's immense talent in baseball, he knew he had to make his pitch. He told him how he felt, and they got on the same wavelength.
"I really believed the ceiling was so high," Gambino said.
He's become a "completely different animal" in college.
As he transitioned to BC, Frelick missed his freshman fall after tearing his meniscus that summer. Once he recovered, he earned a spot in the starting lineup from day one that spring.
He said playing three sports in high school helped him adjust to college, because he was able to adapt quickly and learn as he went. Frelick typically didn't pick up a bat on a regular basis until February or March in high school, so transitioning to a different sport as the seasons changed was nothing new.
While he wasn't as polished a player then as he is now, he was a raw one with obvious athleticism and natural talent. Getting used to a faster game was difficult in some ways, but he still managed to hit .367 and garner the attention of MLB scouts along the way.

"The big thing for me was, when the lights turned on, to out-compete everybody," Frelick said.
His spring was cut short last season due to the COVID-19 pandemic, so 2021 is the first time he's ever played baseball year-round. He prides himself on finding ways to contribute to winning even when he's not playing his best, and that skill was on full display this season.
Nico said that once his brother committed to BC, he took his preparation to another level and was in the weight room and at the field every day. He barely saw him this past summer during quarantine, but when he did, he would try to call pitches as a catcher that his brother wouldn't be able to hit.
"No matter what I call, he always seems to hit it," Nico said. "I can't get the upper hand against him no matter which way I attack the at-bats. Watching him over the past few years in college, he's become a completely different animal."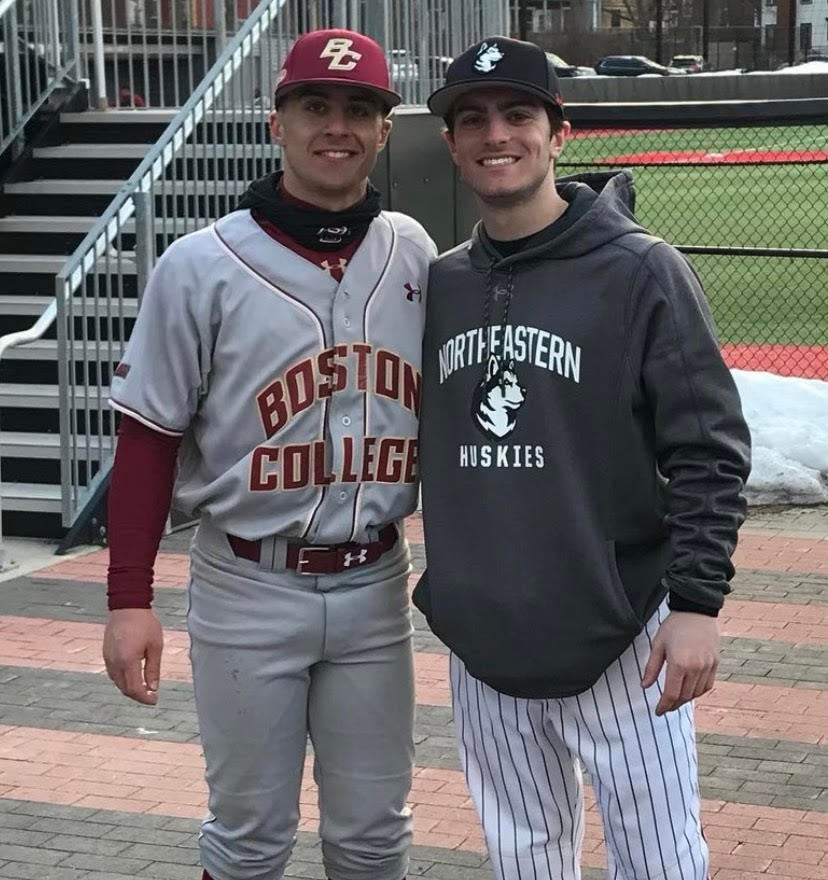 He does it all on the field.
Gambino is confident Frelick has a strong chance to move quickly in pro baseball, and he expects him to be a "really, really exciting player" in the Majors.
Frelick's teammate and roommate Cody Morissette said Frelick has a knack for making the game look easy. He'll never forget the astonishing diving catch he made over the wall at North Carolina that epitomized what Frelick is all about.
"Sal can pretty much do anything on the field," Morissette said. "He's a spark plug out there. He's going to do something great every single game."
As Frelick looks toward the future, he keeps his past and the people that helped guide him to this point in mind. He's still in touch with teachers from elementary and high school and always loves seeing his friends from Lexington whenever he returns home.
Nico fondly recalls how Jeff and their mother, Patty, wore Duke softball gear – to support their daughter, Francesca – to the Baseball Beanpot at Fenway Park to avoid favoritism when their sons went head to head. Frelick's local roots helped him adopt a "hard-nosed" style of play, and he's incredibly grateful for where he came from and the role his family has played.
Just because Nico always expected his brother to be drafted, that doesn't make it any less mindblowing now that it's happening. He reminds him to not get complacent, and that there's always someone out there who wants his spot on a given roster. That humility goes a long way and keeps Frelick hungry as he lives out his childhood dream.
Said Frelick: "It certainly will be an exciting couple months."
Newsletter Signup
Stay up to date on all the latest news from Boston.com