College Sports
3 takeaways as BC football drops third straight, on the road against Louisville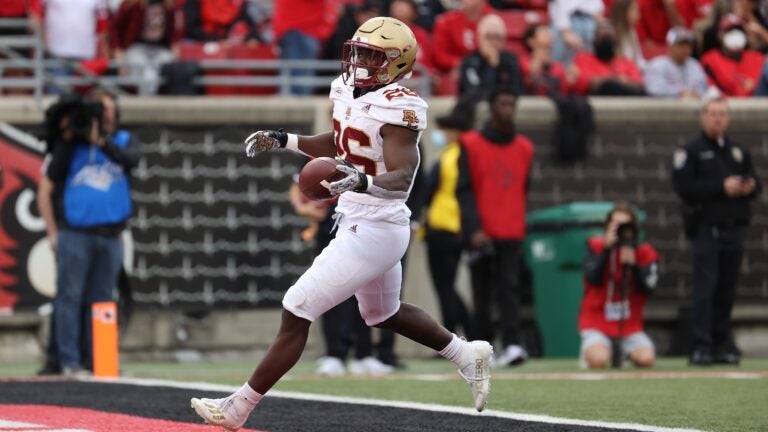 When the Boston College football team opened the season with four straight wins — highlighted by a thrilling overtime triumph over Missouri — there was plenty of optimism and promise despite the loss of starting quarterback Phil Jurkovec in Week 2.
Now, nearly a month later, the Eagles are still searching for that elusive fifth win. After dropping a heartbreaker to Clemson and unraveling against North Carolina State, the Eagles traveled to Louisville in need of a major boost.
Instead, they were dealt another discouraging defeat, as the Cardinals earned a 28-14 win and kept the Eagles (4-3, 0-3 Atlantic Coast Conference) on their downward trajectory. There were some bright spots, as BC caused four Louisville turnovers, got production from running backs Alec Sinkfield and Pat Garwo, and nearly staged a comeback over the resilient Cardinals (4-3, 2-2 ACC).
In the end, however, it was another setback for a team searching for its identity.
"I'm proud of the defense," coach Jeff Hafley said. "We kept talking all week about stealing the ball away, but when you steal a possession, it's not just about stealing the possession. You've got to score points."
Here are takeaways from the game:
· As the Eagles have struggled of late, Hafley has insisted that Dennis Grosel will remain the team's starting quarterback. Saturday night, after Grosel finished 17 for 32 for 141 yards with one touchdown and two interceptions, Hafley said they would need to look at the film to decide.
Hafley said the coaching staff has to determine whether it's the offense, the scheme, or simply a lack of execution. He wants to keep studying whether or not the Eagles are giving Grosel a chance to make plays.
"Honestly, I'd be lying to you right now, or making something up, if I said I had an answer," Hafley said. "I just don't want to say something out of frustration, because we're all frustrated, right? At least I am. But I'm not going to put that on Dennis."
Hafley called Louisville's defensive scheme one of the most aggressive he's seen in a long time. With their safeties at linebacker depth, the Cardinals dared Grosel to throw quick deep balls. He overshot Zay Flowers, missed other receivers, and had difficulty making speedy decisions. BC finished 4 of 14 on third down and couldn't stay in a rhythm or sustain drives with regularity.
Grosel said the Eagles never felt as though they were out of the game despite the inconsistency offensively. He was expecting pressure coming in and knew Louisville would be aggressive, and he believes he simply has to play better.
"I'll start with me. I'm the one with the ball every play," Grosel said. "Execution needs to be at a higher level at all times."
· With such short drives, the defense was put in a tricky spot. The Cardinals racked up 331 rushing yards, including 133 and three touchdowns from quarterback Malik Cunningham on 16 carries. Trevion Cooley added 13 carries for 112 yards, Jalen Mitchell chipped in 67 yards and a score, and the Cardinals averaged 7 yards per rush as a team.
BC carried the ball 36 times and threw it 32, while Louisville ran 47 times and passed 17. Hafley acknowledged the defensive line was "a little bit gassed" at points, and he felt as if it was the first time all season that that "normal run game" affected the Eagles so much.
After Sinkfield started the scoring with an 11-yard run seven minutes in, Louisville ripped off 21 unanswered points to take a 21-7 edge into halftime. The BC defense adjusted well in the third quarter, holding Cunningham and Co. scoreless, but the BC offense was equally inefficient as neither side converted.
Hafley consistently stresses how minimizing points is more important than limiting yards, and he was pleased with the way his defense responded following a tough third quarter against N.C. State.
· Kam Arnold recovered a fumble in the first quarter, Brandon Sebastian added a pick in the second before leaving due to a knee injury, and Jaiden Woodbey intercepted a pass in the second, but BC couldn't turn any of those takeaways into points.
When JT Thompson forced a fumble and Woodbey recovered it in the fourth, Grosel hit Jaelen Gill for a 6-yard touchdown with 6:10 remaining to trim the deficit to 21-14. Despite all their shortcomings to that point, the Eagles still had a chance to steal one on the road.
Cunningham quickly responded, though, scurrying in from 14 yards out with 2:53 left and curbing BC's chances of completing a comeback.
"He's a different type of quarterback, different type of specimen. A really good player," linebacker Isaiah Graham-Mobley said. "We did our best to try to shut him down, because their entire offense runs through him."
Get the latest Boston sports news
Receive updates on your favorite Boston teams, straight from our newsroom to your inbox.