College Sports
5 takeaways as BC drops fourth consecutive loss in setback at Syracuse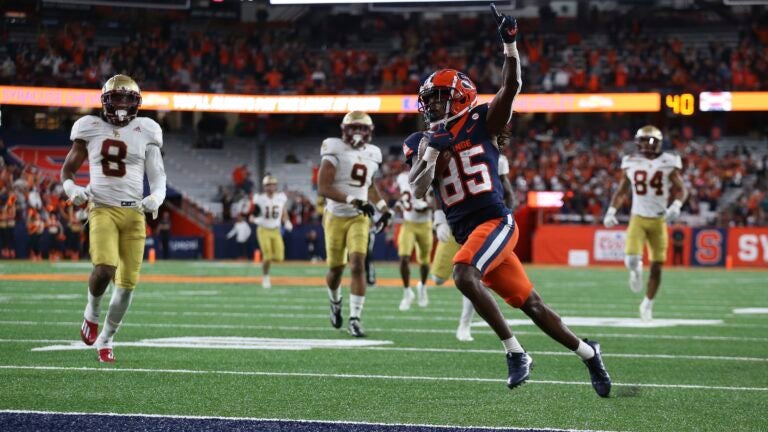 For the third consecutive week, the Boston College football team unraveled and let the damage escalate in one troublesome, game-defining quarter.
The Eagles, who allowed 21 unanswered points in the third quarter in a loss to North Carolina State and 14 unanswered in another setback at Louisville, surrendered 21 unanswered third-quarter points to Syracuse in a 21-6 loss Saturday at the Carrier Dome.
Running back Sean Tucker (26 carries, 207 yards), quarterback Garrett Shrader (65 yards passing, 78 rushing), and punt returner Courtney Jackson all scored for the Orange in a span of less than five minutes, quickly turning a 6-0 Boston College advantage into an insurmountable deficit.
"We missed two tackles that led to 14 points on plays that we were stopping the whole entire first half," BC head coach Jeff Hafley said. "It was nothing new."
The Eagles (4-4, 0-4 Atlantic Coast Conference) dropped their fourth straight and are the only ACC team besides Duke without a conference victory.
▪ What ended up as another disheartening loss for BC began as a dominant defensive showing that kept the Orange (5-4, 2-3) out of sorts. A promising BC opening drive ultimately resulted in a turnover on downs, then Marcus Valdez rocked Shrader to force a fumble on third and goal. Vinny DePalma recovered it, highlighting a scoreless first quarter.
The Eagles held Tucker and Shrader in check early and came up with timely plays to keep the Orange off the scoreboard.
▪ BC's three-star, true freshman quarterback Emmett Morehead replaced veteran Dennis Grosel early in the second, and the Eagles used both options as the game progressed. Hafley said his plan coming in was to turn to Morehead on the third drive regardless of how the game was unfolding.
He said the Eagles have liked what they've seen from Morehead in practice and are encouraged by his potential. Hafley pointed out Morehead — whose senior season of high school was canceled due to the COVID-19 pandemic — hadn't played in a game since his junior year.
Morehead finished 6-of-15 for 87 yards and Grosel was 9-of-17 for 93 yards. Grosel was quick to compliment Morehead, noting he doesn't care who plays going forward as long as the team wins.
"I couldn't imagine doing that as a freshman," Grosel said. "Definitely props to him. He's a baller. He's going to win a lot of games for BC down the road. I have no doubt about that."
▪ Morehead flaunted his potential on a 44-yard completion to Zay Flowers that set up a 31-yard Connor Lytton field goal with 12:26 left in the half. Flowers (five catches, 116 yards) posted his second 100-yard receiving game of the season and the fifth of his career.
Emmett Morehead's first career completion goes to Zay Flowers for 44 yards!🙌 pic.twitter.com/e6zixegHf2

— BC Football (@BCFootball) October 30, 2021
The Eagles took a 3-0 edge into the break, building a slight but significant advantage in a defensive battle. BC held Syracuse to just 12 total yards in the second quarter after the Orange racked up 106 in the first.
Lytton added a 24-yarder early in the third, as the Eagles largely dictated the flow of the game but only had a 6-0 lead to show for it. Despite the absence of defensive back Brandon Sebastian (knee), linebacker Isaiah Graham-Mobley (upper body), tight end Trae Barry (knee), and offensive lineman Tyler Vrabel (upper body, midway through the game), the Eagles fared admirably on the road for two-plus quarters.
▪Momentum shifted Syracuse's way — and it did so in a hurry. Tucker broke free for a 51-yard touchdown run to put the Orange in front, 7-6, with 7:53 left in the quarter. The NCAA's leading rusher eclipsed the 200-mark for the first time in his career.
"He's one of the top backs in the country," DePalma said. "He's fast, explosive, and runs hard."
Most 100 yard games in a single season in program history (8)@seantucker2020 pic.twitter.com/zsYGWVjJRO

— Syracuse Football (@CuseFootball) October 30, 2021
Shrader added a 48-yard TD scamper just over three minutes later, and Jackson returned a punt 67 yards to the house.
BC running back Travis Levy came up short on fourth and goal from the 1 with 4:13 remaining, and the Orange ran out the clock from there.
▪ The Eagles finished the day with a 180-65 edge in passing yards, but they gave up 293 on the ground after allowing 331 to Louisville a week ago. Hafley said he focuses more on explosives and points than total yards, and he was pleased overall with the defense allowing just 14 points despite a few costly miscues.
"We could have been better, and we need to be better, but we should be able to win games with that," Hafley said.
The Eagles return home to host Virginia Tech Friday night at 7:30 at Alumni Stadium. Grosel said the short week of preparation will give the players less time to dwell on the Syracuse loss.
When the season began with four consecutive wins, a four-game skid seemed unimaginable. Now, it's a stark reality for a BC football team at the very bottom of a wide-open conference.
Get the latest Boston sports news
Receive updates on your favorite Boston teams, straight from our newsroom to your inbox.