College Sports
BC to play East Carolina in the Military Bowl Dec. 27; Fenway Park to host Virginia-SMU Dec. 29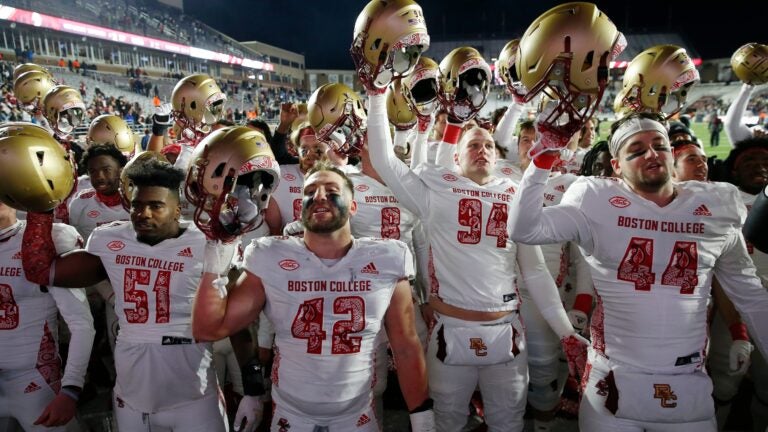 After an unusual, up-and-down regular season — one that featured a four-game winning streak followed by a four-game losing streak, then two wins followed by two losses — the Boston College football team is eager to make a fresh start in the Military Bowl against East Carolina.
The Eagles (6-6, 2-6 Atlantic Coast Conference) are set to face the Pirates (7-5, 5-3 American Athletic Conference) at Navy-Marine Corps Memorial Stadium in Annapolis, Md., on Dec. 27 at 2:30 p.m. The matchup, which is the first between the schools, is slated to air on ESPN.
East Carolina is a formidable opponent, and one that has played a tougher schedule than many might expect. The Pirates nearly upset South Carolina and Houston, crushed Temple like the Eagles did, beat Memphis and Navy, and faced a Cincinnati team that went unbeaten in winning the AAC title and earning a berth in the College Football Playoff.
BC's players view it as an opportunity to finish strong and continue to lay the foundation for years to come. The Eagles know they'll be in for a challenge, yet it's one they feel well-equipped to meet.
"The message is to get healthy, get our minds back, and look at this opportunity as a rebirth into next year and the four years coming," said BC running back Travis Levy, a graduate student. "We all know we didn't want the season to go how it went, but we're looking at this game as a big determination of how we're going to set the tone."
The Eagles are also looking forward to spending time with one another and celebrating the holidays before and after a win. Levy, whose hometown is Olney, Md., is excited to show his teammates his house, where he grew up, and everything the area has to offer.
Levy's uncle, Jon-Basil Black, who recently opened his own catering business, will provide plenty of food. Lobster mac and cheese is his specialty, and Levy is grateful his teammates get to finally see what all the fuss is about and decide for themselves.
He isn't the only Eagle heading home, as the bowl is a homecoming for 13 BC players from the Maryland, Virginia, and Washington, D.C., area. Associate head coach Aazaar Abdul-Rahim — who has helped BC attract many recruits in the area — is a native of Washington, D.C. He coached at nearby Friendship Collegiate Academy, and the consensus is that his ties to the area will come in handy over the next several weeks.
While head coach Jeff Hafley wants his players to explore the area and soak in the sights, the Eagles — who are 14-13 in bowl games all-time — are certainly hoping this experience ends differently than others in recent memory. BC's last bowl win came in 2016, when it beat Maryland, 36-30, in the Quick Lane Bowl at Ford Field in Detroit.
Since then, the Eagles lost to Iowa in the 2017 Pinstripe Bowl at Yankee Stadium in New York, dealt with a lightning-induced no-contest in the 2018 First Responder Bowl in Dallas, fell to Cincinnati in the 2019 Birmingham Bowl, and elected to skip last year's bowl game.
"It was a hard decision last year, but it was the right thing to do with COVID going on," Hafley said. "This bowl game is a reward for all the hard work they've been through the past two years. We're going to enjoy it."
There was plenty of speculation the Eagles were destined for the inaugural Fenway Bowl. But BC's players said they didn't have a strong preference one way or another. They were only content with getting one more opportunity to play.
Quarterback Phil Jurkovec, whose return from a fractured right hand suffered in Week 2 helped revive BC's bowl hopes, said it will be a "change of scenery" and an opportunity to experience something new as a team. The Eagles know one win won't erase six losses, but they're optimistic they can use this as a springboard to regain momentum.
"We didn't play up to our standard this year, but hopefully this last game we get to finish the season right," Jurkovec said.
. . .
Instead of the Eagles, it will be Virginia (6-6, 4-4 ACC) vs. SMU (8-4, 4-4 AAC) in the Fenway Bowl.
Kickoff is set for Wednesday, Dec. 29, at 11 a.m. at Fenway Park, and the game is scheduled to air on ESPN.
It will be the Cavaliers' first game in Boston since they visited Boston College in 2010.
"Playing at such a historic venue will be a special opportunity for our football program and a great experience for our fans," said Virginia athletics director Carla Williams.
Get the latest Boston sports news
Receive updates on your favorite Boston teams, straight from our newsroom to your inbox.