College Sports
Catching up with first-year Boston College hoops coach Earl Grant about the program's trajectory
"We're not where we want to be, but I think we're forming."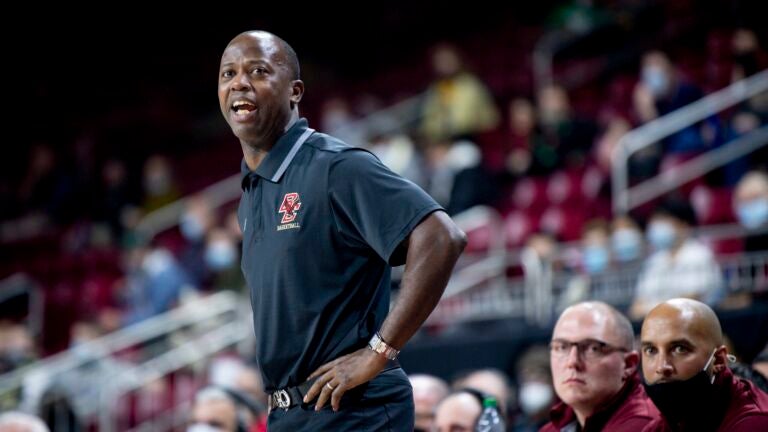 In his first season as Boston College's men's basketball coach, Earl Grant has seen flashes of the program and the culture he hopes to help build.
The Eagles, projected to finish last in the Atlantic Coast Conference, are currently in 11th place as of Friday. They're 7-9 overall and 2-4 in conference, most notably beating Notre Dame at home and erasing a 23-point deficit to stun Clemson on the road.
Grant, however, is more so focused on winning behavior than he is actual wins. He's a firm believer that losing a game doesn't mean a player is a loser. They're a loser in the way they behave.
In a conversation with Boston.com, Grant said he wants his players to be a connected group, speak life into one another, and have good body language. He's confident results come organically when teams practice ideal habits.
"I'm starting to see that a lot more recently," Grant said. "I think we're forming. We're not where we want to be, but I think we're forming. I hope that as we keep forming, we'll be able to have some success and see the fruits of our labor."
In their 70-68 victory over Clemson on Saturday, the Eagles trailed 34-11 in the first half and had a 0.05 percent chance of winning at that point, per ESPN. They kept chipping away, and eventually, Brevin Galloway hit a huge go-ahead 3 to help secure a significant win.
It hasn't all been rosy, though, as the Eagles have dropped two games to Rhode Island and also lost to Saint Louis, Albany, and Pittsburgh, among other teams.
BC, which is set to face Virginia Tech on Saturday, has compiled one of its best recruiting classes ever. The Eagles' hope is that they can lay the foundation this season to pave the way for future success.
Grant said he's enjoyed the team, its evolution, and the growth it's shown, and he believes the Eagles can take another major step in the weeks to come.
"It's such a tough league, where you have to understand that storms are near," Grant said. "You have to find a way to get through them and get to the other side of them. Hopefully, we'll have some more positive moments."
Get the latest Boston sports news
Receive updates on your favorite Boston teams, straight from our newsroom to your inbox.