College Sports
'A little rattlesnake in him': How Worcester's Makai Ashton-Langford has rediscovered his swagger at Boston College
"Makai is a silent assassin. He don't love to do a lot of talking. He's not a rah-rah guy. He's got a little piss and vinegar in him."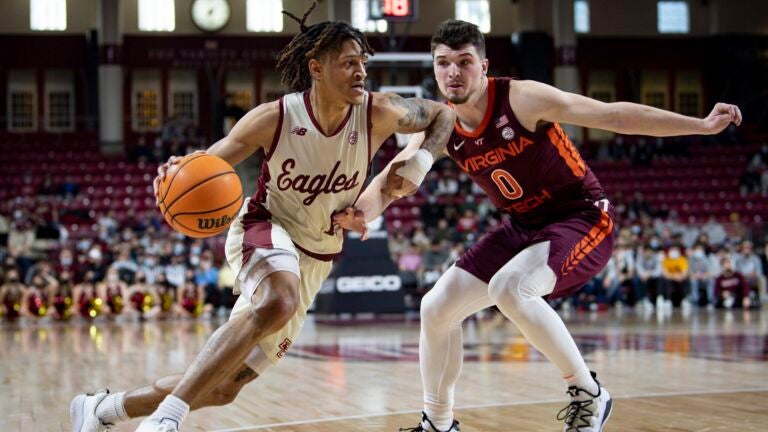 DeMarr Langford Jr. always knew his older brother Makai Ashton-Langford had serious game and was a cut above many others with similar dreams, but Langford Jr. will never forget when it fully sunk in that his role model was going places.
Shortly after Ashton-Langford committed to play basketball at UConn, Langford Jr. recalls looking at his phone and seeing his brother trending on Twitter. Ashton-Langford – a Worcester native listed as ESPN's No. 36 overall recruit in the Class of 2017 at the time – was in line to be the next standout guard at a program that develops some of the best. Langford Jr. was in awe as he reminisced on all the battles they shared in the backyard as kids.
"Oh, he's a big deal," Langford Jr. recalls thinking. "He's going to be one of the greatest, like Derrick Rose, Steph Curry, all those type of guards."
But Ashton-Langford's journey didn't unfold the way Langford Jr. and the rest of the family hoped it might. He decommitted from UConn in 2017 after assistant coach Glen Miller was fired, considered Louisville before Rick Pitino was fired, and ended up committing to Providence as the Friars' highest-rated recruit since 2012.
He averaged just 4.2 points in 13 minutes as a freshman and 3.7 points in 17 minutes as a sophomore, then he decided to explore his options in pursuit of a program that accentuated his style of play. After transferring to Boston College and sitting out the 2019-20 season, Ashton-Langford took the court with Langford Jr. in 2020-21 and averaged 9.6 points and 3.2 assists in 26.4 minutes.
This season, under first-year head coach Earl Grant, the 6-foot-3 energizer Ashton-Langford is glistening amid a career stretch. He's averaging a team-high 12.5 points and 3.4 assists, along with 3.9 rebounds, while playing 34 minutes a game for the 9-11 Eagles – most recently pouring in 21 points in BC's 69-56 win over Pittsburgh on Sunday.
As Boston College – picked to finish last in the Atlantic Coast Conference – has exceeded expectations, Ashton-Langford has been the catalyst those close to him believed he could be. He hasn't quite hit Rose or Curry status yet, but he's back to being Ashton-Langford.
"It's such a breath of fresh air to see him enjoying himself, having fun, and playing freely," said their father, DeMarr Langford Sr. "Just like we always envisioned."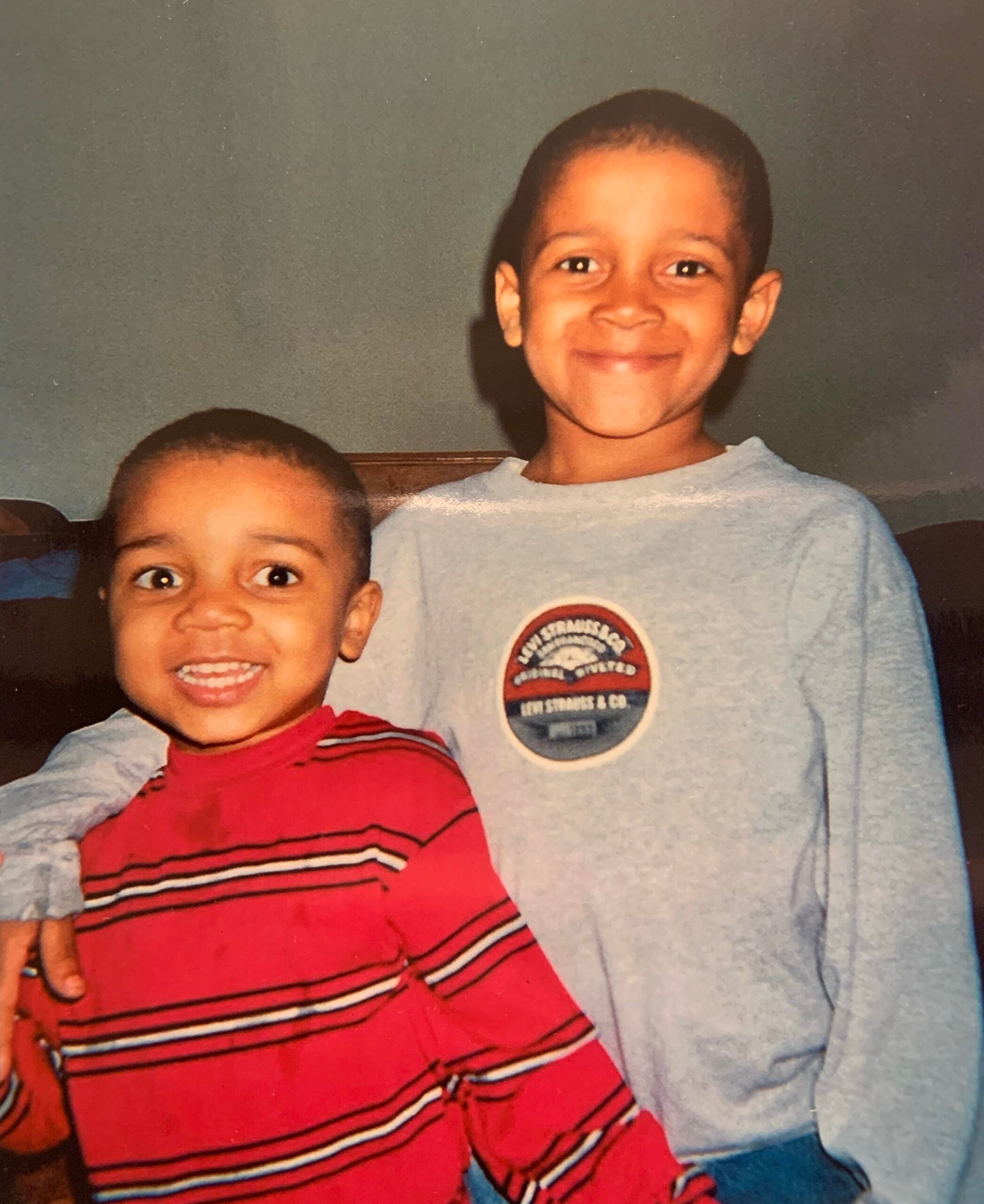 'Man, what a rollercoaster'
Before Ashton-Langford was a top recruit, he was a kid from Worcester who was often a little faster and more shifty than his peers. His first love was football, but he quickly discovered basketball through Langford Sr. and his mother, Sacha Langford, who was a 1,000-point scorer in both high school and college.
Ashton-Langford fondly remembers vicious 2-on-2 wars where he and Sacha would try to take down the DeMarrs.
"There was a lot of blood drawn in those battles," Ashton-Langford said with a chuckle.
He was typically the best player on the floor in town, but when he latched onto the Mass Rivals AAU program, he quickly realized there was a lot more talent out there than he initially thought. Ashton-Langford said the AAU experience humbled him and encouraged him to take high-percentage shots, get his teammates involved, and become a vocal leader.
"I remember specifically him coming back and saying, 'I've got a lot of stuff to work on,'" Langford Sr. recalls. "It opened my eyes, and made me smile actually, because I'm like, 'The kid is getting it.'"
Ashton-Langford helped guide his Cushing Academy team to a AA New England Prep School Championship and his Brewster Academy team to a 33-0 mark and the National Prep Championship, and he had every reason to believe his story would continue to be linear. Instead, it morphed into one Langford Sr. considers "a rollercoaster" with a gratifying ending.
When UConn fired Miller and Louisville fired Pitino, Ashton-Langford figured it was most logical to go with a school in Providence that was initially in his top three. Rather than opening up his recruitment, the family decided to keep it simple and stick with what they knew.
Providence had its perks, but he didn't feel as though his style of play meshed with what the Friars were trying to do. Ashton-Langford wanted to fly down the court, but Providence preferred to run something every time. It felt like the Friars had Bugattis at their disposal but were going 55 on the highway. He made it clear he doesn't blame anyone there, and he believes he could have handled the situation better himself, but he's proud of how he learned from it.
Ashton-Langford said his experience at Providence made him stronger and helped provide a sense of direction. His journey epitomizes that of the modern-day college basketball player and magnifies the fact that it sometimes truly is about fit more so than talent.
"When you're in that position, I feel like you think things are supposed to be given to you when you come to college." Ashton-Langford said. "That's not how it works. I've learned that through the years. You have to earn it."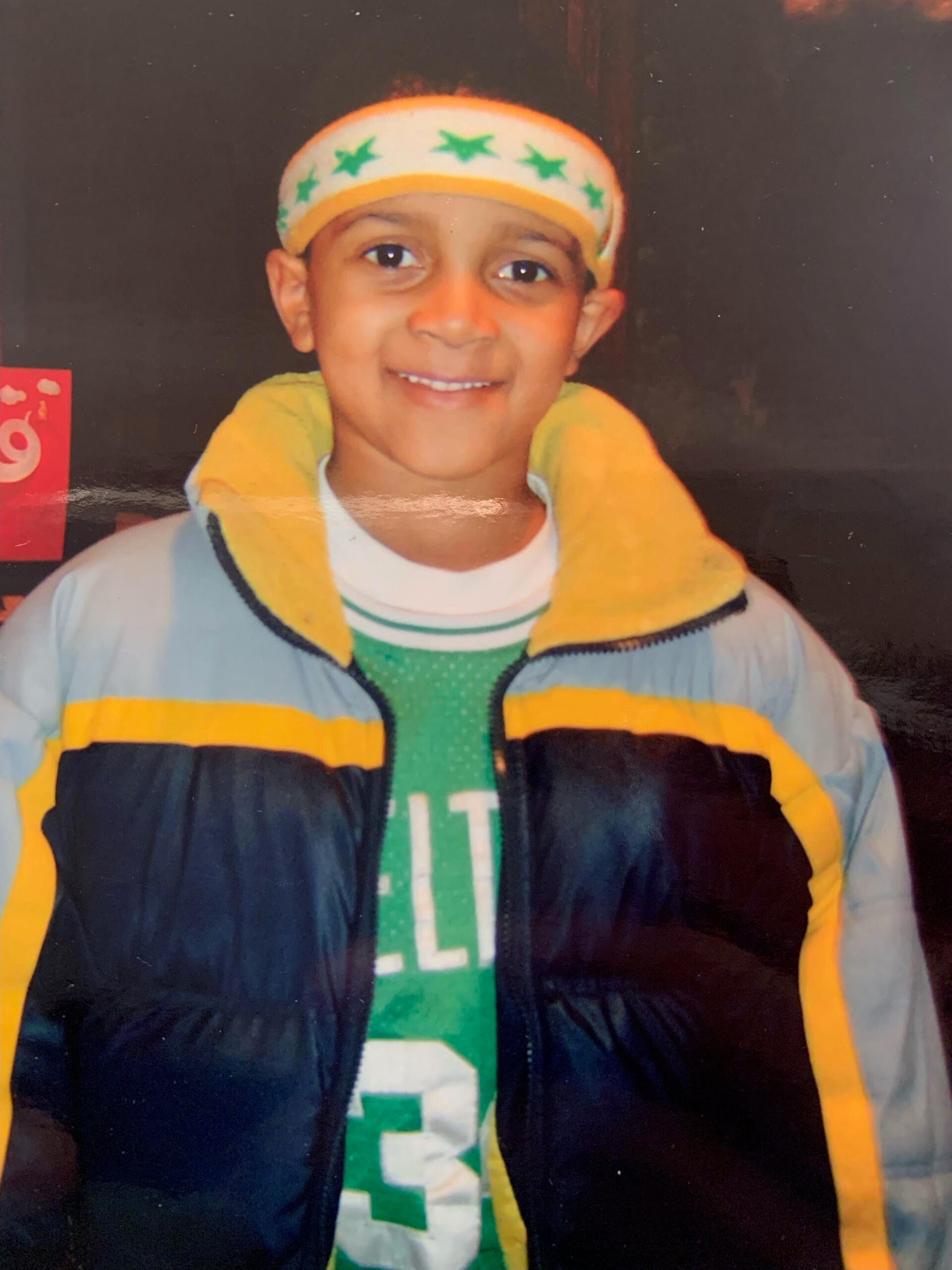 'Silent assassin'
Grant first saw high-schooler Ashton-Langford in a matchup against Zep Jasper on the AAU circuit in Atlanta. Jasper, who went on to play for Grant at College of Charleston, has now started all 21 games for the No. 1 team in the nation in Auburn.
He also watched Ashton-Langford on film and on TV last year and said it's crazy how everything has come "full circle" after he admired his game from afar years ago. Grant, who replaced Jim Christian in March after Christian was fired in February, called Ashton-Langford "my type of guy" – someone who works like a "junkyard dog," takes chances, and plays with an unmistakable swagger.
"Makai is a silent assassin," Grant said. "He don't love to do a lot of talking. He's not a rah-rah guy. He's got a little piss and vinegar in him. He's got a little rattlesnake in him. He'll bite you."
It takes one to know one, as Grant is the kind of coach who consistently inspires his players through a refreshing blend of humility, level-headedness, and seemingly limitless moxie. Ashton-Langford recalls how Grant nudged him and teammate Brevin Galloway out of the way before they got in an Uber so Grant could sit in the back, and how he never lets a manager grab his bag from him so he can put it underneath the bus himself.
Together, they've developed a mutual understanding that Ashton-Langford will always dive on the floor for loose balls and inspire his teammates, and in return, Grant will keep him on the court. It's a perfect pairing between a coach and player, and one Ashton-Langford – who admitted he considered leaving BC after Christian was fired – doesn't take for granted.
He said he bought into Grant's mindset the first day they met and that it's worked out perfectly ever since. Whatever Grant wanted, Ashton-Langford decided, he would do it for him to help actualize the program's blueprint.
"If he believes that you believe in him, which Grant has proven, he will run through a brick wall for you," Langford Sr. said. "That's what's happening right now. He's going all out."
'Old guy on campus'
Ashton-Langford, who earned his undergraduate degree in communications this past summer, gladly accepts his fate as the old man of the group at age 23. He's constantly brainstorming ways to help the team and share his knowledge. Langford Jr. said that sometimes Ashton-Langford will go to Grant with an idea, Grant will let him run with it, and it will unfold organically on the court.
He reminds the younger players that just because they're not playing now, it doesn't mean their number won't be called. It feels natural and sincere coming out of his mouth because he's experienced it first-hand.
"It's crazy looking at it," Ashton-Langord said. "As a freshman, you're joking with the veterans. 'Y'all old, y'all old.' Now I'm the old guy on campus. It's crazy, but I love every second of it."
On top of his leadership role, Ashton-Langford has spent more time at shooting guard this season and has blossomed into the Eagles' go-to scorer. He was instrumental in their 23-point comeback win over Clemson, kept them afloat in a matchup with Louisville, and dropped 18 in a victory over Virginia Tech. Ashton-Langford has been undeterred despite dealing with a lingering hand injury and a recent back and neck injury.
To many outside observers who had brushed him aside, his ascension may be a surprising one. To his family, friends and teammates – who have known he's had this sort of potential all along – it was just a matter of time before he was able to "break out of his shell." Now they're seeing the Ashton-Langford they always knew was there.
Said Langford Jr.: "It's one of the best things I've ever witnessed."
Get the latest Boston sports news
Receive updates on your favorite Boston teams, straight from our newsroom to your inbox.