College Sports
What if Stetson Bennett played for UMass? Star Georgia QB received offer from Minutemen in 2018.
Stetson Bennett capped off his legendary career at Georgia with back-to-back national titles.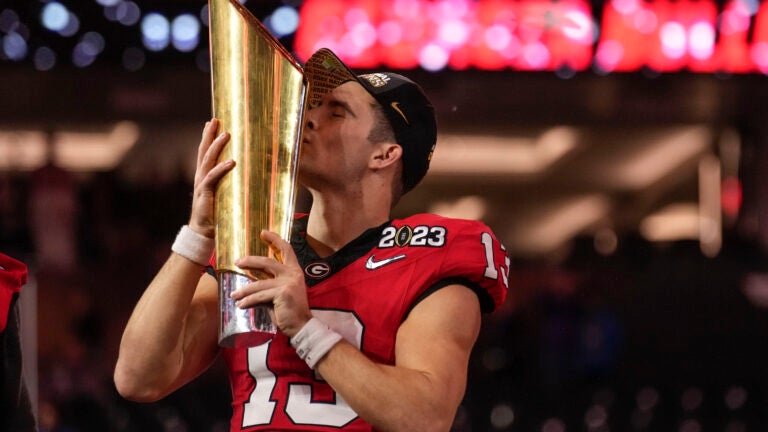 Before he led the Georgia Bulldogs to back-to-back national championships, star quarterback Stetson Bennett came close to conducting the offense for … the UMass Minutemen?
Considering Bennett's career path, it's a "what if" scenario that isn't as crazy as it initially sounds.
If a Hollywood screenwriter was to pen a script about Bennett's road to college football immortality, it likely would have been cast aside as an improbable, clichéd work of fiction.
Before leading Georgia to two titles, Bennett was a true underdog at the Division-I level. Bennett walked on with the Bulldogs in 2017, before transferring to Jones County Junior College in 2018, and eventually returning to Athens to emerge as a star quarterback.
Considering the number of other collegiate programs that Bennett fielded offers from after his lone season of JUCO football, things could have gone very differently before he made the fateful decision to rejoin the Bulldogs.
Shortly after Bennett led the Bulldogs to a dominant 65-7 victory over TCU in the 2023 College Football Playoff National Championship on Monday night, multiple social-media users dug through the QB's old tweets, unearthing a December 2018 post announcing an offer to play for UMass.
According to Mike Traini of 247Sports, Bennett did indeed make an official visit to Amherst in December 2018 after his standout season with Jones County. His JUCO teammate Bryce Wade committed to the Minutemen during that same signing period.
Ultimately, Bennett opted to return to Georgia in 2019 — and the rest is history.
While the Bulldogs have won two championships and posted a combined record of 49-5 since Bennett returned to Athens (including a 29-3 record with Bennett as a starter), the Minutemen are only 3-37 over the last four seasons.
Bennett was brilliant for the Bulldogs on Monday night against the Horned Frogs, accounting for six total touchdowns in Georgia's blowout victory. He will now look to continue his improbable journey up to the pro ranks as the 2023 NFL Draft gets underway in April.
Based on early draft rankings, Bennett is projected as a potential Day 3 option for teams looking for depth at the QB position, with the Georgia signal caller's age (25), smaller frame (5-foot-11), and throwing strength hampering his value as an NFL talent.
A low draft selection doesn't mean that Bennett won't thrive at the NFL level. Brock Purdy — the last pick of the 2022 NFL Draft — succeeded with the 49ers this year. And Tom Brady, of course, was selected with the 199th pick of the 2000 NFL draft by the Patriots.
Newsletter Signup
Stay up to date on all the latest news from Boston.com