College Sports
Mike Krzyzewski stays busy with 'Basketball and Beyond', speeches
Coach K retired last season after 42 years in charge at Duke.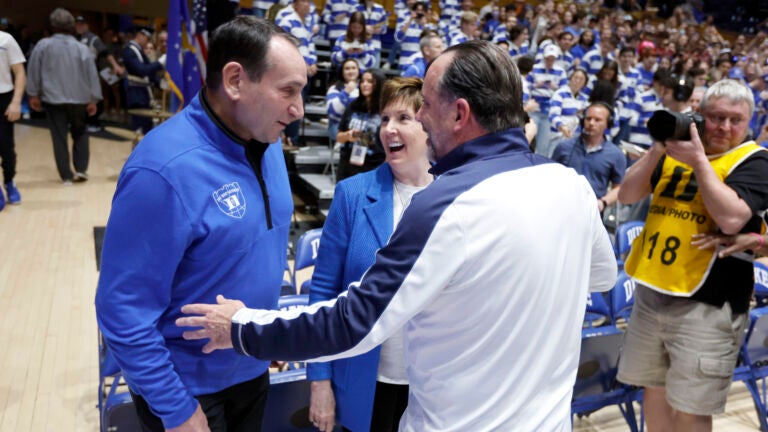 Mike Krzyzewski isn't coaching for the first time in 48 years, but that doesn't mean he has retired.
Despite being away from the sidelines, the Hall of Fame coach has been busy with speeches and his "Basketball and Beyond with Coach K" show on SiriusXM satellite radio.
"It's been good. I don't miss coaching. I coached for almost five decades," Krzyzewski said. "I knew I did not want to coach anymore, but I didn't want to retire. I do a lot of speaking. I'm on the road at least once, sometimes twice a week, to different locations, and I've learned a lot doing that."
Krzyzewski — who won 1,202 games, five national titles and made 13 Final Fours during his career at Army and Duke — watched his first game post-retirement at Cameron Indoor Stadium on Feb. 14, when Notre Dame faced Duke. Mike Brey, a former Krzyzewski assistant, announced it would be his final season as Notre Dame's coach earlier this season.
Even though Coach K isn't at the games, he said he has watched every game this season and talks frequently with his successor, Jon Scheyer.
"I'm here when he needs me. But I also want him to give him the space he needs to develop his own brand within our brand," Krzyzewski said.
The one area where Krzyzewski has been able to devote additional time is to his radio show, which airs weekly during basketball season. This is the 18th year that Krzyzewski has done the show.
"I still prepared (for the show when he was coaching), but I'm preparing better," he said. "I think we're having our best year because I'm able to think deeper into what I want and, what would be interesting to ask. Not only to do it from a coach's perspective, but also from a fan's perspective."
Krzyzewski did the usual format of coach call-in shows early in his career at Duke but decided he didn't want to do that after a couple seasons. It wasn't until SiriusXM approached him in 2005 about doing an interview show that he decided to give it another try. Dave Sims has been Coach K's co-host since the show started.
While coaching, Krzyzewski said doing the show was like a release for him and provided him with some additional material to help coach his players.
"Sometimes in taking notes, if I went to practice after that, I would say, 'Hey, I just had so and so on. This is how they defined courage, or this is an interesting thing about how they got over a loss.' Or sometimes to even get the audio where they got to hear Kevin Durant express himself about different things," Krzyzewski said.
This season's guests have featured plenty of basketball guests, including former Villanova coach Jay Wright, former Duke player and Orlando Magic rookie Paolo Banchero, and WNBA legend Sue Bird.
When it comes to the beyond part, Krzyzewski has had a cross-section of guests that have featured Houston Astros manager Dusty Baker, NASCAR champion Joe Logano and best-selling author James Patterson.
Krzyzewski said the most significant improvement in conducting interviews over the past couple of years has been doing them on Zoom because he felt there is more to get out of a subject by being able to do it face-to-face instead of over the phone.
"Kind of a recurring theme is deep learning about people and how they do their jobs. People can continually learn about different ways of how people better themselves. And I like that, especially when I'm talking to the announcers, the people who have their shows or key members of shows," he said.
Krzyzewski also hasn't been afraid to express his opinion on different subjects. On an episode of his show last year, he addressed a lack of action from legislators for not doing enough to protect people with the rise in mass shootings.
The one thing that continues to please Krzyzewski is how open people are to sharing their experiences.
"It's really like you're eavesdropping in on a conversation, and it is such a neat experience. They'll bring up some of the past and things you forget. It's really such a good thing," he said. "I've always wanted to be really good, but now I put even more time into it."
Sign up for Celtics updates🏀
Get breaking news and analysis delivered to your inbox during basketball season.