College Sports
Antoine Davis falls short in bid to break Pete Maravich's scoring mark
If Davis doesn't play another game, he'll finish his career three points shy of Maravich's record.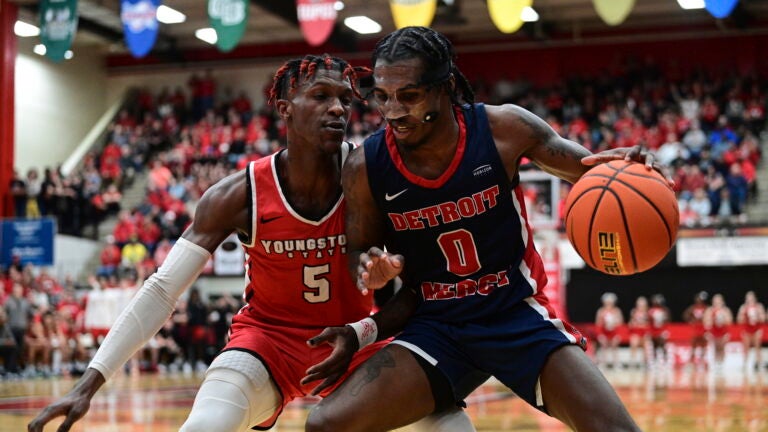 YOUNGSTOWN, Ohio (AP) — Antoine Davis outscored them all – except for "Pistol" Pete.
Detroit Mercy's star guard finished four points shy of surpassing Pete Maravich as the NCAA career scoring leader on Thursday night, scoring 22 in a gritty 71-66 loss to Youngstown State in the Horizon League tournament.
Davis came in needing 26 points to break Maravich's hallowed mark of 3,667 points that stood for over 50 years. But after picking up his fourth foul with 3:36 left, the slender 6-foot-1 guard, who was trapped and double-teamed for much of his 38 minutes by the top-seeded Penguins, couldn't drive as effectively to the basket.
With Maravich's record still within reach, Davis missed four 3-pointers — one of them a wide-open look — in the final two minutes of an intense game.
While disappointed with the loss and falling short of Maravich, Davis felt pride afterward.
"It's really special," he said, leaning against a wall outside Detroit Mercy's locker room. "Maybe in 20 or 25 years somebody is going to be doing the same thing that I did, chase that record, maybe even sooner than that.
"It's just a special feeling. I don't take any of this for granted at all. I'm thankful for this. Blessed. I still feel like I'm the best scorer of my generation. Nobody can take that from me."
After the final buzzer, tempers briefly flared after Youngtown State's Dwyane Cohill, who had guarded Davis for much of the game, appeared to say something to the two-time conference player of the year.
Davis then had to be restrained as debris was thrown at him from the student section inside Beeghly Center.
Unless Detroit Mercy gets an unlikely postseason bid, Davis finishes with 3,664 points in five seasons. Maravich amassed his record in just three years while playing for his dad, Press, and he did it before there was a 3-point line or shot clock.
Davis would welcome another shot at history.
"I would love to play in the CBI, NIT, something," he said. "Not even for the record, just to go out on a better note."
From the outset, it was obvious Youngstown State was determined not to let Davis break the record on its floor. The Penguins ran double teams and trapped Davis, who was held to 15 points earlier this season in a loss to YSU.
"That's the respect I deserve," he said. "I'm the best scorer in the league, so I don't look at it as unfair or anything like that."
Wearing a protective mask to protect a broken nose sustained earlier this season at Cincinnati, Davis started slowly in front of a sellout crowd and missed his first four shots before dropping an off-balance jumper from the top of the key.
Davis finished 7 of 26 from the field, including 4 of 16 on 3-pointers.
Just weeks after LeBron James went past Kareem Abdul-Jabbar as the NBA's career scoring leader, Davis just missed his chance to top Maravich, the Hall of Famer his father had him study while learning to play as a kid.
Davis had already set several NCAA records, including consecutive games in double figures (143) and 3-pointers (584). He leads Division I with 159 3s this season, four from breaking Stephen Curry's record of 162 in a season (2007-08).
Standing next to his son, Detroit Mercy coach Mike Davis recalled the unique journey they took together.
"He worked really hard over the years and he's done some things that should blow people away," the elder Davis said. "People thought there was no way he could get close to Maravich and he got close.
"He could have had it down to 17 in the last game, but he had some shots that he gave up to his teammates. I couldn't be more proud of the player that he is and everything he has added to the program and school. It's been beautiful to see."
Unlike Davis, who was granted a fifth year of eligibility due to the COVID-19 pandemic, Maravich didn't play as a freshman — it wasn't allowed at the time — and there was also no 3-point line or shot clock, placing a premium on every possession.
It's mind-boggling to consider that Maravich, who died in 1988 at age 40 after suffering a heart attack while playing in a pickup game, averaged 44.2 points without taking or making a single 3-pointer.
But it also should be noted that Maravich attempted 3,166 shots while Davis came in with 2,961.
Davis admitted the record was impossible to ignore.
"I knew it was within reach and it was possible to get there," he said. "The double teams kind of threw me off my rhythm. I should have been able to adjust and play my game, but I still feel like we played as hard as we could."
Sign up for Celtics updates🏀
Get breaking news and analysis delivered to your inbox during basketball season.