College Sports
March Madness 2023: Tension climbing for bubble teams
14 teams have already qualified for the NCAA Tournament by winning their conference championships.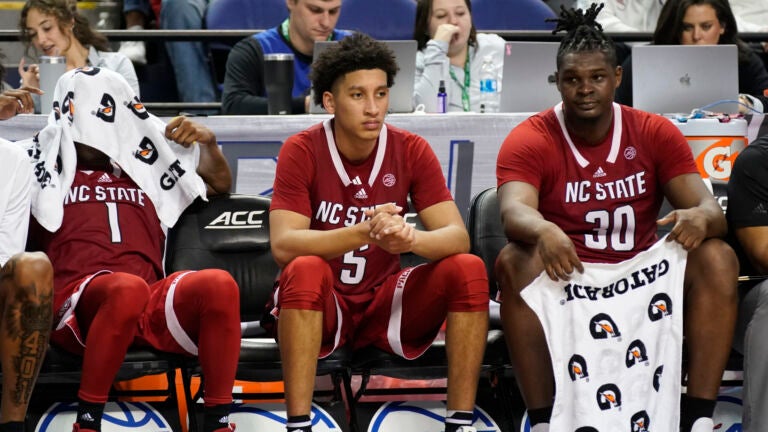 March Madness is coming up fast. Here is what to know along with some key games to watch and who's on the bubble ahead of Selection Sunday for the NCAA Tournament:
Key dates
All eyes will be on the conference tournaments this week:
March Madness
Selection Sunday is March 12, when bracket matchups will be set for the First Four and first- and second-round games that stretch from Florida to California.
Sweet 16 weekend will see games in New York City (East Region), Las Vegas (West), Kansas City, Missouri (Midwest), and Louisville, Kentucky (South).
Where is the Final Four? In Houston, on April 1, with the championship game on April 3.
Basketball aficionados, take note: The women's NCAA Tournament will hold its Final Four in Dallas, a four-hour drive up the road from Houston.
Betting guide
Who's going to win the national championship? With the regular season over, the betting favorites as of this week to reach the Final Four are Houston, Alabama, Kansas and Purdue, according to FanDuel Sportsbook. That matches the top teams in the NCAA's initial seed watch. UCLA is in the mix near the top in the AP Top 25, too.
Who's in
These teams are already going dancing after landing their league's automatic bid: Kennesaw State (26-8, Atlantic Sun), UNC Asheville (27-7, Big South), Fairleigh Dickinson (19-14, Northeast), Drake (27-7, Missouri Valley), Furman (27-7, Southern), Louisiana-Lafayette (26-7, Sun Belt), Southeast Missouri State (19-16, Ohio Valley), Gonzaga (28-5, West Coast), College of Charleston (31-3, Colonial Athletic Association), Oral Roberts (30-4, Summit League), Texas A&M-Corpus Christi (23-10, Southland), Montana State (25-9, Big Sky), Northern Kentucky (22-12, Horizon League) and Colgate (26-8, Patriot League).
Bubble watch
Rutgers (19-13). The Scarlet Knights advanced in the Big Ten Tournament with a 62-50 win over Michigan, another bubble team. Rutgers had dropped five of seven heading into the tournament.
Iowa State (19-12). If the Cyclones still needed a win to crack the NCAA Tournament field, they got a big one, 78-72 over No. 11 Baylor in the Big 12 quarterfinals. It was their third win over Baylor this season and second in five days.
Mississippi State (21-11). The Bulldogs got a much-needed, 69-68 overtime win over Florida to boost their candidacy. Mississippi State has wins over No. 25 Missouri, No. 22 TCU and No. 18 Texas A&M.
Game(s) to watch
No. 1 Houston (29-2) vs. East Carolina (16-16), American Athletic quarterfinals, Friday, 1 p.m. Eastern (ESPN2). League player of the year Marcus Sasser is trying to lead the Cougars to their third straight AAC Tournament title. East Carolina advanced with a 73-58 victory over South Florida.
No. 4 Alabama (26-5) vs. Mississippi State, SEC Tournament quarterfinals, Friday 1 p.m. Eastern (ESPN). The regular-season champion Crimson Tide have endured slow starts lately but are led by league player of the year Brandon Miller.
No. 5 Purdue (26-5) vs. Rutgers, Big Ten quarterfinals, Friday, noon Eastern (Big Ten Network). Led by 7-foot-4 center Zach Edey, a favorite to win national player of the year, the Boilermakers are seeking their second Big Ten Tournament championship after winning in 2009.
Newsletter Signup
Stay up to date on all the latest news from Boston.com