College Sports
UConn March Madness steamroller could be start of a new era
Nobody could really blame fans and pundits for overlooking UConn, just as it might have been hard to blame them for pumping up North Carolina, a national runner-up the year before that was bringing back the core of its roster.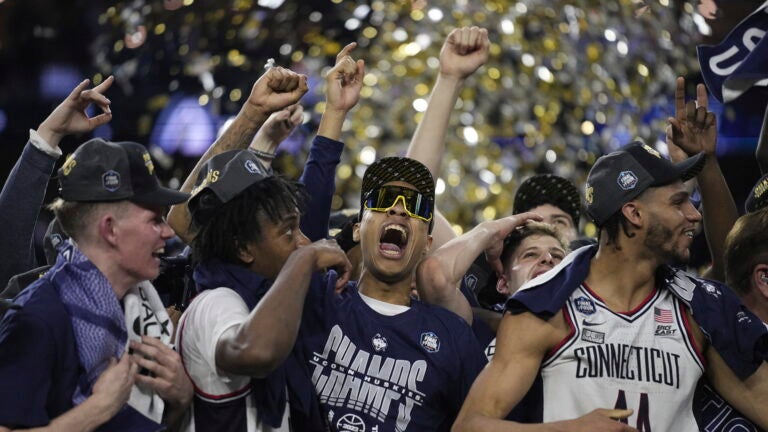 HOUSTON (AP) — There was a short list of believers in the potential of a rebuilt UConn roster before the season started.
It was made up mostly of the UConn players and coaches themselves.
The team that was among "others receiving votes" in the first AP poll of the season ended up cutting down nets after the last game — as sure a sign as any that in the new college landscape reconstituted by the transfer portal and name, image and likeness deals, anything is possible.
For anyone.
The Huskies not only won the title but won it in one of history's most dominating runs through the NCAA Tournament. They won their six games by an average of 20 points, closing it out Monday night with a 76-59 pasting of San Diego State.
"We came into the season unranked," coach Dan Hurley said. "So we had an edge to us to start the year to prove people wrong."
Nobody could really blame fans and pundits for overlooking UConn, just as it might have been hard to blame them for pumping up North Carolina, a national runner-up the year before that was bringing back the core of its roster.
UConn won the title. UNC didn't even make the tournament.
It's a testament to how quickly things can change in an era that looks more like NFL free agency than anything college sports has ever seen.
Hurley said he went back to work the day after the Huskies lost to New Mexico State in the first round last season and started looking at retooling his roster. The goal was to add more options from the perimeter. So, he got four new players, including Joey Calcaterra (two 3s for 6 points in the final), who had spent four years at University of San Diego, and Tristen Newton (19 points, 10 rebounds), who had spent three years at East Carolina.
Big East coaches still picked UConn to finish fourth in the conference. Even if the talent is there, it's hard to gauge how it might all come together.
The UConn story played out in different ways at different places all across the sport this season, and had a lot to do with a Final Four that included three underdog programs, seeded fifth (SDSU), fifth (Miami) and ninth (Florida Atlantic), that had never made it to the final weekend.
The Aztecs had two new players this year joining two others who came to San Diego State the year before.
Elsewhere, Kansas State was picked last in the Big 12 and ended up three points shy of making the Final Four, with the help of Keyontae Johnson, a transfer from Florida who was named a third-team AP All-American.
Creighton made its own run to the Elite Eight with big help from a transfer from South Dakota State, Baylor Scheierman, who was also getting looks from Duke and other bluebloods.
Texas withstood the midseason firing of its coach and made the Elite Eight with two transfer-portal players: Tyrese Hunter from Iowa State and Sir'Jabari Rice from New Mexico State.
Arkansas made its third straight Sweet 16 with a semi-rebuilt roster.
"I promise I wouldn't be sitting here if it wasn't for the transfer portal," Razorbacks coach Eric Musselman said earlier in the tournament. "Really interesting, because eight years ago, when somebody was transferring, the process was a lot different."
Instead of having to sit out a year, players can now go freely from one school to another. Some coaches find it too destabilizing, too transactional.
No longer, however, is it a matter of faith that veteran teams that stick together — say, as recently as Villanova's 2018 team that crushed everyone on the way to the title — have a better chance of winning.
And even though FanDuel Sportsbook is listing UConn (11-1) and Duke (13-1) as the early favorites to win it all next season, there's little reason to put much stock in any "way too early" looks at next year's top teams.
"We don't really know rosters, or how different players are going to fit in," said ESPN analyst Jay Bilas. "Will they blossom, will they not? And preseason polls are done for fan interest and nothing else. You can't really predict anything based on those."
Certainly, nobody was picking Florida Atlantic, Miami or San Diego State to make the Final Four back in October.
And UConn with all those new players to win it all? Nobody saw that coming either.
Well, almost nobody.
"We knew we were the best team in the tournament going in," Hurley said. "We just had to play to our level."
Get the latest Boston sports news
Receive updates on your favorite Boston teams, straight from our newsroom to your inbox.