College Sports
Boston College takes big step backward with embarrassing blowout loss to Louisville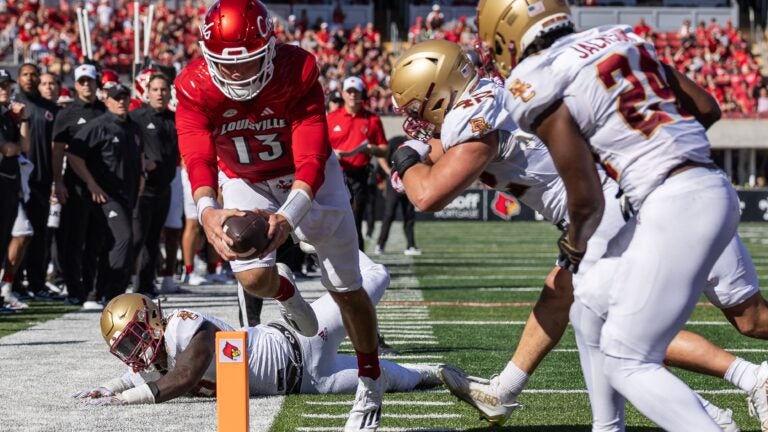 Boston College entered Saturday's matchup with Louisville eager to prove the previous week's near-upset of then-No. 3 Florida State wasn't a fluke.
The Eagles believed that if they minimized their penalties, and channeled the same intensity on display at Alumni Stadium against the Seminoles, they could pull off an upset against the Cardinals in Louisville, Ky.
Instead, BC allowed 42 points and 374 total yards in the first half of an embarrassing 56-28 loss at L&N Federal Credit Union Stadium. The Eagles (1-3) were outmatched in every phase and resembled last year's team while taking a major step backward.
The Cardinals (4-0), who finished with 585 total yards, scored touchdowns on all six of their first-half drives and their first of the second half.
The 56 points represent the most the Eagles have surrendered in coach Jeff Hafley's three-plus seasons, and the most overall since allowing 59 to Clemson in 2019.
"I felt like we were flat," Hafley said. "I felt like we lacked energy. Just very uncharacteristic on defense. I haven't seen us play like that since we've been here. I wish I had an answer. Clearly, I've got to find it, but I do not have a great one right now."
Louisville came out sizzling. Jawhar Jordan (18 carries, 134 yards, 2 touchdowns) found the end zone from 33 yards out and Nate Kurisky snared a 1-yard touchdown pass from Jack Plummer (18 for 21, 388 yards, 5 TDs, 0 INTs; rushing TD) to make it 14-0 through one quarter.
Ahmari Huggins-Bruce (3 catches, 110 yards, 2 TDs) added a 45-yard TD reception and Plummer ran for a 9-yard score to push the margin to 28-0 midway through the second.
Hafley said it looked to him like the Eagles were all waiting for someone else to make a play. After an upbeat and energetic week of practice, he didn't recognize his team Saturday.
"I didn't see that coming at all," Hafley said.
BC finally scored when quarterback Thomas Castellanos (17 for 33, 265 yards, 3 TDs, 0 INTs; rushing TD) scurried in from 39 yards out with 5:38 left in the half.
Jordan answered with a 2-yard TD for Louisville, then Castellanos hit Ryan O'Keefe for a 30-yard score with 33 seconds to play before the break.
"At the end of the day, we came out too flat," O'Keefe said. "We made strides toward the middle and the end, but we need to come out faster so we can keep our foot on the gas."
It appeared the first-half scoring was over after the O'Keefe touchdown, but the Cardinals executed a fake kneel-down play to perfection. Jordan scampered for 42 yards, then Plummer found Jamari Thrash for a 42-yard score with 8 seconds left to extend the advantage to 42-14.
It was a humiliating and fitting end to a catastrophic half for Boston College.
Once Castellanos and his receivers finally found their footing, the deficit was way too steep. An avalanche came the Eagles' way, and there was absolutely nothing they could do to stop it. Louisville averaged 10.4 yards per play, 20.3 yards per completion, and finished 5 of 5 on third down.
The Eagles won last year's meeting with the Cardinals, 34-33, marking a rare highlight during a 3-9 season of lowlights. This meeting was an entirely different story, as a Louisville team that came in averaging 38.6 points exceeded that total in two quarters.
Jordan tacked on a 75-yard TD for good measure on the first play of the second half.
Castellanos found Lewis Bond (4 catches, 74 yards, 2 TDs) for a 22-yard scoring strike to bring the deficit back down to 28 points, and the BC defense finally registered its first stop with 11:05 left in the third.
But the Cardinals weren't done. After an Eagles three-and-out, Plummer found Huggins-Bruce for a 55-yard TD with 10:04 remaining in the third to make it a 56-21 game.
Hafley, regarded as a defensive back guru in the NFL, watched his secondary struggle mightily. He said his players lost one-on-one battles and did some "really uncharacteristic things."
The Eagles, who allowed 174.7 passing yards per game coming in, surrendered more than twice that number to Plummer.
Bond, who was a bright spot once again, added an 11-yard score early in the fourth.
The Eagles, who will welcome 0-4 Virginia to town Saturday for a 2 p.m. kickoff, are in desperate need of a win. Hafley said he isn't concerned about one deflating loss spiraling into many more, like it did last year.
"I don't see that from this team," Hafley said. "Listening to them at halftime, and listening to them at the end there, I don't see that happening. It's my job to make sure that it doesn't.
"We've got to get back to work."
Get the latest Boston sports news
Receive updates on your favorite Boston teams, straight from our newsroom to your inbox.