College Sports
Boston College football is in bounce-back mode after a thrashing at Louisville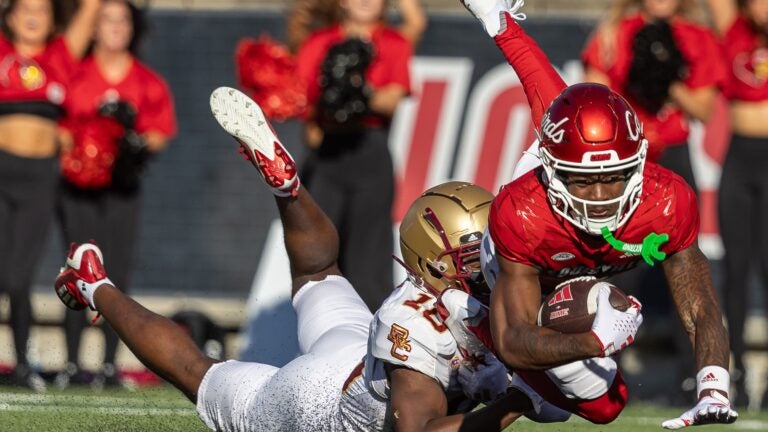 Two days after a lopsided loss at Louisville, Boston College football coach Jeff Hafley had a steady stream of visitors to his office.
Rather than blaming others or venting, Hafley said, his players took ownership and told him they weren't executing well enough. Some praised different position groups and reassured him that they'll do their part to match that level of production.
As much as the Eagles struggled in that 56-28 setback last Saturday, Hafley remains as optimistic as ever.
"I know from the outside in, the whole world is ending. I got it. I get it," Hafley said. "I know there's people frustrated. I'm frustrated. Trust me. They're frustrated, probably more than anybody else. But we're going to do something about it."
Hafley acknowledged that there's no use talking about it. The Eagles have to go out and prove that last week was a fluke — and not the start of the same pattern that unfolded in 2022.
Their next chance comes Saturday as they host Virginia. The Eagles (1-3, 0-2 Atlantic Coast Conference) and Cavaliers (0-4, 0-1 ACC) are at the bottom of the conference, so it's a prime opportunity and a slippery slope at the same time.
"This thing's going to turn," Hafley said. "I am very confident in that."
Wide receiver Dino Tomlin said it was a "long plane ride" coming back from Louisville, but it gave everyone time to reflect on what they can do better.
Defensive back Khari Johnson said the Eagles entered the Louisville game still dwelling on a tight loss to then-No. 3 Florida State. He said they have to put last week behind them and start fresh.
"When we come out and do what we're supposed to do, I feel like all week and all year, nobody's stopped us," quarterback Thomas Castellanos said. "We've just been stopping ourselves."
Castellanos said the offense's goal is to score 30-40 points every game. The Eagles hit that mark against Holy Cross and just missed it against FSU and Louisville.
Last week, the offense fared relatively well after a sluggish start, yet the deficit was simply too steep to overcome.
"It was more of us coming out slow," Castellanos said. "We just have to come out fast."
Despite their struggles early last week, the Eagles are still averaging 401.8 yards per game, up from 310.3 in 2022.
One main reason, along with Castellanos, is the emergence of wide receiver Lewis Bond. Bond, who caught one pass in 2021 and five in 2022, already has 16 receptions for 246 yards and 4 touchdowns.
Hafley said Bond consistently looks like one of the best players on the field. That doesn't surprise the coach because of how hard Bond has worked and how patient he's stayed.
Bond said he learned from older players such as Zay Flowers, who taught him that the work is never truly finished. He and Castellanos have developed a rapport, particularly when plays break down.
"I always tell Tommy, if it's not a good look, if the first read's not there, I'm going to be there," Bond said. "Just find me. Once I catch the ball, I have this thought that I should not get tackled one-on-one by anybody in college football."
On the topic of tackling, priority No. 1 for the BC defense is to minimize explosive plays. The Cardinals had touchdowns of 33, 45, 42, 75, and 55 yards, and quarterback Jack Plummer threw more TD passes than incompletions.
Hafley doesn't see the problem lingering. At the same time, the Eagles are the only team in the ACC without an interception.
Another emphasis is getting pressure on the quarterback and increasing the sack total. BC is last in the ACC with four sacks and last in the nation with 14 sack yards.
Opponents have converted 47.9 percent of the time on third down and 100 percent on fourth down, both last in the ACC. Louisville racked up 582 yards of total offense and made it look rather easy.
"We have to focus on the next game," defensive end Neto Okpala said. "Use that type of hurt to impose our own will on another team. For me personally, it really made me mad, so I want to use that type of anger against Virginia."
…
Defensive back Alex Washington has entered the transfer portal.
Washington, who transferred to BC from Harvard this offseason, made two tackles over three games. He has one year of eligibility remaining.
"I believe this is the best decision for me going forward in order to maximize my college football career," Washington shared Tuesday on X. "Please respect my decision and BC will always have a special place in my heart."
Hafley said the decision came down to playing time.
"We had guys we feel are ahead of him, and that's how we were playing the game," Hafley said. "He wanted to play, so I respect his decision. I hope he finds a place where he can play and has a really good career."