College Sports
Charles Deprima, Cooper Barkate lead Harvard to 38-28 upset win over Holy Cross
Harvard never trailed at any point of Saturday's game.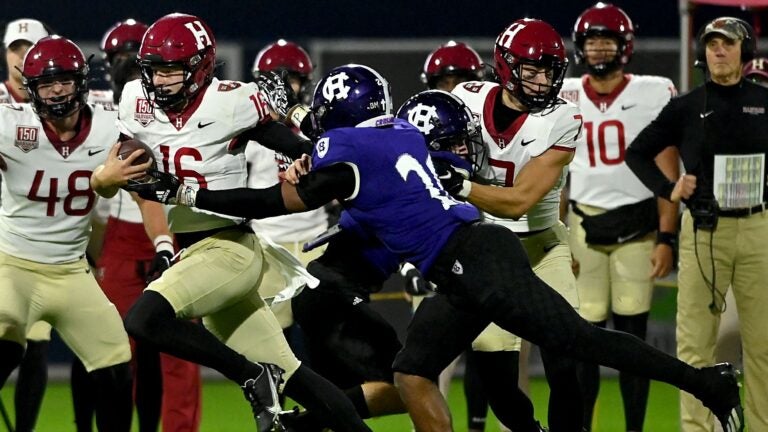 WORCESTER, Mass. (AP) — Charles Deprima threw two touchdown passes, Cooper Barkate scored on a run and a catch and Harvard never trailed in a 38-28 upset victory over Holy Cross on Saturday.
Holy Cross entered play ranked fifth in the FCS coaches poll. Harvard was No. 24.
Harvard (3-0) used an 8-yard touchdown run by Barkate and Deprima's 26-yard scoring strike to Dean Boyd to grab a 14-7 lead after one quarter.
Shane McLaughlin's 3-yard touchdown run pushed the Crimson's lead to 21-7 early in the second quarter. Matthew Sluka's second long scoring strike to Jalen Coker pulled the Crusaders within a touchdown. AJ Lopez intercepted Sluka and returned it 27 yards for a score, but Sluka came right back with a 4-yard touchdown toss to Byron Shipman with 23 seconds remaining and Holy Cross (3-2) trailed 28-21 at halftime.
The Crusaders upped their advantage to 35-21 by the end of the third quarter when Deprima and Barkate connected for a 31-yard touchdown with 3:05 left.
Cali Canaval's 40-yard field goal upped the Crusaders' advantage to 38-21 midway through the final quarter. Sluka had a 3-yard TD toss to Shipman with 3:12 left to play to complete the scoring.
Deprima had 151 yards on 9-of-20 passing for the Crimson. He carried 16 times for 89 yards. McLaughlin totaled 82 yards on 22 rushes. Barkate caught five passes for 73 yards and rushed two times for 14 yards.
Sluka completed 15 of 26 passes for 320 yards and four touchdowns, but he was intercepted three times. He also carried 20 times for 83 yards. Coker finished with seven receptions for 176 yards. His two TD catches covered 74 and 30 yards.
Get the latest Boston sports news
Receive updates on your favorite Boston teams, straight from our newsroom to your inbox.