College Sports
Taking stock of Boston College football at the midpoint of the season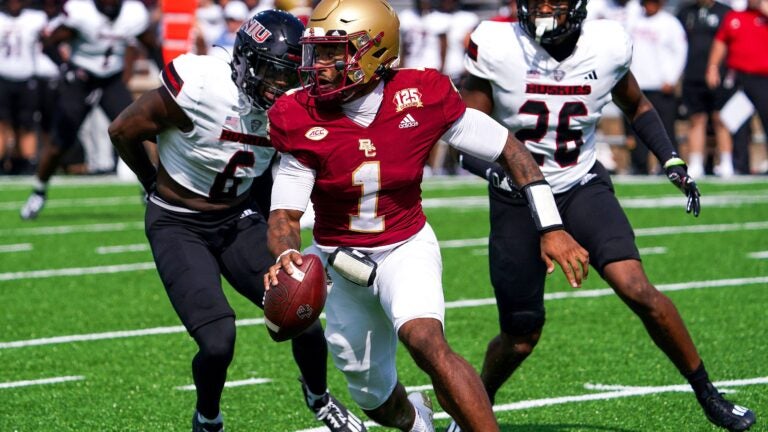 Following an uneven 1-3 start — and staring at a 14-point halftime deficit against Virginia Sept. 30 — the Boston College football team found itself at a pivotal juncture.
If the Eagles had lost to the Cavaliers, it's very possible the season could have spiraled downward and mirrored last year's 3-9 campaign. Instead, they rallied to outlast Virginia, then did the same at Army the following week.
"We know our guys aren't going to quit," coach Jeff Hafley said. "They're not. We've proven it."
Currently in a the bye week, BC is 3-3 and on the cusp of turning this season into a memorable one.
"We're a really good football team," center Drew Kendall said. "I believe that with my whole heart."
Here's a position-by-position breakdown of how the Eagles have fared to this point and what needs to be addressed moving forward.
· Quarterback
In recent years, BC has struggled to defend dual-threat quarterbacks. So what did Hafley do? He recruited a QB who fits that description.
When Thomas Castellanos arrived on campus, he was a relative unknown and regarded as the backup to Emmett Morehead. They split time in the first game, then Castellanos took over and made a name for himself.
He leads the nation among non-running backs with 500 rushing yards. Castellanos plays with heart, doesn't get too high or low, and is the perfect person to lead this team.
"He brings a special kind of energy, a little bit of how Zay [Flowers] was in the locker room," linebacker Vinny DePalma said.
Castellanos has proven he can make plays with his arm, too, and the next step is minimizing turnovers.
· Receivers/tight ends
No one was going to replace Flowers, but the BC wide receivers were eager to prove they could carry on in his absence.
So far, Lewis Bond (24 catches, 356 yards, 5 touchdowns) has established himself as the go-to option.
"Once I catch the ball, I have this thought that I should not get tackled one-on-one by anybody in college football," Bond said.
Time will tell whether Ryan O'Keefe, who suffered a scary neck injury against Virginia, returns this season. Joe Griffin, Jaden Williams, and Dino Tomlin round out the unit.
Tight ends George Takacs and Jeremiah Franklin have excelled as blockers and have a touchdown apiece.
· Running back
The Eagles have an ideal setup at running back. Pat Garwo, Alex Broome, and Kye Robichaux have all missed some time, but they've all shown their value in stretches.
Garwo racked up 111 yards, including a key 50-yard scamper, against Army. Broome uses his low center of gravity to his advantage, and Robichaux is a taller back who has elite vision.
BC racked up 321 rushing yards against Army.
· Offensive line
After injuries ravaged the offensive line last year, the unit has responded this season.
Logan Taylor, Kyle Hergel, Kendall, Christian Mahogany, and Ozzy Trapilo have anchored a much-improved group. BC is third in the Atlantic Coast Conference and 25th in the nation with 195.2 rushing yards per game after finishing last in the country at 63.3 in 2022.
"Last year was really hard for us, obviously," Kendall said, "but I think that's gotten us to where we are now."
· Defensive line
After a poor performance against Louisville (they weren't alone), the defensive line responded against Virginia. The unit was sharp in the first half against Army but struggled late.
It's all about consistency for this group, which clearly has the talent to play with anyone on the schedule. The Eagles had six sacks against the Cavaliers and have four in their other five games combined.
It starts with defensive end Donovan Ezeiruaku, who will be the first to acknowledge that he needs to get to the quarterback more than he has.
"As a D-line, our mentality is playing aggressive and playing violent," defensive tackle George Rooks said. "If we play violent enough, we're going to win the game."
· Linebackers
Kam Arnold, DePalma, and Jaylen Blackwell have helped form one of BC's more consistent defensive groups.
DePalma, a savvy leader who has seen it all in college football, leads the team and is fourth in the ACC with 49 tackles.
The Eagles also have intriguing depth, with redshirt sophomore Owen McGowan and redshirt freshman Sione Hala.
· Secondary
The Eagles have only one interception on the season, tied with Pittsburgh for last in the conference.
Opponents have completed 65.4 percent of their passes, which puts BC second-to-last in the ACC. Teams average 9.3 yards per completion, which slots the Eagles last in the ACC. BC is third-to-last in the nation with a pass efficiency rating of 171.16.
Opponents are 22 for 23, with 20 TDs, in the red zone against BC.
There's plenty of talent in the secondary with Jalen Cheek, Elijah Jones, Cole Batson, John Pupel, Amari Jackson, and more, but the unit needs to find its inner ballhawk in the second half.
· Special teams
Liam Connor bounced back from a missed extra point against Florida State with a clutch field goal against Virginia. He missed an extra point (in the rain) against Army, so now he'll have to respond again against Georgia Tech Oct. 21.
The Eagles have averaged just 14.6 return yards on kickoffs, which is last in the conference.
Get the latest Boston sports news
Receive updates on your favorite Boston teams, straight from our newsroom to your inbox.