College Sports
BC football team used bye week to recalibrate a few things for season's second half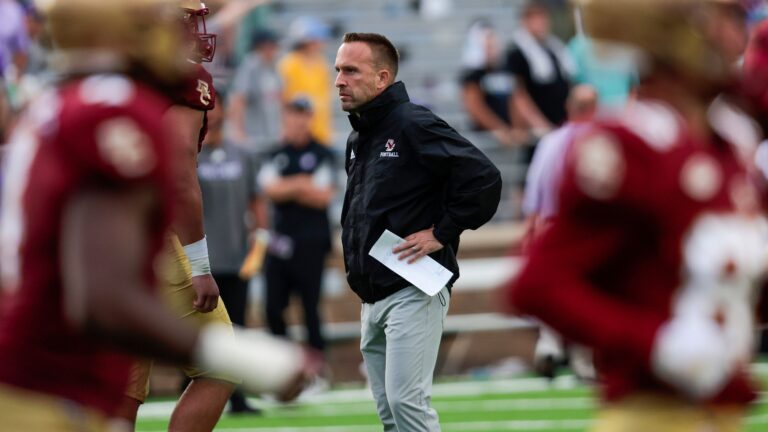 During his team's bye week, Boston College football coach Jeff Hafley and his staff took a thorough look at what's worked well through six games and what needs to change.
The Eagles discarded some concepts, incorporated a few new wrinkles, and catered their schematic principles to their current personnel.
While Hafley knows his team is far from a finished product, he also believes BC has shown marked improvement in recent weeks.
With that in mind, as the Eagles (3-3, 1-2 Atlantic Coast Conference) travel to face Georgia Tech (3-3, 2-1) Saturday, Hafley isn't reinventing the wheel. It's all about striking a balance and finding the sweet spot.
"If you keep adding, you're going to overflow like a cup," Hafley said. "If you want to add stuff, you better dump some out."
Some of the main adjustments stem from the fact that Thomas Castellanos is now definitively the starting quarterback. In the preseason, with both Castellanos and Emmett Morehead in the mix, the Eagles tailored their offense to both QBs.
Now that Castellanos is the guy, the Eagles spent time tinkering the offense to fully incorporate what he does best. Castellanos, one of three QBs in the nation with 1,000 passing yards and 500 rushing yards, has shown versatility and explosiveness.
He threw for 300-plus yards against Florida State, plus three TDs against Louisville. He ran for 142 yards and four scores against Army behind a monster effort from the offensive line, as BC totaled 321 rushing yards.
Standout guard Christian Mahogany said Castellanos's running ability truly makes the game 11-on-11. With teams expecting him to take off, and potentially bringing an extra guy in the box, Hafley hopes the passing attack naturally benefits.
"He gets a lot of credit for the way he runs the ball, which he should," Hafley said. "I think you're going to see him take off throwing the ball in the next six weeks. Once he starts doing that, then you've got to pick your poison."
The next step for Castellanos is to minimize turnovers. He has thrown at least one interception in four of the six games, including three in the last two.
"I feel like our offense can do everything there is," Castellanos said. "I feel like we've just been stopping ourselves with turnovers or whatever it may be."
On the flip side, the Eagles know they need to increase their own interception numbers. They still have a total of one through six games after registering seven in 2022 and 10 the year prior.
Most interceptions come in zone coverage, Hafley said, and sprinkling that into what BC already does could pay dividends. Hafley believes that continuing to let the defensive line play with aggression, and forcing quarterbacks into ill-advised throws will help that number increase.
"We cut the chains loose," linebacker Kam Arnold said. "We're going to help our DBs out and get after them."
One positive is that opposing offenses are 6 of 22 on third down against BC over the last two games. The Eagles also won the possession battle in tight wins over Virginia and Army — another indication that both the defensive and offensive lines are largely winning their battles.
Against a Yellow Jackets offense that averages 30.8 points per game, and features accurate QB Haynes King, the Eagles know they have a tough challenge ahead.
Hafley called King one of the better quarterbacks they've played and said he thrives on short-to-intermediate passes. King, a 6-foot-3-inch, 204-pound redshirt sophomore who transferred from Texas A&M, loves to attack teams on the perimeter. Georgia Tech is fourth in the ACC with 275.2 passing yards per game and second with 16 touchdown passes.
Hafley called the Georgia Tech wide receivers as athletic and fast as any unit they've faced and said the Eagles have to be careful not to "get too cute" after the bye week. The Yellow Jackets are coming off a bye week, too, so each team has to study what's worked but also prepare for the unexpected.
Most important of all for the Eagles is to piece together their first complete game of the season. The loss to Northern Illinois still looms large. BC was fortunate to escape against Holy Cross. Penalties proved costly in a near-upset of Florida State. Louisville was a nightmare.
Against Virginia, a strong second half overshadowed a sluggish start. Against Army, a sluggish second half nearly negated a terrific start.
The Eagles believe that if they put everything together, and sustain it long-term, they have a chance to make the fan base proud.
Said Castellanos, "We can do something special this year."
Get the latest Boston sports news
Receive updates on your favorite Boston teams, straight from our newsroom to your inbox.