College Sports
With revenge on its mind, BC edges UConn at Alumni Stadium
The Eagles are riding a four-game win streak for the first time since early 2021.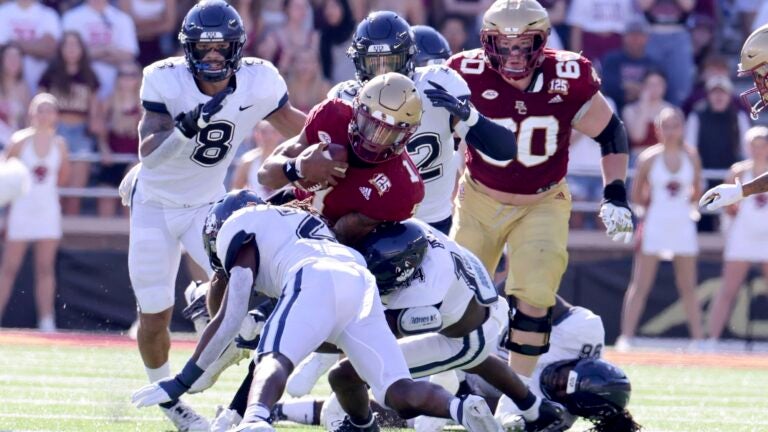 In the week leading up to Boston College's rematch with Connecticut, the Eagles acknowledged, in unison, that this one was personal.
With last year's embarrassing loss still on his players' minds, BC coach Jeff Hafley didn't need any motivational pep talks. Offensive lineman Ozzy Trapilo acknowledged there's been a "sour taste" ever since. Linebacker Vinny DePalma said Saturday's showdown was as important a game as the program has had in recent memory. The Eagles waited patiently for a shot at revenge.
BC squeaked out a 21-14 win at Alumni Stadium, but it didn't fully yield the gratifying sense of redemption the Eagles coveted. It was a necessary and significant victory — the Eagles' fourth straight — but it didn't come easily. BC looked flat in stretches, like it did last year, but this time it did enough to prevail.
The Eagles (5-3) fell behind early, scored 21 straight points to take a double-digit lead, then the Huskies (1-7) nearly rallied before BC found a way late.
"We kept UConn in the game. It's as easy as that," Hafley said. "We made the game way closer than it should have been. Ultimately, we won the game, which is what we should do when we play UConn. I say that with no disrespect, but when we play them, that's the expectation."
In last year's matchup, the Eagles committed five turnovers and totaled 76 net rushing yards. They coughed it up twice Saturday, but rushed for 246 yards, which made the difference. Kye Robichaux totaled 23 carries for 112 yards and two touchdowns.
BC dominated nearly every statistical category, posting a 30-10 edge in first downs, an 83-43 advantage in plays, a 433-222 cushion in yards, and a 40:14-19:16 margin in time of possession.
"You'd think we would have won the game by 28 points, which we didn't," Hafley said. "We have stuff to clean up."
On BC's opening drive, quarterback Thomas Castellanos converted on fourth and 1, but he fumbled near midfield moments later. UConn capitalized with a nine-play, 51-yard march, capped by a 1-yard run from Jelani Stafford to take a 7-0 edge.
The Eagles, who entered an Atlantic Coast Conference-best 72.7 percent on fourth down, kept their next drive afloat, as well. This time, BC finished what it started, as Robichaux accelerated into the end zone from 5 yards out with nine seconds on the clock.
BC took a 14-7 advantage on a 6-yard TD pass from Castellanos (16 for 24, 151 yards, 1 TD, 1 interception; 14 carries, 45 yards) to Alex Broome.
BC legend Doug Flutie threw Hail Mary passes to fans in the stands. Mr. Brightside bumped from the speakers. Vibes were flowing at Alumni Stadium.
"Once you see a legend like that on the field, coming back and showing love to his old school, you use it as motivation to do the same thing," Robichaux said of Flutie. "Why not play to the best of your ability? Why not have it be you to go do something great?"
The Eagles had a chance to extend the margin late in the half, but Castellanos threw an interception in the final seconds. Hafley called it an "inexcusable" play but said Castellanos will learn from it and credited him for responding.
BC entered halftime up, 14-7. The Eagles totaled 225 net yards, compared with 77 for UConn, yet it was a one-possession game because of poorly timed turnovers.
Emmett Morehead replaced an injured Castellanos to start the third quarter, as Castellanos threw on the sideline with a wrap on his left leg. Castellanos returned on the next drive and found Jaedn Skeete for 16 yards and Charlie Gordinier for 30 to set up a 13-yard TD run from Robichaux with 40 seconds left in the third.
Skeete, a promising freshman out of Catholic Memorial who had no receptions coming in, broke out for a four-catch, 61-yard game in his first extended action.
"I'm glad he got his moment," Hafley said. "I think he has some of the best hands on this team. He's got good length, he can accelerate. I think he's got a chance to be a really special player."
Robichaux, who has back-to-back 100-plus-yard games, has established himself as the feature back. His physical, downhill running style meshes well with Castellanos's shiftiness, as defenses have to prepare for both plus the pass.
The Huskies answered, as Cam Roberts converted from 30 yards to slice the deficit to 21-14 with 13:51 left. BC's next drive stalled, as did UConn's, then Castellanos picked up a key conversion on fourth and 5, Broome added one more first down, and Castellanos took a knee to preserve the win.
The Eagles, riding their first four-game streak since early 2021, have a chance to make it five for the first time since 2010 when they face Syracuse on Friday.
"You're happy to win any game," DePalma said. "Are we satisfied with how we played? No. We know we have to get better."
Get the latest Boston sports news
Receive updates on your favorite Boston teams, straight from our newsroom to your inbox.