College Sports
BC football has relied on depth during its five-game winning streak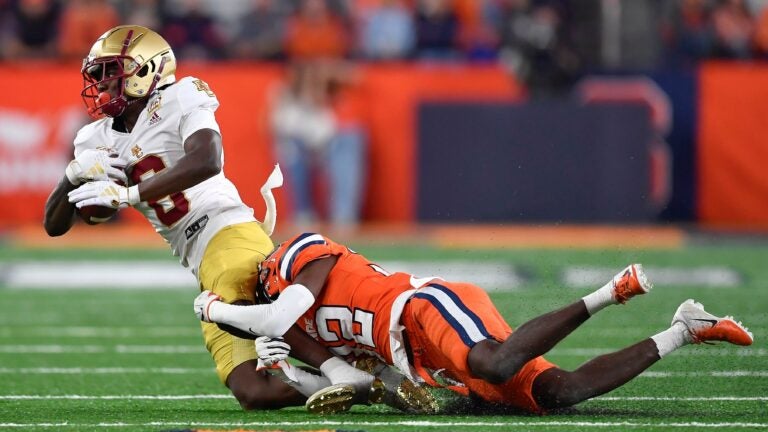 Before his team departed for Syracuse last week, Boston College football coach Jeff Hafley asked his players a simple yet powerful question.
Someone new is going to get a game ball, Hafley predicted. "Will it be you?"
Fifth-string running back Andre Hines Jr. — a scout-team member who didn't play a down in his first three-plus years at BC — spearheaded the winning drive and earned the honors. But the ball could have gone to any of several players who thrived in expanded roles.
Redshirt freshman CJ Clinkscales intercepted a pass in his first career start. Owen McGowan, a redshirt sophomore linebacker, caught a touchdown pass. Defensive lineman Gilbert Tongrongou, back from surgery, ran down a screen to make a key tackle. Backup offensive lineman Jack Conley started again at tight end and shined as a blocker.
During this five-game win streak — the program's longest since 2010 — unexpected heroes have emerged every week. The surging Eagles (6-3, 3-2 Atlantic Coast Conference) will continue to lean on their depth when they welcome Virginia Tech (4-5, 3-2) to Alumni Stadium Saturday at noon.
"You have talented players throughout the roster," linebacker Vinny DePalma said. "Especially later in the season, everyone across the country is a little bit banged up. You need that depth to pay off. I think we're seeing it."
It starts with Hines, who had five carries for 32 yards and set up quarterback Thomas Castellanos's score with 2:23 remaining in last Friday's 17-10 win.
Hines, playing in his home state, called the day "very emotional" and "a roller coaster." He wasn't sure his family and friends would still be watching, and he was appreciative when texts started coming in waves.
"I was crying in the middle of the victory formation," Hines said. "Everybody was hugging me. It was just very emotional. Everybody was crying with me."
Original starter Pat Garwo is likely out for the season, but Hafley expects Kye Robichaux and Alex Broome to play against the Hokies. Even so, Hafley said, Hines has earned the chance to see more action, along with Cam Barfield and Xavier Coleman.
The Eagles, who finished last in the country last season with 63.3 rushing yards per game, are ninth this season at 211.2. They have possessed the ball an average of 36:30 during the streak.
Opponents are outscoring the Eagles in each of the first three quarters, but BC has an eye-popping 79-34 edge in the fourth.
Hafley said his 75-year-old mother, Ellise, asked if he could make it a little easier so she wouldn't have to stay up late Friday night. He said he couldn't, apologized, and encouraged her to tune in for the fourth quarter.
Ellise stayed up. She was upset that Hafley mentioned she was 75 (he clarified Monday that she looks 65), but she was so exuberant that she couldn't sleep the rest of the night.
"We're imposing our will on teams," guard Christian Mahogany said. "Even though the scoreboard might not light up, like Coach Hafley said, we take teams into the fourth quarter when they don't want to be there, and we win."
The Eagles' pass-catchers have impressed during difficult circumstances. Freshman Jaedn Skeete has embraced an increased role with Ryan O'Keefe sidelined. Tight end Jeremiah Franklin has adjusted seamlessly with George Takacs out.
"It's just good to see guys who work so hard during the week and don't know if they're going to play, and then when guys go down, they're ready," McGowan said.
Even Australian punter Sam Candotti got in on the fun, showing off his speed and converting on fourth and 4 from BC territory.
In their first four games, the Eagles allowed an average of 35 points and 417 yards and didn't intercept a pass. During the five-game streak, those numbers have shifted to 19 points, 298.4 yards, and eight interceptions.
DePalma said the backups have consistently pushed the first-stringers. He believes it's the deepest team the Eagles have had in his six years with the program.
"The scout teams have been awesome," DePalma said. "Those young guys have done a tremendous job."
The energy around campus is by far the highest it's been in Hafley's tenure. The Eagles are one win away from their first six-game win streak since 2007, when Matt Ryan led them to eight straight and a No. 2 ranking in the polls.
As delighted as the Eagles are, they understand there's much more work to be done.
They're happy to play in any bowl, but now that they've clinched a spot in one, they want to work toward an even better one. And yes, the rumors are true: They're still mathematically in the hunt for an ACC championship game appearance.
Hafley said he'd be crazy to think that players aren't paying attention to what's happening around the league. He'd be disappointed if they didn't have goals that were bigger than just making a bowl game.
"I wanted to win football games here and do things that hadn't been done in a long time," Mahogany said. "I think we're on the path to do that right now."
Get the latest Boston sports news
Receive updates on your favorite Boston teams, straight from our newsroom to your inbox.