Commentary
Forget just the Patriots, is Boston's championship window starting to close as a whole?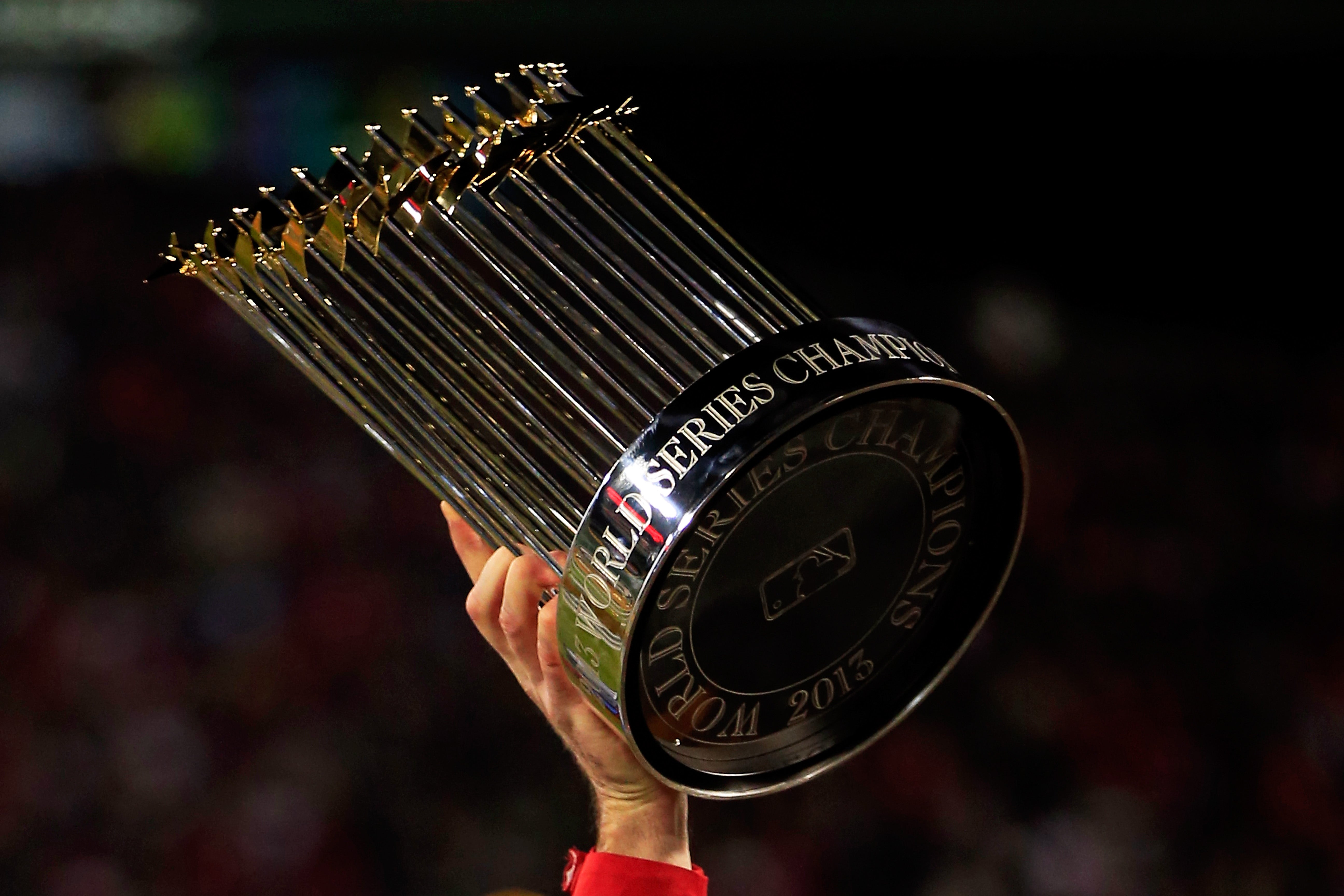 COMMENTARY
Sunday will mark the first weekend without a meaningful football game since last Sept. 6.
That still leaves seven more days until the Super Bowl between the Carolina Panthers and Denver Broncos, three more days until Truck Day (!), 12 more days until Red Sox pitchers and catchers report to Fort Myers, and about two months before any plausible playoff runs for the Bruins or Celtics, no matter how brief we should realistically expect each to be.
Monday, meanwhile, marks the one-year anniversary of the New England Patriots' triumph over the Seattle Seahawks in Super Bowl XLIX, and while whining about a 365-day championship drought is what makes them hate us in any other sorry sports outposts, mind you that is still the sixth-longest deficiency without a duck boat parade since the Patriots won their first Super Bowl in February of 2002.
Mind you, this is nothing like the dark days from June, 2008, when the Boston Celtics won banner No. 17, and June 2011, when the Bruins hoisted the Stanley Cup after a classic seven-game finals against there Vancouver Canucks. Thirty-six months Boston went without a championship, or about the lifespan of a Cleveland Browns or Buffalo Bills head coach.
The shortest span in between titles over the last 15 years occurred from October 2004, when the Red Sox won their first World Series in 86 years, and February, 2005, when the Patriots became the last team to win back-to-back Super Bowl championships. That was a mere five-month window, as close as we can possibly get between a pair of the four major professional sports, barring the Celtics and Bruins winning within a week of each other.
New England is looking at at least a 16-month drought this time around, provided the local NHL or NBA teams can surge into championship contenders, a proposal as foolhardy as it is unrealistic. If the 2016 Red Sox have some of that 2013, "out of the #$%&*%$ blue'' magic, then we're only looking at 20 months between titles. That would be the fifth-longest stretch since 2001.
Most likely, the region's best chance for celebration will come next February in Houston, where the Patriots are probably already prohibitive favorites to win their fifth Super Bowl. We'll be going on 24 months by then, the same period the Patriots spend between their first and second titles.
It all suggests that Boston's Decade (Plus) of Dominance is petering out to a conclusion, leaving last gasps for Patriots quarterback Tom Brady and Red Sox slugger David Ortiz to, respectively, deliver one more stretch of glory before hanging up what are two of the most storied athletic careers in Hub history.
And then…
While Brady may indeed play another decade, as the four-time Super Bowl champion has somewhat dreamily proposed, 2016 will be the final rodeo for Ortiz, the Greatest Clutch Hitter in Red Sox History (look it up, there's a plaque and everything) who was the integral part of three World Series titles that some of figured might never come in our lifetimes. The last time the Red Sox employed a full-time DH other than Ortiz, it was Carlos Baerga, in 2002, the same year the Sox gave Rickey Henderson a red firebird that the Hall of Famer deemed "ugly.''
No matter what sort of characteristics the team takes on in his absence, Ortiz's departure will no doubt force a shift in the team's identity. Nothing to the level that the Patriots will one day be forced to recognize whenever Brady and head coach Bill Belichick decide to hang them up, but at least it's a significant handoff that has, in many ways, already begun with the percolating emergences of guys like Xander Bogaerts, Mookie Betts, and Eduardo Rodriguez, not to mention the big bucks addition of present and future anchor David Price.
Which has the Red Sox hoping for one more October ride with the 40 year old Ortiz.
"Given his track record in the postseason, it would be a disaster,'' Red Sox principal owner John Henry said last weekend during the team's Winter Weekend at Foxwoods Resort and Casino. "That's a strong word, I guess. A big disaster. It would be terrible if he doesn't end his career in the postseason.''
That, despite three last-place finishes out of the last four seasons, is the expectation in Boston when you have a payroll skyrocketing toward $200 million. The ability to spend makes baseball the easiest of the four majors to turn things around quickly, a luxury that NFL, NBA, and NHL teams lack, for the most part.
Take the Celtics, for instance. If the season ended today (which is doesn't, we checked), the Celtics and Chicago Bulls would face off in the first round of the playoffs, a series that the upstart Celtics could conceivably pull off. But lacking a superstar of Kevin Garnett's or even Paul Pierce's stature, there's no realistic dreaming of an NBA title this season. Or any time soon.
To expect all that to magically change at the NBA's trading deadline next month would be grasping.
"I can't put myself in that position, because then you do silly things,'' Celtics president Danny Ainge said during his weekly appearance on 98.5 The Sports Hub Thursday. "I would like to do something to put us in that position (to win a championship), of course. Every day I'm thinking and trying to come up with ways to do that. But it's just not that simple.
"A lot of the mistakes that are made around our league is people trying to do something too fast; they're impatient and they panic. We're definitely not in a panic mode. We have objectives that we would like to accomplish, but you have to make a good deal. We can't just say we want to win a championship and are going to get so-and-so. It's not that simple.''
That's a nugget of realism from the Celtics that seems difficult to negotiate with the Bruins, who insist they want to compete for Stanley Cups every season (how novel), while delivering a product with fewer, effective pillars of defense than the Patriots offensive line. Zdeno Chara is in the autumn of his career, and even a big shakeup for a top-four defenseman (bye, bye, Loui Eriksson?) seems only good enough to secure a playoff spot for the Jekyll and Hyde Bruins, who head into the NHL All-Star break clinging onto the top wild card spot in the Eastern Conference.
Cup contender? Stop.
But if we had to rank the teams by supposition as to which would be the next to win a title, it would have to go 1, Patriots, 2, Red Sox, 3, Bruins, 4, Celtics. Feel free to juxtapose three and four based on your confidence in each team's respective management to create something special within a more immediate timeframe. It's difficult as hell to do in the NBA, even with the wealth of draft picks that the Celtics are — still — sitting on, while the Bruins don't seem sure on what their philosophy is, despite a healthy core of players like Tuukka Rask, Patrice Bergeron, and David Krejci, whose primes shouldn't be wasted by primarily fixing the financial mess left behind by Peter Chiarelli.
Which means, it could be Patriots or bust around here for the foreseeable future. At least until Brady leaves.
At which point, a year might feel like it does in other championship-deficient cities.
How dreadfully pedestrian that would be.
Contact Eric Wilbur at: [email protected]. Follow him on Twitter: @GlobeEricWilbur and Facebook www.facebook.com/GlobeEricWilbur
This is how awesome it is to be a Boston sports fan
[bdc-gallery id="142820″]