Commentary
18 questions left unanswered after Peyton Manning's farewell speech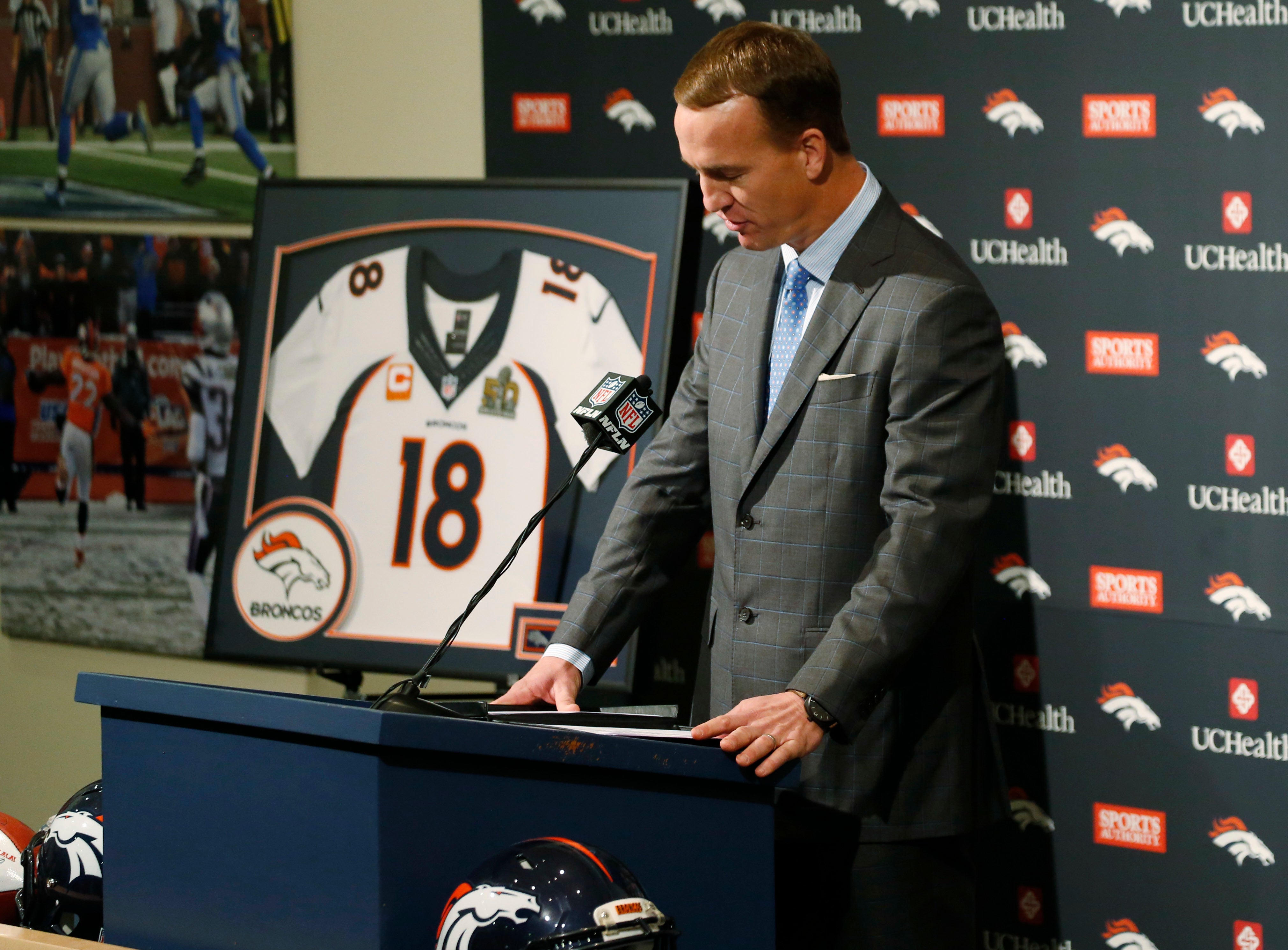 COMMENTARY
Peyton Manning, that legendary former quarterback for two teams of the equine persuasion, has called it a career, and what a satisfying (and, perhaps justifiably, self-satisfied) sendoff it was.
Manning bid himself farewell in the most Peyton Manning way possible — with a precise game plan of a speech that was designed to have an aw-shucks-all-this-fanfare-for-me vibe. He even name-checked Forrest Gump when asked about one of his scandals. At times, it all felt like a subtle but obvious humblebraggy testimonial to his own greatness.
It was Perfect Peyton. It was Peak Peyton.
The NFL media, many whom seem to conduct themselves as if getting referred to by name by any Manning is a golden ticket toward a sweet NFL Network gig, naturally adored it, save for the one reporter who had the nerve to ask about the Tennessee lawsuit and got the relatively graceful Peyton Gump reply.
It was fine so far as farewells go, but I've still got a few questions. OK, more than a few. Since Manning noted, with his obsessive precision, that he played 18 years and his uniform number was also 18 — mind blown! — let's keep the questions (and answers) to his favorite number.
1. What was the most compelling what-if of Manning's speech?
Manning mentioned his wise decision to return to Tennessee for his senior season rather than declaring for the 1997 NFL Draft. Had he declared, he would have been the No. 1 pick of … the New York Jets! J-E-T-S, JETS JETS JETS! I can't even begin to fathom how NFL history would be different had he come out and joined forces with Bill Parcells in New Jersey, but it's possible that Manning never would have won a Super Bowl. Or, if you can even imagine such a scenario, the Jets might have actually won a second one in their history. But I can tell you how literary history would be different. The rookie-year autobiography of the eventual No. 1 pick, Keyshawn Johnson, never would have been written. And thus there would be a glaring and tragic void on all of the AP English syllabuses throughout America that are structured around the masterpiece titled Just Give Me The Damn Ball!
2. Where does Manning rank among the most respected opponents in Boston sports history?
He's got to be up there near the top, doesn't he? I mean, No. 1 should be Magic Johnson, without a doubt. The Showtime Lakers won five titles, and Larry Bird's respect for and friendship with him made Boston fans appreciate him, too. Plus, anyone who lived through those days misses them. Derek Jeter? Nah. Nomar was better earlier in their careers, but Jeter had all of the advantages Garciaparra didn't. Plus, that smirk. All he gets points for is being the captain of the Yankees team that the Red Sox finally conquered, and in the most cathartic way possible. Re2pect that. Wilt Chamberlain? He might have been the most talented basketball player of all-time, especially in context of his era, but Bill Russell basically exposed him as the Dwight Howard of his time, all stats and periodic substance. Ken Dryden? I guess, if we're actually going to respect a Canadien here. If he's not No. 2 to Magic, then it's probably Manning.
3. Was he actually a good teammate?
I suppose so. Enough former ones were there for the farewell, and any negative comments Manning made about teammates through the years tended to come in the immediate moments after a tough loss. That's excusable. Still, I would be interested to hear Mike Vanderjagt's take.
4. Did Manning forget to thank anyone?
You mean presuming Manning excluded Charlie Sly on purpose? When he saluted the great defenders he'd played against through the years, he named a dozen: John Lynch, Ray Lewis, Zach Thomas, Tedy Bruschi, London Fletcher (presumably he didn't mean Dane Fletcher — hey, he did rattle off only their last names), Brian Dawkins, Junior Seau, Brian Urlacher, Troy Polamalu, Rodney Harrison (or was it James Harrison?), Charles Woodson, and Ed Reed. It was so surprising that Ty Law, who tormented Manning during the early years of the Patriots' dynasty, wasn't on the list that I read the text of his speech twice to make sure I didn't miss something. Since Manning has joked in the past that he should introduce Law when he's inducted into the Pro Football Hall of Fame someday, we'll give him a pass for the oversight.
5. Who else should have mentioned?
Oh, Willie McGinest too. And it's not like he should have required the reminder. Manning probably still has the crown of his helmet imprinted in his ribcage.
6. How long has he been around?
I mean, we addressed that already, or did you miss the dazzling observation about his 18 seasons coinciding with his jersey number? Try to keep up. But there is some fun context to be had here, especially if you acknowledge that Manning's longevity is his most underrated feat — perhaps his only underrated feat. Consider: He was the No. 1 pick in the 1998 NFL Draft. The No. 1 picks across other major sports that year? Pat Burrell (MLB), Michael Olowokandi (NBA), and the still-active Vincent Lecavalier (NHL). He outlasted Pat the Bat and Kandiman!
7. Is there anyone else in the NFL with his longevity?
In the NFL, the only active player with a longer run is Adam Vinatieri, who replaced the Matt Bahr as the Patriots' kicker in 1996. Bahr turns 60 this year, by the way. Vinatieri is entering his 21st NFL season in '16. It will be his 11th with the Colts, giving him a longer run in Indy than he had in New England. Among Manning's classmates in the '98 draft, the retirement of Charles Woodson leaves free-agent Matt Hasselbeck as the only rookie that year who is still active.
8. Yeah, but what about from other leagues?
From the NBA, only three players remain from the 1998 draft: Dirk Nowitzki, Vince Carter, and Paul Pierce. Presuming neither Mark Mulder nor Mark Prior still has a comeback in him, there are two '98 MLB first-rounders still active: CC Sabathia and — you guessed it — Matt Thornton. There are 15 NHL players still active from the '98 draft, including Lecavalier, Pavel Datsyuk, and David Legwand. Hockey players are immortal, man. Just ask Jagr.
9. What was the most absurd headline of the day?
One that I saw before the speech, actually, on Yahoo! Sports: Is Manning The Greatest NFL Player of All-Time? (They changed the headline after the press conference.) I didn't read the article, but given that he's not even the greatest quarterback of his own era, I presume the text of the piece amounted to one word: Nope.
10. Any less-than-subtle product placement, that Manning trademark, during the press conference?
It's mildly surprising that he didn't mention that he was going to drive over to Papa John's house in his Buick, which he bought with an American Express card and is insured by Nationwide, for a chicken parm and a Budweiser (but no more than one) after the press conference. But he did get in a plug for St. Elmo's steakhouse in Indy, and the appreciation might even have been authentic given that he was already known to frequent the place. We'll give him a pass since the alternative was probably Papa John showing up mid-presser for another peck on the cheek.
11. What was his best moment against Patriots?
He's had a few, probably a few more than we want to give him credit for. I'd say the comeback from a 21-3 deficit in the AFC Championship Game stands alone, because it changed a couple of narratives: that he couldn't beat Bill Belichick, and he couldn't win the big one. That game remains the top non-Super Bowl-related what-if of the Brady/Belichick era.
12. And the Patriots' best moment against him?
Hard to believe it was so long ago, but it's probably the 20-3 victory over the Colts in the 2004 AFC Divisional Round. The Colts scored 522 points in the regular season and racked up 49 more the weekend before in a wild-card round rout of the Broncos. But the Patriots held the Colts to 276 total yards and a single field goal during a dominating defensive performance. Once more: How could Manning forget Ty Law in his speech? Seriously.
13. Did he say any nice things about New England fans?
Does this work for you? "I'll even miss the Patriots fans in Foxborough, and they should miss me because they sure did get a lot of wins off of me.'' That was nice of him to say, though the cynic in me also wonders if it was a passive-aggressive reminder that they didn't get too many wins off of him lately. Damn Bryan Stork.
14. Could there have been a more fitting sendoff into retirement than Manning's meticulously scripted goodbye?
Yep, and that happened Monday as well: Logan Mankins's wholly overshadowed goodbye, which broke via a tweet by the NFL Network's Ian Rapoport. The tough, unassuming former Patriots guard didn't literally ride off into the sunset, like Jared Allen recently. He did so figuratively, and with little fanfare. It was the definition of fitting.
15. Got a postscript for Mankins?
The second-best guard in Patriots history, he doesn't have a Super Bowl ring in part because he played poorly in his two chances. The Patriots might have beaten the Broncos and gotten him a Super Bowl ring had he been here this year.
16. Does anyone have a problem with ESPN's Chris Mortensen getting the scoop that Manning was going to announce his retirement?
I can't even imagine those who remain angry at Mortensen for botching the report on the air-pressure level of the footballs in the 2015 AFC Championship Game, which turned Deflategate into a saga that for some reason we're still enduring, could really begrudge him this scoop. It was a nice — if calculated — gesture of the Mannings to give it to him. For one thing, Mortensen was diagnosed with Stage IV throat cancer in January. For another, it means that insufferable latte silo Peter King didn't get it.
17. Have we really seen the last of him?
As a quarterback? Absolutely. Because football means so much to him — all facetiousness aside, as the son of Archie Manning who has been around and in the game his whole life, it must have been excruciating to say goodbye — some suspect his name will pop up like Brett Favre's did for years whenever there's a compelling opening for a quarterback. I'm convinced that he would have played in 2016 if a) the Broncos didn't realize that they're the rare Super Bowl champ that needs a severe upgrade at quarterback and b) he had a sense that a team of some appeal — maybe the LA Rams — had genuine interest. But that didn't happen, and I don't think he's the kind for a comeback. He's 40 years old, scripted the perfect ending, and has appealing options off the field.
18. But he's going to be around, isn't he?
Oh, I bet we do see him — a lot of him, and during this coming season, too. CBS's longstanding interest in him as an analyst is not a secret, but ESPN isn't going to let him go to a rival without a fight. Manning is going to have a bidding war for his services. He can just sit back, exhale with the knowledge that he'll never have that weird triangle thing on his forehead again, gulp down some Papa John's and a Bud or whatever it is he actually eats and drinks, listen to the various offers, and savor one more round of media adulation, something he loves almost as much as the game he can no longer play.
Chad Finn can be reached at [email protected]. Follow him on Twitter @GlobeChadFinn.