Commentary
Baseball desperately needs an injection of humanity. Today's awful Hall of Fame vote will prove that.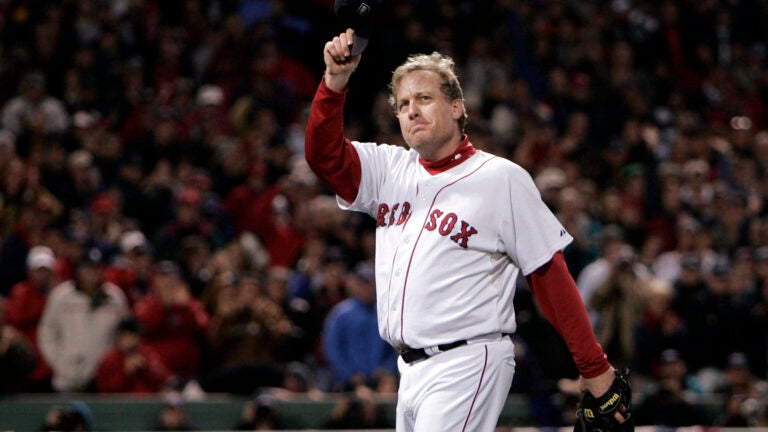 COMMENTARY
It's useful to remember, as Tuesday caps another vinegar-soaked Baseball Hall of Fame debate season, that the bunting showroom in Cooperstown, N.Y., is built on a lie. The pinnacle is dirty to its foundation, and that's useful to consider when we consider why this all feels so interminable.
For all the notes it hits right, the Hall certainly shares that common modern need to be taken down a few pegs. It'd be good for it, and better for us.
On Tuesday, in a more perfect union, we would learn Curt Schilling, Barry Bonds, and Roger Clemens are all being inducted this summer, the 2021 class part of a double ceremony due to 2020's being shelved by the COVID-19 pandemic. We would reckon with the imperfect natures of their candidacies, but like adults, and we would mostly celebrate them as — and this isn't debatable — some of the best baseball players of their generation.
Instead, if the analysis of publicly available votes by Ryan "Not Mr. Tibbs" Thibodaux is accurate, neither they nor anyone else will meet the 75 percent vote threshold needed. For those three, it will be the ninth consecutive year that happens, leaving them one last chance to be voted in by 10-year members of the Baseball Writers Association of America.
Schilling, Bonds, and Clemens are among the rarest breeds: The sorts of players you'd buy a ticket to see if they came through your town. The ones that'd stop you channel flipping if you saw them pop across the screen. That's not a prerequisite for a bronze plaque, but it's the central tenet of a candidacy.
Instead, it'll likely be an afterthought again today, Schilling not quite good enough to outrun his mouth since retiring — called that 12 years ago — and the other two no-doubt legends stuck the faces of leaguewide performance enhancing drug usage we'll never fully know the scope of.
Sure, they've made their beds and their choices. Character has always mattered in Cooperstown, at least by the letter, and theirs stink to varying degrees. But this issue goes far beyond them. It goes back as far as that lie.
The story of Army officer Abner Doubleday creating baseball in 1839 in Cooperstown was bologna from the jump, crafted to obscure the decidedly muddled, decidedly foreign actual origin story of the all-American game. A story to sell sporting goods and patriotism. Thirty years later, in 1939, sewing machine heir Stephen Carlton Clark spun an old baseball found in a nearby attic into the showplace of the sport.
Eight decades later, his family still runs the Hall of Fame, the economy of Cooperstown almost purely baseball and almost purely theirs. Given a redo, it would never happen the same way again, but here we are.
"In the years since [1939], The Doubleday Myth has been refuted," the Hall itself declares. "Yet The Myth has become strong enough that the facts alone do not deter the spirit of Cooperstown."
It is not without tremendous charm. It is a must-visit for every baseball fan, though I don't necessarily condone doing it as your honeymoon like the person writing this sentence did. But baseball's Mount Rushmore is no less the tourist trap the actual Mount Rushmore unabashedly is, no matter the quaintness of Main Street.
The National Baseball Hall of Fame is a brand name. It is finance built on fandom. It makes its owners millions, it makes its inductees millions, and it rests entirely on a veneer of self importance it would be some much better without.
At the Basketball Hall of Fame in Springfield, you can shoot some hoops. The Hockey Hall of Fame's in downtown Toronto and lets you pose with the Stanley Cup.
The special exhibit at the Baseball Hall, hours from virtually everywhere, in the summer of 2008 when I visited was a collection of baseball board games. They were locked in glass cases, but for one spinner. The visitor's guide declared, "[The Hall of Fame] is a place of grace and class. You arrive expecting to tour baseball's past. What you discover is your own."
Because of course it did.
Tuesday's announcement will no doubt touch on the tragedies of the past year, Hank Aaron's passing on Friday making it 10 Hall of Famers lost in the past 10 months. The death of Jim Bouton in July 2019, however, strikes me just as much in this moment, especially since my immediate thoughts upon Whitey Ford's passing in October were of the stories told in Bouton's "Ball Four" of Ford doctoring baseballs however he could.
"Ball Four" humanized him. It humanized the sport. It needed that then, and it needs it more now, baseball less dynamic between the lines than it's been in years, team construction and game management exhibiting all the passion of a scientific proof. (Exhibit A, Blake Snell in the World Series. Oh, and you didn't miss the Yankees — genuine World Series contenders — selling Adam Ottavino to the Red Sox on Monday for no other reason than to sneak under the luxury tax, did you?) Theo Epstein addressing the problem is a step, but it's barely a step one, and that's if anyone listens to him in his new MLB role.
Curt Schilling is the greatest postseason pitcher of my lifetime. His disgusting giggles about journalists hanging from trees and his predictably stupid response to an attempted coup don't change that. Barry Bonds was a multi-time MVP, and Roger Clemens a multi-time Cy Young before their swollen late 30s and beyond. A Hall of Fame unable to elect them and contextualize them, and the era in which they played, is a Hall of Fame best forgotten.
Today will be another day they wait for an honor they more than earned, and another day I find myself reminded I love this sport in spite of itself. For what it actually has been, rather than what it still pretends to be.
Maybe one of these years, baseball will stop lying to itself that that sort of response isn't a huge problem.