Commentary
Here's why tonight's look into the 2021 Red Sox is worth a peek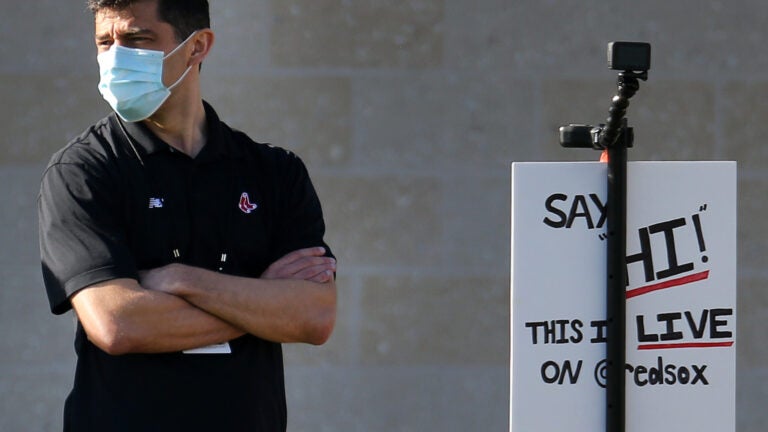 COMMENTARY
On Wednesday night, the 2021 Red Sox will be unveiled in a very 2021 way. The team is shifting its usual morning workout to the evening, throwing mics on some players, and airing it all live on NESN as "Sox at Sundown."
A made-for-TV practice. Tom Caron will emcee off a feed in Watertown, old/new manager Alex Cora will tell you how excited he is by a collection of players barely seen in Red Sox colors, and the whole thing is "made possible" by the official resort casino of your Red Sox, whose progress on its concert venue behind Fenway Park will likely come up.
This is all the Yankees' fault, you know. More the wisecracks than Wednesday, I suppose, though it's hard for me not to think about how spring training has evolved from a sleepy diversion without remembering that hyped-to-the-gills March 2004 meeting between the rivals — their first after Game 7, 2003, and the ensuing Alex Rodriguez saga.
The Sox sold hundreds of $6 commemorative pins for an exhibition game. Fans slept overnight outside City of Palms Park for tickets. There were genuine scalpers in attendance, and I suspect they did better than the average day featuring a 39-year-old Ellis Burks batting cleanup. Such was life when the Yankees were a threat to win another handful of titles and keep the Sox wanting for a ninth full decade.
If they'd done so, or at least done slightly better than one championship for $4 billion in payroll the last 20 years, we wouldn't have such jaundiced eyes for what the Red Sox have become because they'd probably have become something else.
Bitter as we are about the last 20-odd months, it might not have been better. Even if some of us are, incomprehensibly, looking longingly at San Diego this spring for reasons other than the weather and the fish tacos.
The Fernando Tatís Jr. contract with the Padres to cap their $800 million infield, the face of their franchise locked in a record-breaking 14 years, is of course only viewable here as the Mookie Betts Red Sox deal that never was. Frankly, it's not relevant. With all of 143 major-league games under his belt, a half-season in 2019 and a shortened one in 2020, it was Tatís Jr. who suggested to the Padres he lock in his entire career. The same player who sold a percentage of his future MLB earnings for upfront cash when he was in Single A has, essentially, done so again.
His choice to make. Good on him for getting while the getting's good, and good on San Diego for taking on the risk.
Given what we saw from him here, Betts probably wouldn't have been game even if the Red Sox were. And why would they have been? The Red Sox don't need to gamble that way. Forget San Diego chasing their rivals, the world champions, in 2021: The Red Sox have not been little brother to the megamarket next door since birth the way the Padres have. They do not have baseball's worst regular-season record since 1969 (among teams around for all 52 years of divisional play) the way the Padres do.
Five decades, five major uniform schemes, six different majority owners … the Padres are Theo Epstein's start all over every 10 years scheme translated to the franchise level. Why not bet on Tatís Jr.? He looks like the real deal, it's an active attempt to win now when so many others are passive, and it can't work any worse than everything else has.
We've strayed way off the track here, though. Which is the problem with continuing to view these 2021 Red Sox through the lens of what wasn't. I get the instinct: Of Boston's best 15 players by bWAR the last five seasons, they've only kept five (Xander Bogaerts, Chris Sale, Eduardo Rodríguez, J.D. Martinez, Rafael Devers), as many as they've traded away (Betts, David Price, Andrew Benintendi, Mitch Moreland, Brandon Workman).
If that makes you angry enough to turn off the TV and take up baking, so be it. The rest of us will be here when you come back. Those of us with memories to the before times, when "Jeter Drinks Wine Coolers" was high fashion and we genuinely believed we'd die celebrationless like our grandparents did, never could've imagined a Betts would slip through our fingers. But we also know we are many miles away from the dark ages of Boston baseball.
What's gone is gone, and what's here is, well, it's not bad. Bogaerts, two years from his opt-out, has ascended into leadership at just 28. Devers has already been the beneficiary of that, and figures to gain as much from the return of Cora (and the team's spring focus on defense) as anyone. Martinez has everything to prove after a disastrous 2020. Alex Verdugo will have everything to prove every second he wears a Red Sox uniform, and seems to relish playing that way.
Watching Cora piece together a lineup with this many possible combinations — Enrique Hernández, Marwin González, Hunter Renfroe, Franchy Cordero, Bobby Dalbec — will be mindroasting for a subset of the fan base, but will also go a long way to establishing just how good a manager he really is.
The pitching has to be better, almost by default, and figures to be endlessly intriguing. At least one of Nick Pivetta, Tanner Houck, Bryan Mata, Connor Seabold, Darwinzon Hernández, and Phillip Valdéz is all but assured of making 2021 they truly establish their major-league bonafides. The Matt Barnes-Adam Ottavino combo at the end of games intrigues me, each making the other more effective.
(Note I didn't mention Jarren Duran. Regardless of what he becomes, and how promising he looks, I've got him penciled in as this year's "story of the spring that immediately fades from view come Opening Day." See you in August, maybe.)
I do not think the projections are unfair. Baseball Prospectus has the Red Sox going 80-82, fourth in the American League East. Fangraphs says 85-77, ahead of the Blake Snell-less Rays, with a one-in-three chance of making the playoffs. The last set of over-under win totals I saw set the Red Sox line at 79.5, with World Series odds squarely mid-pack. If they surprise, it will be mild. A surprise wild-card berth.
Admit it: You'd be over the moon about that, wouldn't you? Almost like the old days.
This is a strange time for sports, befitting the world we find ourselves in. Without crowds, amid heavy news every day, it all feels stale and off. I think ratings being down almost across the landscape reinforces I'm not alone in that.
It is, however, the perfect cover to do what the Red Sox are doing. Don't have to worry about putting out a product that won't sell tickets if you can't sell tickets, right? I don't mean for that to sound sinister, because as we've said before, their approach is not unique. Baseball is operating with a de facto salary cap, without the salary floor such caps need, at a time when the contempt between players and owners is not even hidden. The fight over a new collective bargaining agreement this winter figures to be ugly and long, and to yield generational changes to the sport.
Good. What we have isn't perfect, but it never will be either. The only thing that can ever be perfect is the past, which we dress up to make so. Viewing anything through the lens of nostalgia is a losing proposition.
Few things are better than the promise of the unknown. The 2021 Red Sox haven't got the market cornered on much, but they've got that promise in spades.
Get Boston.com's browser alerts:
Enable breaking news notifications straight to your internet browser.