Commentary
The 2023 Red Sox are a work in progress, and they remind it in all facets of the game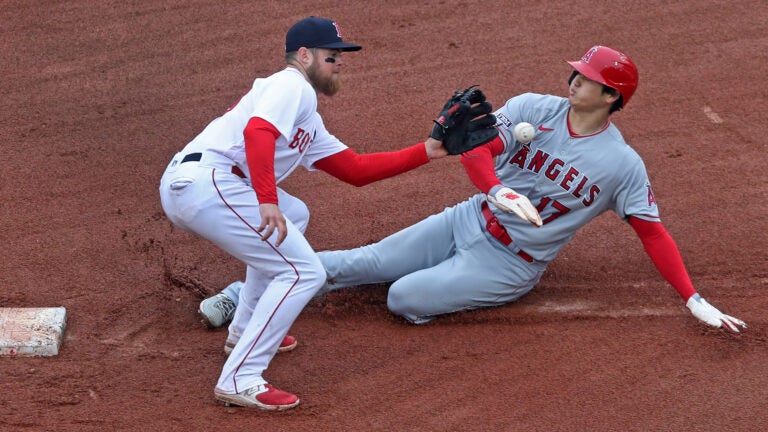 COMMENTARY
With Monday as wet as it was, some might lament Boston was denied its annual day in the sun. The Red Sox, however, reminded we are nothing if not a city that finds a way.
Well, the Red Sox didn't really. That shirtless group in the bleachers during the third-inning rain delay, crushing beers out of shoes to Kernkraft 400 hours before the Bruins beat the Panthers to it, did.
Not that the Red Sox didn't find a way most of this weekend, falling on an old standard: Let the Angels be the Angels. The franchise whose self-inflicted wounds helped the dynastic Red Sox in a litany of 2000s playoff games handed over three more in a variety of fun ways.
Friday was three errors, two hit batters, and a wild pitch. Saturday was a true rarity: Two catcher's interferences in one inning. Sunday featured some good old baserunning stupidity, pinch-runner Brett Phillips picked off second as the potential tying run in the eighth.
Monday, the Red Sox made three errors in the sixth inning — one Kiké Hernández throwing from short, two Kutter Crawford throwing from the mound — and the Angels didn't add on because Shohei Ohtani was caught stealing. Alas, Boston wouldn't take the sweep, going 2 for 14 with runners in scoring position.
"We've got to be better on that," manager Alex Cora told reporters, speaking specifically on the Red Sox giving up an MLB-worst 23 first-inning runs in 17 games. "But as far as the team and what we're trying to accomplish, we're going to play 27 outs, and we've been showing that."
I don't think that's in dispute. Six of Boston's eight wins, owing to those first-inning messes, have been come-from-behind, with four multi-run comebacks. They haven't quit.
They just can't stop putting themselves in positions where they have the option to. This 8-9 start feels like advertising for "UNDER CONSTRUCTION" tape, as clear a work-in-progress symbol as a giant crane.
Hernández feels like a strong place to start, that sixth error Monday coming in just his 12th game at shortstop. Fielding a high chopper on the run, he struggled to get the ball from his glove, threw on the move, and didn't get any help on the pick from Triston Casas.
A tough play, but it's not in a vacuum. His throws have collectively been some of the worst in the majors to date, and they're set to a soundtrack of his offseason boastfulness — "We'll talk in October. We'll talk in November. Watch me. That's it."
That was about more than just his shortstop, of course, and we are all of 17 games in. But the fact remains a player who had six errors in 618 innings at short the first nine seasons of his career has doubled that total in 99 this year, his first at the position as a primary option.
We've already written about the defensive issues, so I won't belabor it. But it's hard not to note it again when we roll to Masataka Yoshida, a minus-3 in defensive runs saved in just 70 left-field innings. (Only one other outfielder has a total that low in less time.)
The spotty defense was expected. So, too, were growing pains in his transition to the American game; a 3-for-26 skid, wrapped around a battle with balky hamstring, certainly qualifies as that.
But it still bears noting given his prominence in the offseason plan. No major-league player is more clearly stamped as a Chaim Bloom tentpole, not even Rafael Devers. Yoshida must be good, as soon as possible, at a moment Bloom's team-building is under its most significant scrutiny.
Pitchers' early Yoshida plan is clear: Upper half of the zone, outside or away. Yoshida, as promised, isn't chasing and isn't striking out. He is, however, producing ground balls at the second-highest rate in the majors, with more than 85 percent of his contact either up the middle or to the right side.
Yoshida has hit just six balls (including his lone home run) to the opposite field in 11 games, and has an expected batting average to this point of .177. It's not indicative of the hitter he was in Japan, nor will it likely be the hitter he is here with more reps. But until the latter comes, we wait and hope.
As we do with Chris Sale, the latest to come in Tuesday's start against the Twins.
"He's close," pitching coach Dave Bush told the Globe. "In any three-game stretch, you can be really good or really bad. But our work on the side between starts, with the command he's showing, I'm confident that when he does that right, he's going to be good."
It's been quite the 12-inning return for the lefty: 19 strikeouts, 15 earned runs, the Sox trailing by a combined 12 as he walked off the mound in three games. His command has been dreadful — hardly unique among Red Sox starters — with hitters slugging his once-dominant four-seamer at a 1.300 clip and his sinker at an .875.
Again, it's understandable for a pitcher whose spent most of the last four years either pitching hurt or not at all. But again, it bears watching.
Or, more aptly, it bears waiting.
Three weeks in, the Red Sox have offered glimpses of the best version of themselves. Adam Duvall looked great before busting his wrist on a sliding catch. Justin Turner started slow, but got hot against the Rays and remained so this weekend. Garrett Whitlock, in his 11th try, offered up the sort of start that would justify taking him out of the bullpen.
You're probably sick of hearing it, but baseball seasons are long things. (Must resist urge to call them marathons. Must resist urge …) The Red Sox have not proven themselves more than the team we thought they were, and they certainly might not ever ascend past that.
But they've offered the glimpses that can keep the open-minded coming back.
I don't think, 17 games in, we could've expected a whole lot more.
Sign up for Red Sox updates⚾
Get breaking news and analysis delivered to your inbox during baseball season.