Commentary
Chris Sale's injury gives the Red Sox another big puzzle to solve
Boston's ideal rotation lasted only one turn, with Sale's immediate future in question and the Rays coming to town.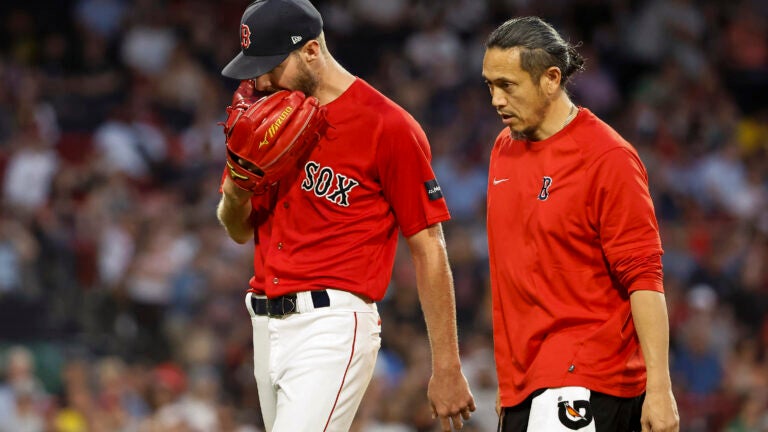 COMMENTARY
Thursday began with throwback thoughts about Chris Sale. Could the lefthander, his Red Sox in a three-game losing streak, be the stopper that he was for the majority of the 2010s?
Innocence. Next, you're going to tell me you thought the temperature around here was going to avoid dropping 20 degrees in a day.
The streak is stopped, courtesy an 8-2 win as hollow as any this season. Because Sale reminded us of what he is in the 2020s. Like so many, it's not what he was and it likely never will be again.
Can he handle the load? Will he still be there when his turn comes up a week from now?
It's a common thought. It's a sad thought. More than a little cruel.
But so's reality all too often. And Sale will have an MRI Friday after departing in the fourth inning with a sore shoulder that at minimum, the Red Sox figure to follow with extreme caution.
"Hoping for the best," manager Alex Cora told reporters soon before Sale declined comment until the imaging gave some answers.
This weekend remains a chance for the Red Sox to declare something about themselves, the Rays coming to town for four games in three days. (Saturday's scheduled doubleheader, if you're curious, is a Sox-driven "experiment" that spares them a Monday getaway matinee.)
April's four-game sweep at Tropicana Field still feels like a lost opportunity, two close games and a third that blew up in one inning. Since it, Tampa's record (27-18) is reasonably similar to the Red Sox (24-19), though I wouldn't run wild with that given things like run differential (the Rays have been 31 runs better) and defense (plus-19 defensive runs saved, per Fangraphs, versus minus-16).
"Everyone's going to have their two-, three-, four-game stretch where they're going to do bad in the season. Sometimes, some teams have a week-long [stretch]," Tampa's Jose Siri told reporters Wednesday, after the Rays busted out of a relative funk at Wrigley Field. "But we're the type of team that, you know, we don't let a bad streak affect us."
In their own way, the Red Sox don't either. Yes, bad offensive performances tend to beget more, but that's a baseball thing. Tampa, leaders in essentially every offensive category this season, hit .144 (13 for 90) in losing two of three to the Cubs. Boston's hole going into the eighth inning Thursday wasn't that deep, and Tampa's breakout wasn't as strong.
If only that felt significant in the face of Boston's optimum rotation making it . . . one turn.
| | | | | | | |
| --- | --- | --- | --- | --- | --- | --- |
| | Starter | IP | H | ER | BB | K |
| Friday at Arizona | Sale | 5 | 4 | 1 | 1 | 3 |
| Saturday at Arizona | G. Whitlock | 5 | 3 | 1 | 0 | 4 |
| Sunday at Arizona | T. Houck | 4 | 6 | 4 | 0 | 4 |
| Tuesday v. Cincy | B. Bello | 4 | 5 | 1 | 2 | 4 |
| Wednesday v. Cincy | J. Paxton | 5 | 4 | 1 | 1 | 8 |
It wasn't dominant. It was cromulent. The Sox won two of the five not once led by their starting pitching, but also not hindered by it. (Though the bullpen cracking in each of the first two games against the Reds reminds no one, not even the Rays, can get infinite quality when leaning hard on relief.)
Now, though? Sale's likely absence forces either Nick Pivetta or Corey Kluber back into the rotation, costing Cora long options in relief he loves to have and further shortening the staff heading into a weekend where depth will be tested.
Justin Garza, Josh Winckowski, Pivetta, and Chris Martin all threw Thursday, with Winckowski working back-to-back days for the first time in a month.
"It's gonna be a long weekend," Cora told reporters. "You just got to make sure you make the right moves and be ready."
The obvious unspoken there is there's no ready move to replace Sale. One of those names up there might lead the next great Red Sox rotation, but that seems unlikely in 2023, though they'll certainly all have the runway to step up.
Whatever positive this year can be at Fenway Park will come with the lefthander channeling the pitcher who got that infamous $145 million right before the 2019 season. Even with Sale's resurgent May, Boston still had a below-average rotation, if not bottom 10. Their strikeout and swing-and-miss numbers are mediocre, and the defense behind them is bad. Tough way to win.
"We get to two strikes and we induce weak contact, we have to make the play," Cora told reporters earlier in the week. "When we do that, we're really good. When we're not making plays, we struggle."
There is no rest for the mediocre. The puzzle is being disassembled on one side as you find the pieces to cobble together the other. This AL East is not easy for those at its top, never mind those clawing to stay off its bottom.
Alex Verdugo reminded on Thursday night why he's been the team's best all-around player, throwing out Spencer Steer to keep a run off the board as Sale labored. Kiké Hernández reminded just how hot he can get with a pair of RBI knocks.
The assembly of a fringe contender continues, though it appears the pothole we all feared was looming just appeared over the horizon.
Sign up for Red Sox updates⚾
Get breaking news and analysis delivered to your inbox during baseball season.