Community
'Let her run!': Boston.com readers react to Sha'Carri Richardson's Olympics suspension
"Give me a break, let her compete!"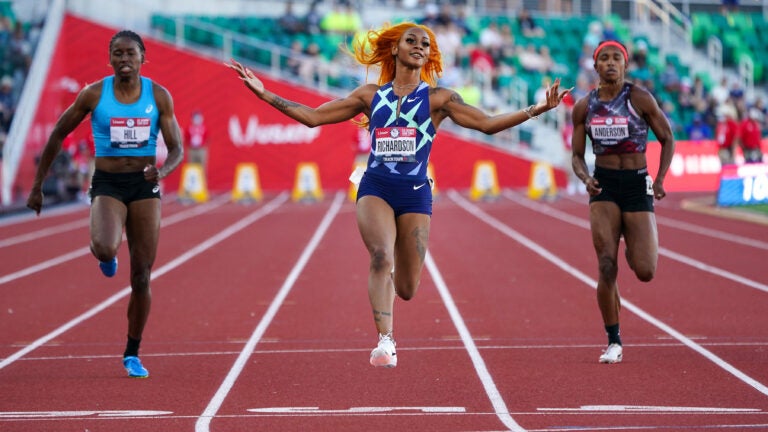 Sha'Carri Richardson, the sprinter who last week was suspended after testing positive for cannabis, won't be running at the Tokyo Olympics this summer. Richardson won a spot on the team last month after running the 100-meter dash at the Olympic trials in 10.86 seconds but was left off the team list released Tuesday by U.S.A Track & Field.
The news of her suspension has sparked a national debate about the fairness of the U.S. Anti-Doping Agency policy on marijuana use. Marijuana is legal for both medical and recreational use in Oregon, where Richardson made the Olympic team, but banned by the agency. Before Richardson was eliminated from the competition, we asked Boston.com readers if they felt her suspension was fair, and whether or not Richardson should be allowed to compete at the Tokyo Olympics at all.
It seems that most Boston.com readers won't be too happy with the decision to keep her off the Olympic track. Fifty-seven percent of the 3,286 readers who responded said Richardson shouldn't have been suspended at all, and 66 percent said they want to see her compete at the Olympics.
"It's not anabolic steroids," said Mike of Acushnet. "Give me a break, let her compete!"
Richardson's suspension ends on July 27, which would have allowed her to run in the women's relays at the Olympics, but the team didn't select her for the relay pool.
"I would say there will come a time when people will look back on this punishment and laugh at how foolish it is, but that time is now," one reader said.
USATF said in a statement that while they agree the World Anti-Doping Agency rules on cannabis should be reevaluated, they would still be enforcing them.
"All USATF athletes are equally aware of and must adhere to the current anti-doping code, and our credibility as the National Governing Body would be lost if rules were only enforced under certain circumstances," the team said. "So while our heartfelt understanding lies with Sha'Carri, we must also maintain fairness for all of the athletes who attempted to realize their dreams by securing a place on the U.S. Olympic Track & Field Team."
For readers who supported the team's decision, the most common response was that the rules are meant to be followed, with no exceptions.
"She knew what she did was against the rules but did it anyway," said Mark from South Boston. "She has to deal with the consequences. I don't agree with the rules of the Olympic Committee but that is her job and those are the rules of her employer."
During an interview with the "Today" show Friday, Richardson said she smoked marijuana as a way to cope after learning of her biological mother's recent death.
"I want to take responsibility for my actions," she said. "I know what I did. I know what I'm supposed to do — [what] I'm allowed not to do — and I still made that decision."
Many readers said that while they were sympathetic to Richardson's loss, they felt the suspension was a necessary repercussion. Anything beyond that, however, would be "piling on with additional consequences."
"The rule is the rule and I like how she is owning her mistake. Like she said, she knows what she was not supposed to do," Lisa from Brighton said. "I do question the rule, however. Is marijuana performance-enhancing? If not, get rid of the rule. She should be able to run in the relay as her suspension will be over by then."
More than 350 readers elaborated on their thoughts about Richardson's suspension and the rules about cannabis use by athletes. Ahead, find a sampling of their remarks.
Responses have been edited for length and clarity.
Let her run!
"I know they have their rules and regulations but I think suspending her is too harsh. Other athletes have done worse and they still gave them a chance. Let that girl run. It's not hurting anybody but people who are hating on her talents."
"I'd feel different if this were a drug that speeds you up. But pot is much more likely to slow you down and mellow you out. Don't see why doing something that's legal in her state and doesn't boost performance should be a problem." — Vanessa, South Boston
"I feel horrible for her. If anything, marijuana would harm your performance. Sure you can say that she broke the rules, but the rules are ridiculous and outdated." — Andy, Newton
"I think the only performance weed enhances is Dorito scarfing. Is that an Olympic sport?" — Tim G., Bedford
"I'm a caseworker that often works with children, adolescents, and young adults who have trouble coping with losses, trauma, etc. Medical marijuana does wonders for them, and I think suspending athletes for marijuana use is wrong. I think suspending any athlete for using a drug that has been proven to help mental health is just silly. It's not performance-enhancing, so why does it matter? The fact that this girl ran in a little over 10 seconds is amazing, smoking or not."
"With marijuana use legal in so many states I think U.S.A Track & Field should take another look at their eligibility rules. If the U.S.A T&F rules are based on what is acceptable under Olympic rules then the Olympic Committee should take a look at their rules." — Drew Dancoe, Mansfield
"The decision to suspend Sha'Carri was outdated, out of touch, and perhaps even a bit sinister. This kind of punishment for using cannabis forces athletes to use far more dangerous substances, such as ethanol, that will not result in a ban or suspension and must be changed in the short term." — Grant Smith Ellis, Cambridge
"They're idiots. She's a superstar and turned to a substance that THOUSANDS of Americans use in times of grieving. LET HER RUN!" — Richard, Dorchester
Rules are rules
"Although causing an athlete to miss at least part of the Olympics may seem to be a harsh punishment, I think they are just following the established international and Olympic rules. Track athletes must follow the rules of the sport just like athletes in other sports are required to do." — Jeff, Framingham
"The suspension is fair, but it stops short of addressing the real issues. More attention should be given to this young lady's mental health. She made a mistake, and we have hyper-focused on the mistake, and not the cause." — Sharri, Puerto Rico
"It's unfortunate, but as she said, she knew the rules and made a mistake. She now has to live with that mistake and try to get ready for next time." — Jim, Raynham
"Rules are rules, and we have to follow the rules. Indeed, her competitors and teammates followed the rules. It takes an enormous amount of self-discipline to become an elite, Olympic athlete, and it's a shame that a momentary lapse of reason impacted her and her self-discipline failed her." — Gene, Weymouth
"The suspension is absolutely fair and she should not be allowed to compete. I'm not arguing that the rule shouldn't be changed, but she knew what she was and was not allowed to consume prior to these events. You are 100% responsible for what you put in your body. There are alternative coping options that would not have run her afoul of USADA. You don't get to pick and choose which rules to follow." — Mike, Westborough
"While U.S.A Track & Field's rule is outdated, Sha'Carri knew what she was doing and said as much. Once she's served her suspension the punishment is complete and she should be allowed to compete in the Olympics." — Jim, Hopedale
"Sha'Carri is a great athlete and her athletic ability earns her the right to compete in Olympics, however, it is sending the wrong message to the youth as long you possess the ability that you are above everyone else." — Jim Chou, Needham
Boston.com occasionally interacts with readers by conducting informal polls and surveys. These results should be read as an unscientific gauge of readers' opinion.
Newsletter Signup
Stay up to date on all the latest news from Boston.com