Community
Here's how closely Boston.com readers followed the Olympic games
The average reader did not take home a gold.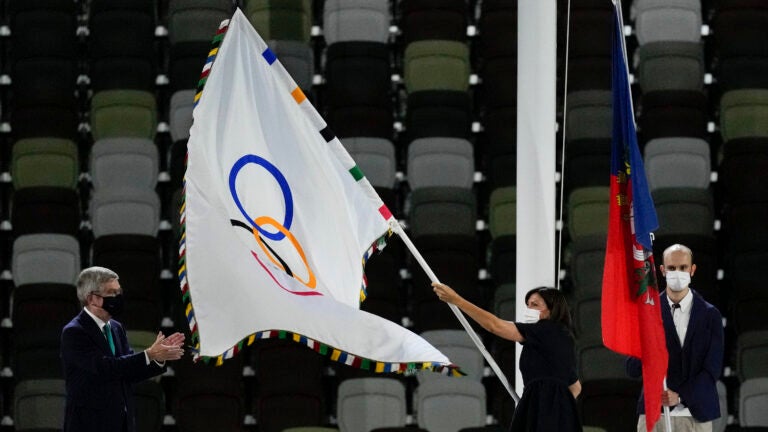 The Tokyo Olympics came to a close on Sunday after an eventful competition and news cycle that included conversations about coronavirus safety and mental health issues among athletes.
The games weren't as widely watched as previous games, with viewership down more than 40% from the last Summer Games. Still, the big stories from the Olympics were part of public conversation.
Ahead of the closing ceremony, we asked Boston.com readers to test their knowledge of Olympics news with a quiz on the biggest wins and losses of this summer's games, and 773 readers responded.
Boston.com readers didn't quite take home the gold. On average, readers scored six out of 10 questions correctly.

Among the most frequently missed questions was one about how many Olympic medals swimmer Katie Ledecky had won in her career. Ledecky closed the Tokyo Olympics with two gold medals and two silver medals, adding to her previous six medals.
Another blindspot for readers was Sha'Carri Richardson, who prior to the games was left off a U.S. team due to a positive marijuana test. When asked which race Richardson was set to run prior to her suspension, most readers guessed the women's 400-meter. Richardson's race was actually the 100-meter individual race, which she ran in 10.86 seconds during her Olympics trials in June.
Surprisingly, readers also frequently missed a question about which two Red Sox minor leaguers played for this year's U.S. baseball team. Only 347 out of the 773 readers got the question right.
What readers were confident about, however, was that the U.S. women's soccer team didn't beat their Canadian counterparts. Six hundred fifty-eight readers answered correctly that the U.S. lost to Canada's team 1-0 in an upset that dropped the Americans into the bronze medal match.
Ahead, see how readers answered all ten of our questions on the Tokyo Olympics.
Who won the gold medal on the women's balance beam?
Correct answer: Guan Chenchen
Katie Ledecky won two gold medals in the 800-meter freestyle. How many Olympics medals has Ledecky won in her career?
Correct answer: 10 medals
Caeleb Dressel set an Olympic record and won gold for which race?
Correct answer: 100-meter freestyle

Local athlete Rashida Ellis is competing in the women's lightweight boxing division at this year's Olympics. What Massachusetts town is Ellis from?
Correct answer: Lynn
Sha'Carri Richardson was left off a U.S. team last month after testing positive for marijuana. What race was Richardson set to run prior to her suspension?
Correct answer: Women's 100-meter relay
True of false: The U.S. women's soccer team beat the Canadian women's soccer team 1-0.
Correct answer: FALSE
Two Red Sox minor leaguers are on the United States baseball team's roster for the Olympics. What are their names?
Correct answer: Triston Casas and Jack Lopez
Laurel Hubbard is the first openly transgender woman to compete in the Olympics. What's her sport?
Correct answer: Weightlifting
First-time Olympian Bobby Finke won how many gold medals during this year's competition?
Correct answer: Two medals
The Olympics added four new sports to the competition this year. Which one of these is NOT one of those additions?
Correct answer: Mixed martial arts
Newsletter Signup
Stay up to date on all the latest news from Boston.com