Community
Shevanna Yee is running for her late cousin who died in the 2013 Boston Marathon bombing
"I'm forever grateful to have this amazing opportunity to run and carry her light all 26.2 miles with me."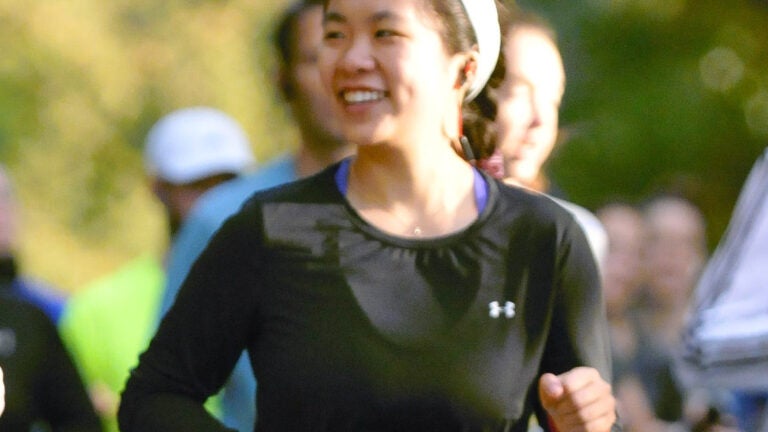 In our "Why I'm Running" series, Boston Marathon runners share what's inspiring them to make the 26.2-mile trek from Hopkinton to Boston. If you're running the marathon, you can share your #WhyImRunningBoston story here.
Name: Shevanna Yee
Age: 20
From: Cranston, Rhode Island
Running the Boston Marathon for the Lingzi Foundation and in honor of my cousin Lingzi Lu has been a dream of mine since my freshman year of college.
Lingzi Lu (GRS'14) was a master's student in the Department of Mathematics and Statistics at Boston University who tragically lost her life as one of the three victims of the 2013 Boston Marathon. At the time, I was 12 years old when news broke of the terrifying events and in dealing with its aftermath with my family.
Lingzi traveled to the United States from China in hopes of following her dreams and fostering her education in a city that she loved. She had prepared all her life to come to the U.S. to study and had an incredible work ethic to make that happen. There are many students like her around the world who share the same dreams and many organizations that reflect her passions in life that all unite in the love for food, music, education, community and culture. I'll be a senior at Boston College this fall and have run two half marathons during my time here.
Since the Foundation's establishment in 2014, I've had the amazing opportunity to meet so many inspiring people, past members of Team Lingzi, and saw how incredibly hard they all worked to cross that finish line and further the Foundation's mission. I am running for Team Lingzi and raising funds for the Lingzi Foundation to share that same goal in supporting organizations and programs that lie close to Lingzi's heart. I'm forever grateful to have this amazing opportunity to run and carry her light all 26.2 miles with me, and to return the love and support we received these past eight years back to the community.
Editor's note: Entry may have been lightly edited for clarity or grammar.
Newsletter Signup
Stay up to date on all the latest news from Boston.com