COVID
Now's a good time to update your sports bucket list
Instead of dwelling on what you're missing, try and transition your thinking to the possibilities you'd love to live out.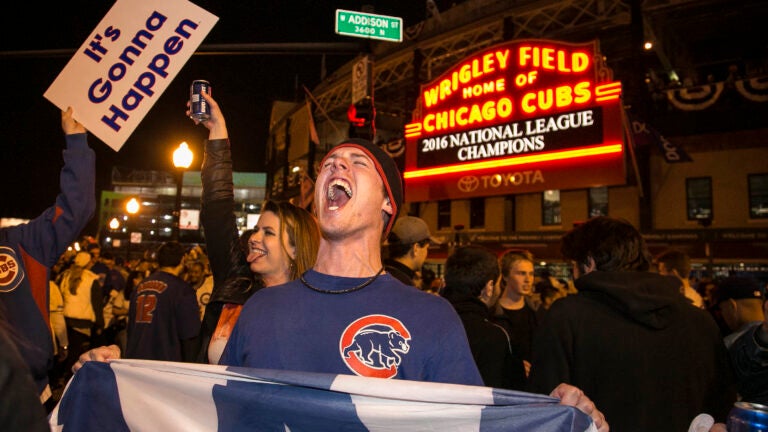 COMMENTARY
A friend sent a text on Saturday afternoon alerting me to a professional cornhole tournament on TV, so I flipped over to ESPN — and lingered longer than I expected to. Part of what piqued my interest was pure curiosity, mostly related to the steps the American Cornhole League had taken to stage a pandemic-appropriate event: Every player wore a face mask (some sponsored), then retreated to a marked, socially distant waiting spot between throws. After each round, an official wearing gloves was tasked with retrieving and resetting the bags so each team never needed to touch its adversary's equipment.
Social distancing x Cornhole

We've got LIVE SPORTS right now on ESPN 🔥 pic.twitter.com/4tC2Cs295J

— ESPN (@espn) May 9, 2020
The other part of my interest was that it felt good — like a gift, even — to be able to watch live sports. The UFC offered a fight card later that same night, NASCAR is slated for a comeback this coming weekend, and between now and then baseball's owners and players are likely to battle over the plan outlining its resumption. The PGA has a plan to be back in June, and the NFL just rolled out a full 16-game, business-as-usual schedule. We seem to be moving toward a return to action, in some form or fashion.
Of course, Saturday's cornhole tournament was held without fans in the stands — as were the UFC bouts, and as are likely to be all of America's major- and minor-league sports for months to come. And while it'll be nice to have something to watch again, we'll still be forced out of those experiences that come with being in the stadium, with bearing witness from the stands, with being present in the big moments that can make our memories or break our hearts. Those moments that have a way of taking our emotional investment and turning it personal.
We'll get our chance to experience that involvement again someday, we have to assume. And when we do, let's do our best to make sure we appreciate it.
Obviously sports is a speck in the grand scheme, but, if we're looking for long-term positives that could be born out of this pandemic, many of us are holding out hope that when this is over we'll no longer take for granted the availability of so many things we enjoy. That we'll make sure to seize opportunities, then savor them. And for the fans among us, sports are a significant part of that.
That would start with the routine, which might mean trying to make sure you get to Fenway at least once a season, or indulging yourself when your coworker says he's unable to use his tickets to the Pats game next Sunday. Maybe it's getting down to Providence or up to Manchester to watch a star rising through the minors. Perhaps it's spending a summer night in the bleachers on the Cape, or a fall afternoon at a small college football stadium.
But these are unprecedented times, with sports yanked away unlike any other period of our lives. It's hardly routine — so don't just stick to the routine as a sports fan when things resume. Think big.
And take this opportunity to rewrite your sports bucket list.
Instead of dwelling on what you're missing, try and transition your thinking to the possibilities you'd love to live out. Decide what you want to prioritize from your perspective as a fan. What you don't want to let pass you by. Where you want to make sure you get to, or who you want to make sure you see.
Personally, I've tried to take a pragmatic approach to mine. Of course, we'd all love to attend the World Series, the Super Bowl, or the finals of a big-time pro sports league. Those are all a given. I've also tried to stay away from things like the Masters or the exclusive parties at the Kentucky Derby — because, well, lotteries don't typically treat me so well, and I don't have much hope that the stars would want to hobnob with me, ridiculous hat or not.
My list would certainly involve some good fortune in terms of getting tickets. In a few cases, I'd be splurging past my fiscal comfort zone. In others, ample vacation time would be a necessity. I've also been lucky enough to be able to enjoy a bunch of amazing sports experiences already — but here's what's left of my list as of now, presented with the hope that it stirs some ideas up for you, and that when the time comes we fans appreciate the chance to start crossing things off.
See LeBron James play in person
Michael Jordan's Last Dance documentary series has rekindled regret in this big-time fan of the '90s NBA, who has long wished he got to see the best player in history. Thing is, basketball's GOAT might still be playing — so I don't want to miss my chance again.
Live on the infield for the week leading up to the Daytona 500
The race itself is special. Everything around the race is a spectacle. I've attended the Great American Race, and driven through the infield — but to live in that culture for a week would promise to be a once-in-a-lifetime experience on a bunch of different levels.
Attend a big-time college football game
Having grown up and attended college in the Northeast, I've only heard about the atmosphere and electricity of a home-game Saturday at a college football powerhouse. I want to soak in the full-day experience that comes with the type of major, meaningful college football we don't have around here. All due respect to Boston College, I want to see what it's like at a place where those gamedays aren't an annoyance for the neighborhood — they define the neighborhood.
A ballpark tour (that must include Wrigley)
At present, my experience in Major League Baseball stadiums doesn't reach outside of the American League East. But sign me up for the roving, rolling romantic ballpark tour some summer that meanders its way through five or six cities — after starting or ending at Chicago's Wrigley Field.
The Ryder Cup
The tension of high-level golf creates an electricity when watching it live, and the Ryder Cup adds in a patriotic element while featuring so many of the world's best players. It's scheduled to take place at Bethpage in New York in 2024. Strikes me as a prime chance for New England golf fans.
A United States women's soccer team match
Speaking of that patriotic feeling, if there's one US national team I want to see, it's the women's soccer team. They're the best in the world, they're ridiculously skilled, they're captivating, and in 2019 many of them became icons. I want to see that — and bring my daughters.
A Bruins-Canadiens game at Bell Centre
I've only heard about the epic intensity and hatred cast toward those cheering on the B's during a game in Montreal. Someday I'd like to experience it for myself.
A road playoff win for one of my favorite teams
We all want to be liked, right? Of course. But there's something empowering about going into a place knowing everyone else is against you — especially when you're confident you've got a team capable of shutting them up. Home playoff wins are great. I want to confirm my suspicion that the feeling after a road playoff win is even better.
The US Open (tennis)
Time it well and a trip to Flushing Meadows could allow you to see Serena Williams, Roger Federer, Rafael Nadal, and Novak Djokovic in a single tournament. Among them they've won 79 grand slam titles — Williams's 23 are the most ever for a woman, while Federer, Nadal, and Djokovic are Nos. 1-3 on the men's list — making for an incredible chance to witness history.
Vegas for the first two days of March Madness
This stretches the definition of spectatorship a little bit. They don't actually play the games in the casino sportsbooks, obviously. But there's action everywhere — with basketball on the screens and betting opportunities all over the place, and the crowd gathered to watch is in most cases more invested (literally) in the outcome than when their rooting interest is purely preferential. Oh, it'll be a welcomed time when life allows us to care so deeply about sports again. Let's hope we can all seize those days.