COVID
The Red Sox are deploying a team of 'COVID-blasting' robots at Fenway Park this season
There's a new Laser Show in town.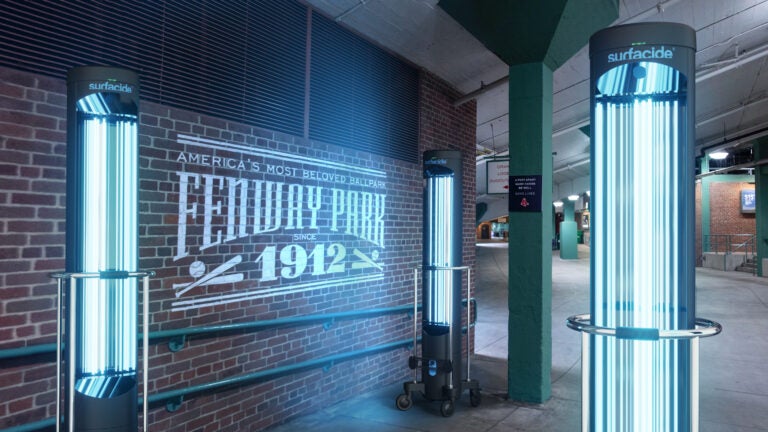 The Boston Red Sox are implementing lots of new safety measures to prevent the spread of COVID-19 at Fenway Park ahead of the return of fans next month:
Dramatically reduced seating capacity. Paperless tickets. Sanitizer stations.
Also, robots.
In a press release Tuesday, the Wisconsin-based disinfection technology company Surfacide announced that the Red Sox have bought a team of its "COVID-blasting" robots to help clean Fenway Park during the 2021 season. The trio of 6-foot-5 medical-grade robots — which altogether cost roughly $100,000, according to Surfacide CEO Gunner Lyslo — are designed to kill viruses and other microorganisms by emitting ultraviolet-C (UVC) light.
"Given how the technology delivers the energy, I think that we'll definitely be able to reduce the presence of the virus," Lyslo told Boston.com in an interview.
According to the Food and Drug Administration, UVC light is commonly used as a disinfectant for air, water, and other surfaces. The light's radiation has proven effective at destroying the outer protein coating — and effectively inactivating — other coronaviruses and experts believe it may have the same effect on SARS-CoV-2, the virus that causes COVID-19 (Lyslo says there's a forthcoming University of Iowa study that looks specifically at UVC light and SARS-CoV-2).
Surfacide's technology has already been in use in local hospitals and nursing homes amid the pandemic, including Massachusetts General Hospital, Beth Israel Deaconess Hospital, Bay State Medical Center, and the Soldiers' Home in Holyoke.
At Fenway Park, Lyslo said the cylinder-shaped mobile robots will be used to disinfect close quarters like team clubhouses and training rooms, as well as higher-traffic fan areas, such as suites and restrooms. The robots, which can be remotely spun 360 degrees using a tablet, have a laser that estimates their distance to the targeted surfaces and autonomously calculates the dose and duration of the energy it needs to emit.
But don't necessarily expect to see them in use. Lyslo says the robots will likely only be used in between games when fans aren't in the ballpark, since direct exposure to UVC light is harmful to humans.
"It's a really high dose of energy, and it doesn't play nice in the sandbox with the presence of humans, or living beings," Lyslo said.
Still, he says the technology could pose major benefits — not just to fans, but also frontline employees.
"These are the individuals that are exposing themselves on a daily basis, and so if we can create a safe environment, relieve some of that stress and anxiety caused by simply showing up to work, that's where it's pretty cool," Lyslo said.
Surfacide is in conversation with other professional sports teams, according to Lyslo. However, the Red Sox are the first team to buy their technology.
After playing their shortened 2020 season without fans due to the pandemic, the Red Sox are beginning the 2021 season at Fenway Park with a 12 percent capacity limit (meaning up to around 4,500 fans) due to Gov. Charlie Baker's reopening rules. The Red Sox website notes that "those capacities could fluctuate throughout the season."
The team is also modifying parts of Fenway Park to promote social distancing around concession stands and entry gate screening areas, and has established an "enhanced daily cleaning program, according to the website. Jonathan Lister, the Red Sox vice president of facilities management, said in a statement Tuesday that the Surfacide robots are "an important part of those protocols."
"With a hospital-grade UV technology product like this, we are able to ensure our ballpark is ready to safely receive fans throughout the 2021 regular season," Lister said.
Get Boston.com's browser alerts:
Enable breaking news notifications straight to your internet browser.