COVID
'Everyday racism' underlies Black athletes' mistrust of COVID vaccine, local doctor says
Some prominent Black athletes like LeBron James are hesitant to publicly endorse COVID-19 vaccination, while others have outright refused the vaccine.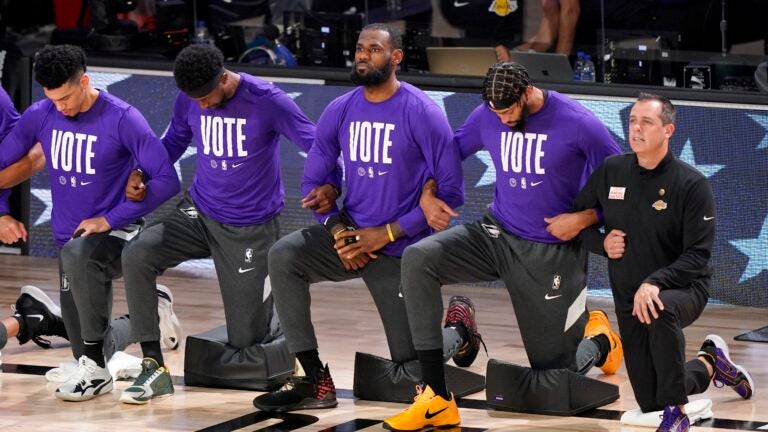 As much as Los Angeles Lakers forward LeBron James's exploits on the basketball court speak for themselves, the power of his off-the-court voice has arguably spoken volumes more in recent years.
The NBA megastar has used his platform time and again to raise awareness on issues of racial injustice, refusing to "shut up and dribble" while speaking out against the killings of Trayvon Martin, George Floyd, Breonna Taylor, and other unarmed Black Americans.
Now, he's even become one of the first Black partners in the John Henry-owned Fenway Sports Group, making him a part-owner of a Boston Red Sox franchise that has a troubled history with racism he hopes to change.
But in the midst of the COVID-19 pandemic, it's what James isn't saying that's drawing attention.
Though he has endorsed common social distancing practices throughout the pandemic — often appearing with a mask at games and in public — James has yet to publicly endorse COVID-19 vaccines or say he will personally receive one himself — despite calls from figures like United States surgeon general Jerome Powell to do so.
"That's a conversation that my family and I will have. Pretty much keep that to a private thing," James said when asked about whether he'd get a COVID vaccine before All-Star Weekend earlier this month. "Things like that, when you decide to do something, that's a conversation between you and your family and not for everybody. I'll keep it that way."
To some, James's silence on the issue is concerning given the pandemic's disproportionately harmful effects on people of color, especially Black Americans.
Per The Atlantic's COVID Racial Data Tracker, Black Americans have died at higher rates from COVID-19 than any other racial group and account for roughly 15 percent of all COVID deaths where race is known as of March 7. In spite of those glaring statistics, reports have shown less than 20 percent of Black Americans say they trust the vaccine's safety or would definitely get vaccinated.
That's why Dr. Abraar Karan, a global health physician and resident at Brigham and Women's Hospital and Harvard Medical School, wants to see athletes like James take on a bigger role in advocating for the vaccine.
"As a doctor, I respect the privacy of what individual patients and people do, but I do think that if athletes like LeBron are going to be getting their vaccine it's important to think about the public messaging around that," Karan told TMZ.com in an interview.
"Athletes can take that public leadership role and help people feel safe about being vaccinated."
But for Dr. Fatima Cody Stanford, a physician-scientist at Massachusetts General Hospital and Harvard Medical School, the reluctance of prominent Black athletes like James to fully embrace the COVID vaccine comes as no surprise: "If we look at the history of race and its role in medicine in this country, there is a large distrust of the health care system."
Stanford co-authored a recent study in The New England Journal of Medicine — "Beyond Tuskegee — Vaccine Distrust and Everyday Racism" — that delves into the widespread reluctance in the Black community regarding the vaccine.
Those fears, according to the paper, don't simply stem from isolated incidents like the oft-cited Tuskegee Syphilis Study or the exploitation of Henrietta Lacks in creating the first "immortal" cell line.
"Indeed, not every Black American is aware of these atrocities or would blame them for their distrust," the authors write. "Yet every Black person knows their personal challenges in navigating health care institutions, perhaps even more so during this pandemic. Daily subtle mental assaults are more salient in explaining a lack of trust in medical institutions and, by extension, in COVID vaccines."
Prominent Black athletes like James, she explains, aren't just public figures with money and influence. They're members of a community with a learned distrust of medicine born out of centuries of racism.
Andrew Wiggins on the COVID vaccines: 'I don't really see myself getting it any time soon, unless I'm forced to.'

— Monte Poole (@MontePooleNBCS) March 23, 2021
Stanford says even Black medical professionals like herself frequently encounter racism and dismissive treatment as patients, citing Dr. Susan Moore, an Indiana physician who died from COVID-related complications last November after complaining of racist health care treatment, as a stark example of that phenomenon.
Some of her colleagues, she claims, have expressed doubts about receiving the vaccine despite their medical training.
Still, Stanford does agree that James endorsing the vaccine could sway many who respect his opinion to consider getting the shot themselves. She points to Tyler Perry, the well-known producer and actor, as an example of a Black celebrity publicly receiving the vaccine despite initial skepticism.
Additionally, NBA legends like Kareem Abdul-Jabbar and former Boston Celtic Bill Russell have also done public service announcements for the vaccine as part of the NBA Cares initiative. NBA commissioner Adam Silver says the league itself will not mandate COVID vaccines for players, but he believes most players will get vaccinated and is creating incentives for athletes that do.
The Los Angeles Lakers, who just announced some of their members will receive the vaccine, could join the Atlanta Hawks, New Orleans Pelicans, Portland Trailblazers Miami Heat as teams to publicly acknowledge receiving their immunizations, including some players who met their respective state's eligibility requirements such as having a body mass index over 25.
In Massachusetts, the BMI qualification limit is 30, meaning fewer athletes might be eligible currently unless they have other conditions. Celtics guards Kemba Walker said back in February that his team has "had a couple of meetings" about receiving the vaccine but didn't provide additional insights into his teammates' willingness to get COVID shots.
As for himself: "I'm not sure. I need to learn some more about it," he said at the time. "We'll see more down the line. I don't know much about it yet. I'm not sure."
Bill Russell, who turns 87 later this month, became the third notable NBA figure to receive the coronavirus vaccine both for his health and to help the league's efforts to promote it. https://t.co/n2jpCr5TA6

— USA TODAY (@USATODAY) February 5, 2021
Even Perry has said he didn't want people to get vaccinated just because he's done it himself.
"What I want to do is give you the information, the facts," he said. "There's a lot of misinformation out there."
Misconceptions and doubts about the vaccine's safety, Stanford says, can spread like wildfire, just like the suggestions that baseball legend Hank Aaron and boxing great Marvin Hagler died due to negative reactions to the COVID vaccine — claims that have been rejected by medical experts in both cases.
She says friends, family, and patients — who are about 40 percent Black — have reached out with their own questions about the vaccine, noting that her being a Black doctor makes her especially more likely to be trusted for medical advice by Black patients.
But Stanford warns against believing endorsements from Black doctors like herself and influential Black figures like James and Perry can do "400 years of work" to bridge the trust gap between the Black community and medicine: "We can't solve racism for ourselves."