David Ortiz
Seth Meyers told David Ortiz what every Red Sox fan is thinking on 'Late Night'
The late night host, who grew up in New Hampshire, had nothing but kind words for Big Papi.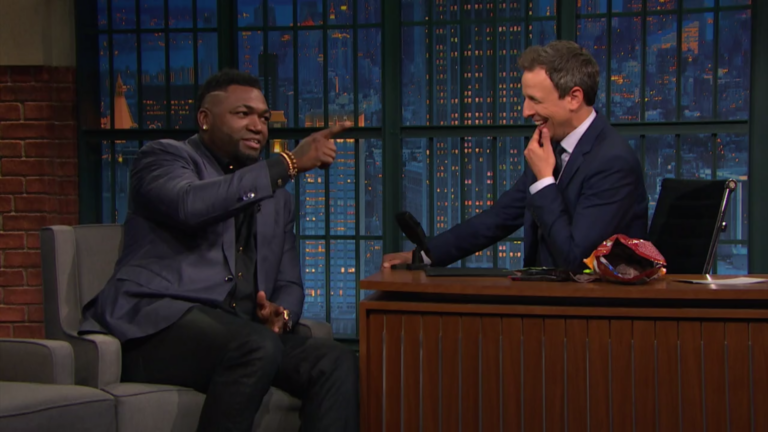 David Ortiz stopped by Late Night with Seth Meyers Monday night to talk about what kind of reception he might get from the Yankees fans during his final three-game series against the longtime Red Sox rivals, laugh about Kenan Thompson's Saturday Night Live impression of him, and reminisce about the 2004 ALCS.
Meyers, who is a big Red Sox fan due to growing up in Bedford, New Hampshire, thanked Ortiz for his on-field heroics during the 2004 ALCS against the Yankees, which cemented Big Papi's legacy in Boston.
"I'm a little embarrassed to say this, but it's also very true — the 2004 Red Sox are the most important team in my life," Meyers said. "[They] made me be able to be a human being, and stop watching every second of every baseball game in my life."
Ortiz and Meyers also talked about what the Yankees fans may have in store for him.
"How do you think Yankee Stadium fans will treat you?" Meyers asked. "Because I know at Fenway Park they've been very kind to people like Mariano Rivera, Derek Jeter — some of their great adversaries over the last decade-plus."
"Well, last time I heard, [they were] planning [to] moon me," Ortiz said, jokingly. "You're talking about 100,000 buttcheeks out there looking at me."
"I've been to Yankee Stadium, they're not all A+ butts," Meyers added. "There's some bad butts in that stadium."