David Ortiz
34 reasons Red Sox fans will always love David Ortiz
Everything from his 2004 heroics to the complete destruction of a bullpen phone is included.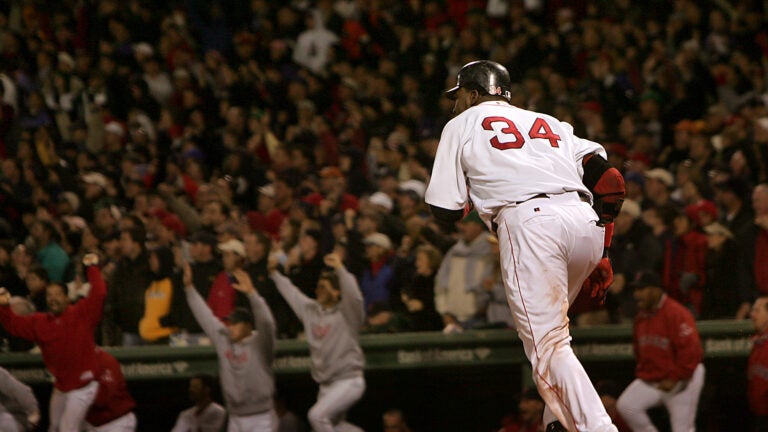 In David Ortiz, Red Sox fans have had a superstar whose story has been unbelievable from start to finish.
Arriving in Boston after being released as an afterthought in Minnesota, he helped to break the "curse" and developed into an elite hitter in the process with a historic knack for clutch home runs. And as he leaves, Ortiz is still achieving the unbelievable: setting a record for the most home runs hit by a 40-year-old.
In the span of his time with the Red Sox, Ortiz has compiled a staggering list of achievements, including an almost inexhaustible supply of clutch hits. Yet he also connected with Red Sox fans (and baseball fans in general) through his indomitable personality.
Though the reasons why Red Sox fans will always hold Ortiz in special regard number far more than 34, here are some of the best:
1. His Red Sox origin story: Following the 2002 season, Ortiz was released by the Minnesota Twins. In an exchange that Ortiz relayed in a Players' Tribune piece in September, 2015, he described how a fortuitous encounter with Pedro Martinez in a Santo Domingo bar changed his career and Red Sox history.
2. The continuous charity work: As it has done for years, the David Ortiz Children's Fund will keep helping access pediatric care both in the U.S. and the Dominican Republic.
3. His leadership: In a memorable pregame speech, Ortiz spoke to the Fenway crowd before the first game following the Boston Marathon bombings in 2013. Declaring that "this is our f*cking city," Ortiz's words resonated with Bostonians still coming to terms with the tragedy:
4. His first Red Sox home run: Ortiz hit his first home run with the Red Sox against the Angels to the opposite field. Ben Affleck approved, and soon the starting designated hitter spot was his:
5. His first walk-off: Facing the Yankees in the bottom of the ninth during a July game in 2003, Ortiz hit the first of what would be many walk-offs, singling off of Armando Benitez.
6. His first postseason hit: Trailing 4-3 in the bottom of the 8th, Ortiz's first postseason hit with the Red Sox gave Boston the lead:
7. His selfies:
With my boy the legend tom brady congrat brother well deserve it…. pic.twitter.com/VO9FmmbjKg

— David Ortiz (@davidortiz) April 13, 2015
What an honor! Thanks for the #selfie, @BarackObama pic.twitter.com/y5Ww74sEID

— David Ortiz (@davidortiz) April 1, 2014
8. The All-Star Game moonshot: In his first All-Star Game, Ortiz crushed a monster home run to help the American League clinch home field advantage in the World Series:
9. His legendary run in the 2004 postseason, beginning in the ALDS: In Game 3 of the ALDS against the Angels, Ortiz ended the series with a walk-off home run, sending the Red Sox into a fateful rematch with the Yankees:
10. Beating the Yankees… With the Red Sox staring at a 3-0 series hole, Ortiz capped a comeback with a two-run walk-off home run:
 …again … Having homered earlier in the game, Ortiz delivered again, willing a base-hit into center field for his second straight walk-off. This famous fan video captured the mood at Fenway Park:
 …and again: In the first inning of the critical Game 7, Ortiz responded to Johnny Damon getting thrown out at home plate by sending the next pitch into the right field bleachers to give the Red Sox an early lead, which they never relinquished:
11. Calming our nerves in the World Series: In his first World Series plate appearance, Ortiz calmed the nerves of his teammates and Red Sox Nation with the familiar sight of a three-run home run:
12. His defense? Amid pre-series questions about his ability to play first base when in St. Louis, Ortiz made a perfect throw to catch Cardinals pitcher Jeff Suppan napping at third base. It helped to end Cardinals momentum:
13. Representing the league in style while abroad: During a tour of Japan with Major League All-Stars, Ortiz hit an absolute moonshot 514-foot home run in the Tokyo Dome:
14. This walk-off home run off of the nearly unhittable: Trailing 4-3 in the bottom of the ninth inning, Ortiz faced Orioles closer B.J. Ryan. In his entire career, left-handed batters hit only .179 against Ryan. But Ortiz turned on a fastball, sending it over the center field wall for a 6-5 win.
15. Regularly inciting scenes like this: In the midst of a career regular season, Ortiz had a string of characteristically clutch hits. His three-run homer against the Rangers in the bottom of the ninth was captured by a fan's video:
16. Hitting 50 home runs in a season: With a mammoth home run, Ortiz tied Jimmie Foxx for the most home runs in a single season for the Red Sox with 50 in 2006. By the end of the year, Ortiz would finish with 54.
17. Hitting behind Manny: Facing the Angels in the playoffs yet again in 2007, Ortiz combined with Manny Ramirez for a familiar playoff moment. They hit back-to-back home runs:
18. His legitimately funny ESPN commercial: Normally a rival, Ortiz teamed up with Yankees catcher Jorge Posada for a classic Sportscenter advertisement:
19. Winning the 2010 Home Run Derby: Smashing 11 home runs in the final round (and 32 overall), Ortiz crushed his way to the Home Run Derby championship:
20. Trying to hug it out with New York even if most didn't want to: Given his history of competition against the Yankees, Ortiz found a lighter side with rival fans by trying to "hug New York" in a video for MLB Fan Cave:
21. Knowing he wasn't perfect: Ortiz shared a funny moment with another legend, Derek Jeter in September of 2011:
22. His generosity: During a press conference announcing a contract extension for Dustin Pedroia, Ortiz calmly "stole" second base for his teammate:
23. Unleashing utter devastation…on a phone: In a moment of frustration in 2013, Ortiz showcased one of the most awesome displays of dugout destruction ever seen. Though a lefty, the slugger displayed his right-handed power with a few  swings at a bullpen phone before finishing off with a last left-handed blow:
https://giphy.com/gifs/big-high-quality-papi-Wqdv933rGgqiY
24. This series-altering grand slam: Trailing 5-1 in the game and 1-0 in the 2013 ALCS, the Red Sox were in an increasingly desperate position when Ortiz came to bat in the bottom of the 8th inning. His game-tying grand slam changed the complexion of the ALCS:
25. His unbelievable 2013 World Series: From start to finish, the 2013 World Series belonged to Ortiz. He hit an astounding .688 over six games, collecting more total bases than at-bats. Needless to say, he won the World Series MVP.
26. The speech: Part of Ortiz's leadership extended beyond his hitting ability. In a pivotal Game 4 of the 2013 World Series, he rallied his teammates with an in-game speech that helped to turn the tide:
27. Keeping Derek Jeter on his toes: In the same at-bat, Ortiz faked a bunt against the Yankees (drawing a smile from Derek Jeter) before clobbering a home run:
28. The Dunkin' Donuts ads with Gronk: Partnering with Patriots tight end Rob Gronkowski, Ortiz helped to make several commercials that could probably be deemed "so bad they're almost kind of catchy."
29. The SNL impression: Kenan Thompson of Saturday Night Live made the first of what would be several parodies of Ortiz. Here's the most recent one:
…and laughing at himself: Ortiz responded to Thompson's parody, laughing and saying "I thought it was very funny."
30. The 500 homers: More than a decade after being released by the Twins and given up on, Ortiz smacked the 500th home run of his career in 2015:
31. Delivering on an extraordinary promise: In a video message to Maverick Schutte, a young Red Sox fan with a congenital heart defect, Ortiz stood next to former teammate Kevin Millar in a video message. In it, he promised Maverick a home run that night:
This is the video me and @davidortiz sent our little buddy Maverick before Red Sox game tonight…. pic.twitter.com/kVTqSoe8OV

— Kevin Millar (@KMillar15) April 30, 2016
That night, true to his word, Ortiz hit a go-ahead home run against the Yankees:
#BigPapi doing Big Papi things! ?https://t.co/qcwo2t4t8T

— Boston Red Sox (@RedSox) April 30, 2016
32. Another legitimately funny commercial: In an ad for JetBlue, Ortiz showed his humorous side again by annihilating pinatas:
33. Showing that 40 is the new 30: With another towering shot, Ortiz set the record for most home runs in his final season:
With his 35th homer, @DavidOrtiz has the most EVER by player in an age-40 season or older. https://t.co/tuuFUdIwXu pic.twitter.com/pGzReaATOv

— MLB Stat of the Day (@MLBStatoftheDay) September 20, 2016
34. His goodbye: Even in defeat, it was a truly legendary send-off:
https://twitter.com/trenni/status/785662865491554305