Deflategate
What legal experts think of Tom Brady's appeal petition
"I wouldn't classify it directly as a Hail Mary, but it's certainly a long shot."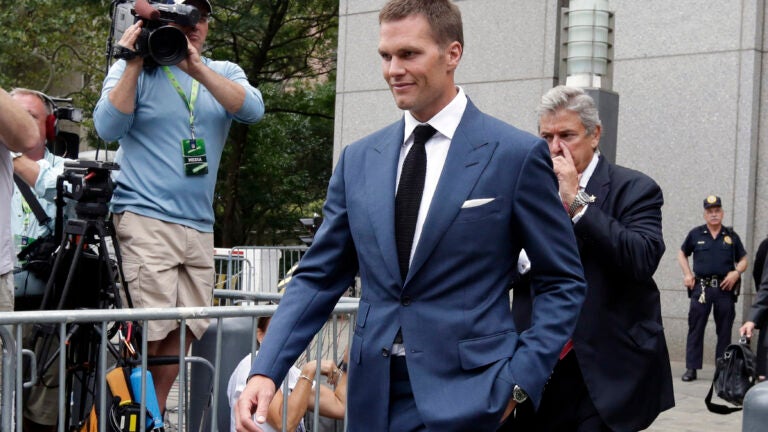 With the news that Tom Brady will appeal for a second hearing in front of the 2nd U.S. Circuit Court of Appeals in the matter of his four-game "Deflategate" suspension, it's worth noting that legal experts aren't entirely dismissive.
Brady is launching his appeal en banc of the 2-1 decision against him on April 25 (in which two of the judges sided with the NFL). This means that he will require seven of the 13 judges presiding to rule in his favor in order to get a rehearing.
The issue then would be whether the court would hear it either as three judge panel again, or a rehearing en banc. Essentially, those options mean that the court could rehear the appeal as it originally did in April, as a panel of the same three judges who recently ruled in favor of the NFL. Alternatively, it could decide on an "en banc" route, meaning that potentially 14 judges would be part of a rehearing.
On the surface, neither of the scenarios look particularly likely.
"Courts are very hesitant to take these cases that have been decided by three of their judges," ESPN business analyst Andrew Brandt told SportsCenter earlier on Monday.
"I wouldn't classify it directly as a Hail Mary, but it's certainly a long shot," Brandt explained.
At first glance, the statistical odds of a rehearing en banc are insanely low:
CA2 en banc stats (2000-2010): 8 cases out of a total of 27,856 completed appeals were reheard en banc (less than 3/100 of 1% of the cases)

— Daniel Wallach (@WALLACHLEGAL) April 26, 2016
It's important to note that the stat doesn't differentiate between all appeals and those that specifically motioned for a rehearing en banc (as is the case with Brady). Nonetheless, the chances remain low.
"Brady's odds are better, although by no means good, in regards to his accompanying petition for a rehearing en banc," wrote University of New Hampshire law professor Michael McCann in his Sports Illustrated piece.
"It is more probable than not that Jimmy Garoppolo will be starting week one against the Arizona Cardinals," McCann told SI Now in a wry reference to the now-infamous phrasing from the Wells Report.
And McCann points out a less-discussed factor: the potential importance of outside influence. If other union groups were to file amicus briefs recognizing the importance of the precedent set in a union-related fight, it could change the tenor of the conversation and possibly sway some of the judges who will rule on whether or not to grant a rehearing.
"The more Brady's case is viewed as about fundamental principles of labor-management relations and the less about whether a star quarterback should be suspended over a bizarre equipment controversy, the more consequential his case would seem to the 13 judges," McCann reasoned.
Not surprisingly, this appears to be what Brady's high-profile legal team is attempting to do. In a draft of the motion for a rehearing, there were several allusions to the wider importance of the court's April 25 ruling against Brady and in favor of the NFL.
Either way, this will take time.
"I'm projecting about a month before they decide whether to take the case or not," said Brandt.
And even if Brady is granted a rehearing but ultimately loses, there's a good chance he would still be able to play for the duration of the 2016 season, as the process would take months.
In the meantime, for those looking around for the next important step in determining Brady's odds, here's a good one to keep an eye:
https://twitter.com/WALLACHLEGAL/status/734787404746371072