Patriots
Robert Kraft on his Deflategate response: 'I like to get in a battle I can win'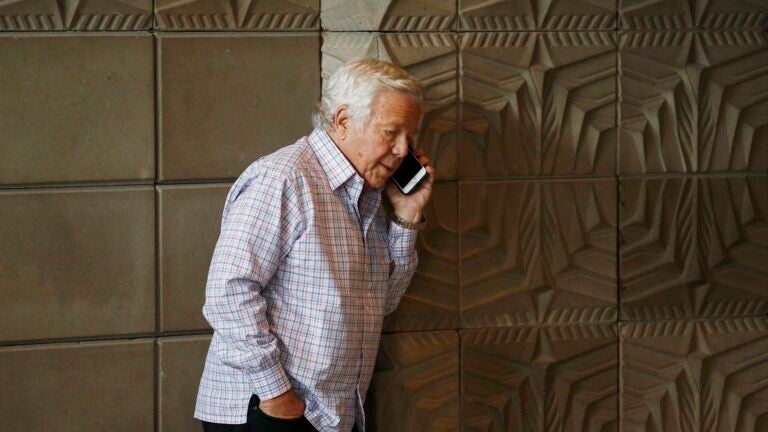 New England Patriots owner Robert Kraft embraced debate Tuesday, appearing on ESPN's opinion show First Take.
In a two–part interview, Kraft fielded questions from hosts Stephen A. Smith, Max Kellerman, and Molly Qerim on Tom Brady's career, the Patriots' recent Super Bowl win and offseason, and even some of the backlash he received from fans amid the team's Deflategate punishment.
"You had people actually coming after you, because at one time they felt that you didn't support Brady enough, which obviously ended up being ridiculous," Smith prefaced his question, asking what it was like for Kraft last season, given that some fans thought the owner didn't initially push back enough against the NFL's penalties.
"I don't think they totally understood the dynamic," Kraft said. "I like to get in a battle I can win."
Kraft did receive some criticism at the time for accepting the penalty NFL Commissioner Roger Goodell levied on the team — a $1 million fine and the forfeiture of two draft picks.
"If I'm going to go in a battle and I'm going to be before a jury that's the commiss-, the person who meted out the punishment, try to do whatever I could to acquiesce," Kraft continued. "We agreed to pay the fine and do whatever we could do, so that hopefully they would go easier on Brady."
After Goodell refused to reduce Brady's four-game suspension, the Patriots of course went on to appeal the decision in federal court — with Kraft leading the charge. In the interview Tuesday, he hinted at the belief that some of the other 31 NFL owners had something to do with Brady's suspension not being lessened.
"We didn't get any daylight there and I think there were a lot of forces at work," Kraft said. "And I understand it. A number of owners in this league want to win badly, just like I do, and perhaps it was a strong feeling that no negotiation."
Kraft trailed off, before adding: "This whole thing — it's in the past — but it was ridiculous."