Golf
Traffic presents problematic wrinkle for US Open golfers at Shinnecock
"My head is getting ready to explode."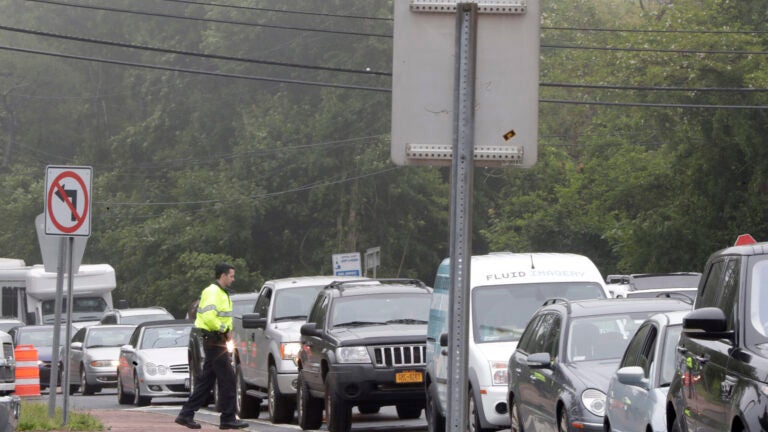 SOUTHAMPTON, N.Y. (AP) — The world's best golfers are crossing their fingers and hoping for luck as they head to Shinnecock Hills for the U.S. Open this week.
It's not the pin placements or green speeds they're worried about.
Not the weather or the depth of the rough, either.
It's the Long Island traffic that has snarled their commutes to the course, stranding them on two- and four-lane roads, staring at brake lights for hours on trips that would otherwise be as short as 15 minutes.
"It's the worst traffic I've ever dealt with at a golf tournament," said Brian Stuard, a pro since 2005 who left at 6 a.m. for his Monday practice round and still needed more than two hours to get to the course. "I'm still trying to figure it out."
Long a haven for New York City-dwellers eager to trade the pavement for the beach, the Hamptons are hardly new to traffic: The morning crawl of builders, landscapers and other laborers on their way to job sites is known locally as the "trade parade."
But the influx of golf fans, combined with the usual post-Memorial Day growth of the summer vacation crowd, has slowed things even more. Tiger Woods, who is staying nearby on his yacht, Privacy, said he'd heard of players needing up to three hours to get to the course.
"You get a little traffic, you get maybe a little fender bender, it's not inconceivable someone could miss their (tee) time," he said.
A golfer who misses his tee time is disqualified; there are exceptions, but traffic isn't one of them. Jeff Hall, the USGA's top rules official at the tournament, said players and caddies have been warned to leave extra early.
Another text was being sent on Wednesday night as a reminder.
"We all understand what the rules of golf say: You need to start at the time that the committee appoints, and the players, they live that every week," Hall said. "They've certainly been experiencing it for the last three days. … I'm pretty confident they will adjust their schedule accordingly to take the proper precautions."
Police are making adjustments, too.
The USGA said in a "traffic alert" on Wednesday to expect delays of up to two hours in the morning within a 10-mile vicinity of the course. Southampton Police Chief Steven Skrynecki urged workers, homeowners and golf fans to avoid rush hours — from 5:30-8:30 a.m. and 4:30-7 p.m.
"Yeah, it starts early," he acknowledged.
Skrynecki said police are adding signs, posting more officers at main intersections and switching some stoplights to flashing mode to help speed along traffic. The flow has improved each day so far and is expected to get even better on the weekend, when the tradesmen are off and the Long Island Rail Road has fewer demands from the weekday city commute.
"It's not perfect," Skrynecki said. "But the underlying traffic conditions are such that it's not going to be perfect."
Although most golfers are staying at private homes near the course, a couple dozen are staying at the official USGA hotel in Riverhead. According to Google Maps, the 13-mile trip should take 18 minutes with no traffic.
Caddie Craig Connelly said it took him nearly three hours to get from the USGA hotel to the parking lot by 7:10 a.m. His player, Martin Kaymer, had a tee time at 7:40, and the course was still a few miles away by shuttle bus.
"My head is getting ready to explode," Connelly said.
Russell Knox never made it to a dinner with sponsors on Tuesday night. "After being in the car for an hour and a half, we just turned around," he said.
His caddie, Ramon Bescansa, left at 6 a.m. for a 7:40 practice round, thinking it should take about a half-hour. He was still stuck in traffic at 8 a.m.
Bescansa had been offered a room in a house near the course but decided to stay in Riverhead.
He moved.
"I called my friend and said, 'Do you still have a room open?'" he said.
Others guessed right.
Jason Day avoided the traffic by staying in an RV that he said was 30 seconds from the parking lot. Rory McIlroy said his trip is three minutes, door-to-door.
"I don't know if we were very smart or very lucky. One of the two," McIlroy said. "One of the things about this area is it's a small piece of land and can only take so many people."
None of this was a problem when Shinnecock hosted its first U.S. Open: A two-hour horse-and-buggy trip to see Scotsman James Foulis win in 1896 would be downright speedy. Traffic was a problem for the most recent Open at Shinnecock, in 2004, but nothing like this.
But the USGA's Davis rejected suggestions that the tournament had outgrown Shinnecock Hills or other locations like it. The U.S. Open will be back in 2026 for a sixth time.
"Listen, just because of what's happened the last couple days, the last thing we're going to do is give up on one of our truly treasured sites," he said. "We love this place."
___
AP Golf Writer Doug Ferguson contributed to this report.