Health
Mikaela Shiffrin will perform as part of a virtual concert to support 'Goggles for Docs'
Shiffrin said she will do an "opening performance."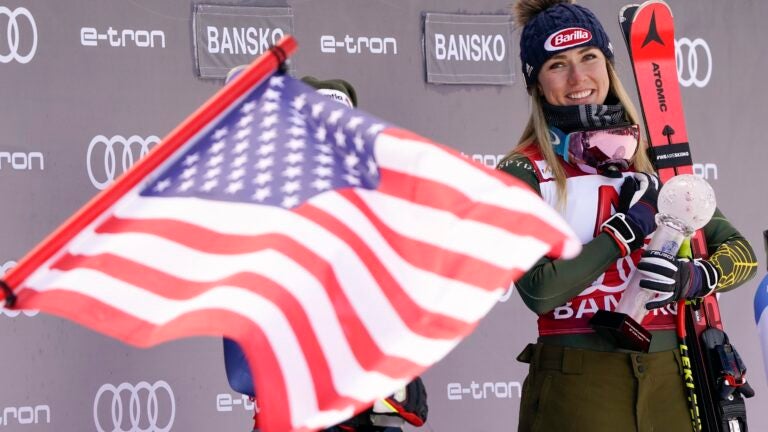 The grassroots campaign that started in Massachusetts and has facilitated the donation of more than 30,000 goggles to healthcare workers in need is getting a special guest at this Friday's online "aprés happy hour."
Olympic gold medalist skier Mikaela Shiffrin, who was an early advocate of the charity Goggles for Docs, will be a musical participant in the latest virtual concert series as an opening act for KT Tunstall.
The Virtual Après Music Series, which Goggles for Docs is doing in partnership with REVERB.org, will begin on Friday at 7 p.m. ET in a livestream on Facebook. During an appearance on "Today," Shiffrin elaborated on the fundraiser series.
"Basically every Friday evening, they are doing a sort of Facebook live event aprês ski concert style thing and every week a different professional musician — I'm not professional — is hosting it," Shiffrin explained. "This week it's going to be KT Tunstall and I'm doing like an opening performance."
"The actual concert is going to be great," Shiffrin joked. "My portion, we'll see. But I think it's going to be really fun."
Shiffrin, 25, has a history of playing music, periodically posting videos of herself on social media singing and playing guitar.
Her versatility should come as no surprise to ski racing fans who saw her win four World Cup titles in 2019, including the overall title. In total, she has 66 World Cup wins, two gold medals and a silver medal. In 2019, she broke the all-time slalom wins record for any skier with 41 (she currently has 43).
Her recent return to public events has come after the death of her 65-year-old father, Jeff, in February. Shiffrin left the European World Cup circuit to be with her family. She was scheduled to return to racing in Sweden in March, but the event — the season finale — was canceled due to COVID-19.
Shiffrin said she heard about Goggles for Docs when it was first organizing as healthcare workers scrambled in March to fill shortages in personal protective equipment (PPE).
"It's a really good, amazing way for people who want to help with the hospitals and healthcare system that need the help," said Shiffrin on "Today."
Goggles for Docs was started by Berkshire East and Catamount co-owner and general manager Jon Schaefer after he was contacted by a New York City doctor who was looking for any solution to the lack of protective face shields in hospitals.
Since the then, the effort has grown considerably.
"Our team has worked to vet over 550 hospital requests from facilities located in all 50 states, including several Native American reservations and Puerto Rico, Canada, Argentina, Chile, Mexico and France," wrote Schaefer in a Facebook post on the Goggles for Docs page. "Our volunteers have created and managed 277 drop box locations [in] 35 states and 5 five countries for thousands of donors to utilize. Thousands of individuals and dozens of companies have committed their gear and inventory to directly support our caregivers."