Health
BU researchers find CTE in almost 92% of former NFL players they studied
The condition was found in 345 of the 376 former players whose brains were studied by Boston University's CTE center.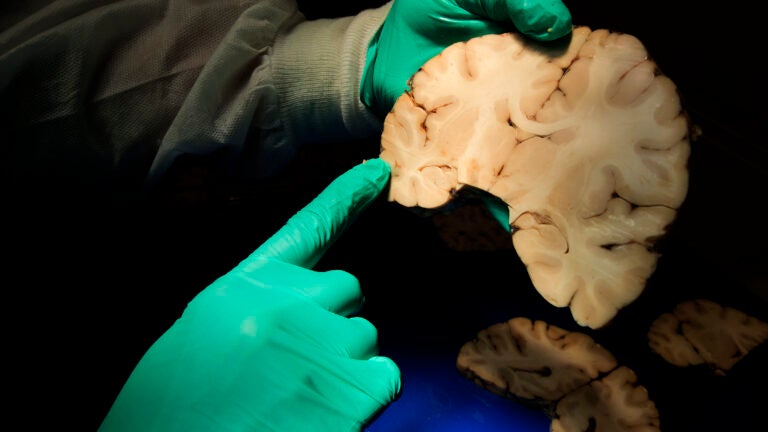 Researchers at Boston University announced Monday that they found signs of CTE in almost 92% of former NFL players they studied.
In total, CTE was detected in 345 of 376 former players whose brains were studied by those at BU's CTE Center. The university is a worldwide leader in studying CTE, or chronic traumatic encephalopathy. This degenerative brain disease is found in people with a history of repetitive head impacts, such as football players. CTE can only be diagnosed after death.
Among the former players that BU researchers found CTE in are former Philadelphia Eagles quarterback Rick Arrington and former Kansas City Chiefs defensive tackle Ed Lothamer. The Eagles and Chiefs play this Sunday in the Super Bowl.
As a point of comparison, the BU team referenced a 2018 study conducted by the university that looked at the brains of people who donated their bodies to the Framingham Heart Study. Researchers found CTE in only one of the 164 people studied as part of that work. The one CTE case detected was found in a former college football player, the university said. This extremely low rate of CTE is in line with similar studies conducted in Australia, Austria, and Brazil.
Since CTE can only be definitively identified after death, the prevalence of the disease among living current and former NFL players is not known. The data released this week should not be interpreted as to suggest that almost 92% of all current and former NFL players have CTE, the university said.
CTE is characterized by a "misfolded" protein that is not similar to changes in the brain caused by aging, Alzheimer's disease, or other conditions.
"While the most tragic outcomes in individuals with CTE grab headlines, we want to remind people at risk for CTE that those experiences are in the minority," Ann McKee, director of the BU CTE Center and chief of neuropathology at VA Boston Healthcare System, said in a statement. "Your symptoms, whether or not they are related to CTE, likely can be treated, and you should seek medical care. Our clinical team has had success treating former football players with mid-life mental health and other symptoms."
There are currently five active clinical studies on CTE run by BU and the Concussion Legacy Foundation. Former athletes of any gender who played contact sports are being invited to participate in this research so that scientists can learn how to diagnose and treat CTE. More information about these studies and how to enroll can be found online.
The BU CTE center has done considerable research on the disease in recent years, and will publish its 182nd study on CTE soon, the university said.
People who believe they or a loved one has symptoms related to prior concussions or CTE are encouraged to contact the CLF HelpLine. This service provides a number of resources, including referrals, one-on-one peer support, and online support groups.
"I miss my hero dearly," Jill Arrington, Rick Arrington's daughter and a former sideline reporter for CBS, Fox, and ESPN said in a statement. "It pains me to know his life was cut short by the sport he loved most. As a brain donor, part of his legacy is in this research, and I want all former football players to know how important it is to contribute and sign-up for studies so Boston University CTE Center researchers and their collaborators around the world can learn how to treat, and one day cure, the disease that devastated our family."
Newsletter Signup
Stay up to date on all the latest news from Boston.com