High School Sports
Meet this Maine high school's only cheerleader
In Oakland, Maine, there was an "I" in team: Katie Berthiaume was Messalonskee High School's only cheerleader this fall.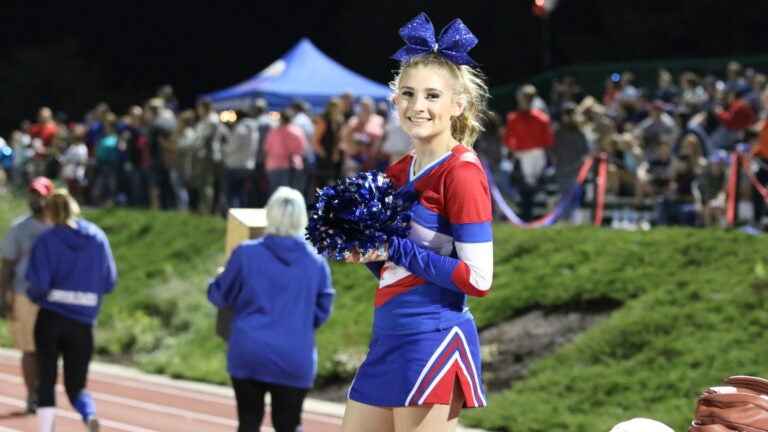 When the Messalonskee Eagles took to the field this fall, they could count on encouragement from their cheer squad — or, rather, Katie Berthiaume.
The 18-year-old high school senior was the only member of the Messalonskee High School fall cheer team.
"I love the sport. I've always loved it, and it's my senior year," Berthiaume said. "I didn't want to give up on my school or myself, so I decided to keep going."
Standing on a blue-painted wooden box emblazoned with "MHS" and an eagle, Berthiaume would scan the field from her spot just left of the 50-yard line. This year, Berthiaume was responsible for following the game and launching into corresponding cheers. In the past, her coach had cued the team, but this year it was up to Berthiaume alone.
"I was really nervous to call them because I didn't want to call the wrong one, but I really had to buckle down this year and know when to do the right cheers and everything," Berthiaume said.
Berthiaume said most of the cheers changed from the previous season. "I just had to like use up as much space as I could by myself and make it like look good, so [I] had to do a lot of different and new like moves than before."
Although Berthiaume was the only member of the squad, she had plenty of support in the stands and on the field.
"The band was a big help at my school," she said. "They learned most of my cheers, and they cheered along with me. They listened to me. They helped make myself louder because I'm loud, but I'm not that loud."
Parents, classmates, and even opposing cheer squads also offered their encouragement, according to Berthiaume's mother, Kimberley Berthiaume, a former cheer coach and Central Connecticut State University cheerleader.
"From the other side of the field, it's almost hard to tell that's she's the only one because of the band and the other students. Parents have been really supportive. Of course, you get the questions every once in a while, 'well why is there only one?'" Kimberley said.
Katie said it was confusion over coaching that resulted in the program's low participation this past season.
"We found out a week before preseason started that we had a coach, so nobody really even knew if there was going to be a fall cheer team," she said. "It was very last minute, we started the season off … with five people. One of them instantly couldn't do it because of her grades last year, so she was off the first day. So that left us with four. Two, and then three, of them couldn't do it because of work, so that left me. Our coach said 'I'll do it with all four of you or I'll do it with just one of you.' She held up her promise."
Word of her story spread on social media and through the press, resulting in people across the country reaching out to the high school senior — including the New England Patriots cheerleaders, who contacted her through Instagram. In October, she received an invitation to watch the National High School Cheerleading Championship in Orlando, Fla., all expenses paid apart from airfare.
After high school, Katie is "really excited to go to college cheer, I'm excited for a new journey." She's looking at the University of Maine at Augusta, as well as a few community colleges in the state.
But as for what's immediately next, it's winter cheer squad — and it looks like she will be a part of a group of about 10.  
"I'm really excited," she said. "I'm hoping that they will all stay, but you never know."