High School Sports
Clear eyes, full hearts, and a $94 million Texas high school stadium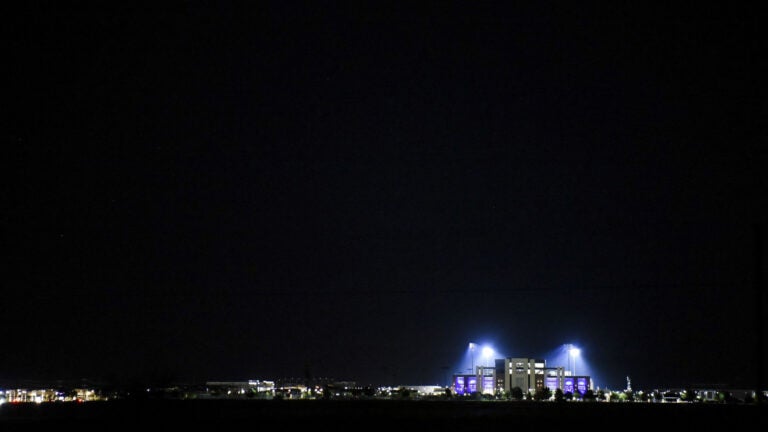 Few towns represent the Texas ethos of Friday Night Lights – and the big money behind it – more than the Dallas exurb of Prosper.
Spectators gather at a stadium with 12,000 seats, a two-story press box, fancy digs for college scouts and a 60-foot-wide video scoreboard – a venue that cost about $50 million. These high school football games don't always fill the seats, but a local hospital chain paid $2.5 million for the stadium's naming rights anyway. It's all for the glory of a bunch of teenagers.
When the stadium opened four years ago, it was a state-of-the-art facility that underscored the region's transformation from farmland to one of the fastest-growing districts in Texas.
But it may soon just be the second-most expensive stadium in the Prosper Independent School District. On Nov. 7, voters will consider a whopping $2.8 billion bond package, including $94 million for a new 8,000-seat venue that could be the costliest in Texas history. It's part of the continued buildout from the red-hot growth over the past few years that gave Dallas the biggest population increase of any metro area in the country in 2022 as people flocked there for cheaper housing, lower taxes and rapid job growth.
It's leading to the need for more infrastructure, including for sports and education, and a rush of debt issuance. More than 20 high school football stadiums have opened in the state since 2020, according to one database tracking the projects. School districts in the cities of Katy and McKinney recently built $70 million complexes, and voters in La Porte, just outside of Houston, approved $56 million for its Bulldogs in May.
"The thing about our state is, on any given Friday night, you are going to have about 50 games that have over 10,000 people," said Todd Dodge, a retired coach who won seven state high school championships and saw players such as quarterback Sam Ehlinger go on to careers in the NFL. "That absolutely does not happen in other states. That is the mindset when school districts are passing bonds."
The vote will be a test of the goodwill that exists for high school football in Texas, where 30 years ago Buzz Bissinger wrote Friday Night Lights, a chronicle of a team in Odessa that spawned a movie and then a hit television series ("Clear eyes, full hearts, can't lose!"). But there are signs of a growing backlash to the proposals amid a torrent of newcomers from California, rising awareness of traumatic brain injuries caused by sports and growing tension over public education, particularly when it comes to social and cultural issues.
While there hasn't been any polling on the proposal in Prosper, fiscal conservatives often balk at the steep price tags for stadiums. Education advocates sometimes worry that marquee athletic projects detract from academics.
In 2019, the state legislature started requiring that bond measures for stadiums and other arenas with more than 1,000 seats be broken out separately from measures for academic buildings. Voters rejected at least $460 million of stadium proposals in the November 2022 and May 2023 elections and only approved some $330 million, according to state data.
"They just haven't been as successful as they should," said Ryan Gregory, a managing partner in Houston at PBK, an architecture firm that specializes in school projects. He blames the lack of support partly on newcomers from other parts of the country who may not have grown up with Texas football and have a different perspective on the need for the facilities.
Small Town Feel
There are plenty of newcomers in Prosper. Its population surged 25% from April 2020 through July 2022, according to Census Bureau data. Two decades ago, the town didn't even have a grocery store. Now, there's almost 40,000 people and a median household income of about $159,000.
Prosper ISD, which also encompasses parts of neighboring suburbs, enrolled 3,400 new students last year. In 2002, the school had 1,000 students and three campuses. In 2023, it has 28,400 students and 25 campuses.
"Prosper, and North Texas as a whole, is the modern day Rome," said Bill Beavers, the president of the school board.
Texans have always loved football, but it wasn't always so expensive. The venue that provided the setting for Friday Night Lights, the 18,000-seat Ratliff Stadium in Odessa, was built for $5.6 million in 1982, or about $18 million in today's dollars. Despite its relative age, it still makes it to the rankings of best high school football stadiums.
To keep up with the competition, it may soon get a face-lift. In November, voters will consider an $8 million bond measure for upgrades.
Texas Bob
Robert McSpadden, who runs a popular website about Texas football where he's known as Texas Bob, says that ripping up grass and installing turf is one of the most popular recent trends, along with video boards that can show instant replays.
McSpadden tracks stadiums in other states as well – there's Mitchell Stadium in West Virginia, built in 1936 and ranked as one of the best in the country, and Union Tuttle Stadium in Tulsa, Oklahoma, which received a $36 million renovation in 2021. But, he says, the reverence for high school football in Texas – and willingness to spend money on it – is just different.
"The culture is not the same in other states," he said.
In Sherman, a city of 45,000 about 70 miles north of Dallas, voters recently approved a $47 million bond measure for a new stadium. Economic growth driven by the semiconductor industry – GlobiTech Inc. was founded there, and Texas Instruments Inc. is building new plants – has underpinned strong revenue, which means there will be no tax increase tied to the bonds.
"A lot of times these stadiums get a bad knock," said Tyson Bennett, superintendent of Sherman ISD. "They see it as Friday Night Lights. There's so many other student organizations that benefit."
In addition to football, stadiums also provide a showcase for the marching band, the drill team and the homecoming king and queen. Students from the science club can raise money on game days by plugging in a Crock-Pot and selling Frito pies.
The fever for school districts to build costly stadiums and claim bragging rights for the nicest facilities seemed to get its start in suburban Dallas with the Carroll school district, said Alan Hargis, 67, who was attending a recent game to support his son, the defensive coordinator for the Allen High School football team. Carroll's Dragon Stadium in Southlake was built in 2001 for less than $20 million.
"That caused a shock back then," Hargis said.
Back in Prosper, skeptics point out that if the era of super-charged population growth fades, existing taxpayers will be on the hook for the large bond measures, which are paid out over decades.
"Do I believe in a hundred million dollar stadium? Absolutely not," said Kyle Sims, 58, a retiree who lives in McKinney. "When I played football, I played on a grass field with metal bleachers and I didn't have all the big screen TVs and all that."
School officials say the bond package simply reflects the region's growth and the impact of inflation, which has made construction costlier. They point out that there can be some 400 students at the stadium on a Friday night who are participating in related activities but aren't football players. And the new stadium would have an eight-lane track and also host special events.
Amy Gorgueiro, who served on a planning committee for the bond package, said that as a Republican she hates debt, but recognizes that the bond package is the only way to fund new school buildings. Her daughter used to perform at the drill team's halftime show before she graduated last year.
"I see people questioning the need for another stadium – I get it," Gorgueiro said. "But the new stadium is going to be another option for our kids to learn and grow, because it's not just used for football."
–With assistance from Thomas Black and David Wethe.
Get the latest Boston sports news
Receive updates on your favorite Boston teams, straight from our newsroom to your inbox.