Women's Sports
The list of the Boston Pride's 2020 NWHL Draft picks
Five selections came from Hockey East.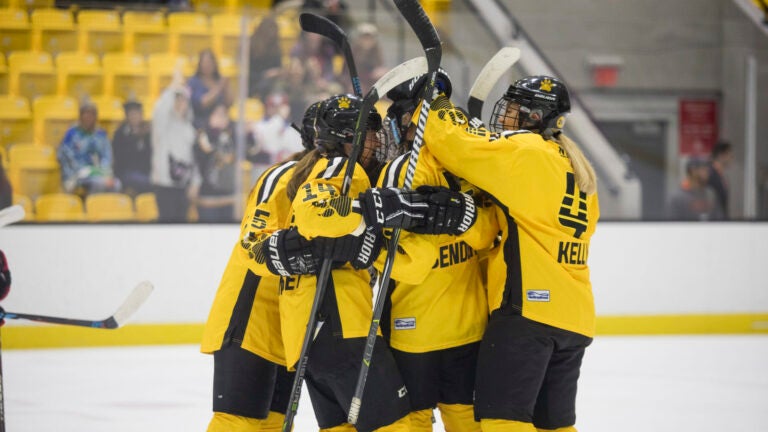 The league-leading Boston Pride, who were headed to the Isobel Cup final before it was postponed due to the coronavirus pandemic, should have had a thinner crowd to pick from in the first round of the NWHL Draft.
In the draft, selection order is based on league standings, so the Pride (23-1) were set to select last in each round. The league's nameless expansion team, set to begin play next season in Toronto, had the first pick in the draft's five rounds.
Tuesday afternoon, it was announced that the Pride had traded Toronto their first-round picks in 2020 and 2021, as well as a second-round pick in 2021, for Toronto's first-and fifth-rounders in this year's draft.
NEWS: The Boston Pride have acquired the first overall pick and a 5th round pick of the 2020 NWHL Draft from Toronto.

Release: https://t.co/EP0c2Vyxv7#ThePack 🦁 pic.twitter.com/4HJgdYPtPc

— Boston Pride (@TheBostonPride) April 28, 2020
The Pride then used that first overall selection to take Boston University winger and Pembroke native Sammy Davis.
Boston, you're Sammy's home.

Congrats to Sammy Davis on being selected by @TheBostonPride with the first overall pick in the @NWHL draft! pic.twitter.com/UcE7vhbh5L

— BU Women's Hockey (@TerrierWHockey) April 28, 2020
Davis led the Terriers (24-8-4) with 17 goals and 24 assists last season, good for a conference first-team selection. After graduating from BU with her master's degree in special education, she will continue in Massachusetts General Hospital's doctorate program in occupational therapy.
"Sammy could not be more deserving of the first overall draft pick," said Pride general manager Karilyn Pilch, who also played at BU. "Her work ethic, coupled with her talent, has positioned her as one of the top players in this year's NCAA graduating class.
In the second round (12th overall), Boston selected Maine forward Tereza Vanisova.
The Boston Pride select Tereza Vanisova from the University of Maine in the second round.#NWHLDraft | #ThePack 🦁 pic.twitter.com/gkeE2WLVss

— Boston Pride (@TheBostonPride) April 29, 2020
Vanisova, a native of the Czech Republic, ended her career as Maine's all-time leader in assists (66) and total points (129), and ranks second in all-time goals with 63.
"Tereza has the ability to control play while she is on the ice," said Maine head coach Richard Reichenbach. "She is always thinking offense and is a fierce competitor. Tereza is one of the best athletes I have ever seen."
The NWHL Draft continued Wednesday with rounds three through five, where the Pride added two forwards and two defenders, rounding out the class with three more Hockey East selections.
New Hampshire forwards Taylor Wenczkowski and Meghara McManus went in the third and fifth rounds, respectively, after spending the season as wingers on the program's top-scoring line. McManus, a Milton, Mass. native, led the Wildcats with 27 points (17 goals, 10 assists). Wenczkowski, from Rochester, N.H., collected 82 points during a career that included an injury-shortened sophomore season.
Skating together after graduation!

Linemates Taylor Wenczkowski (@Twencz_12) and Meghara McManus were drafted by @TheBostonPride on night two of the @NWHL draft!

📝https://t.co/Yuk0rZnDyn#BeTheRoar #HEAW #NWHLDraft pic.twitter.com/JmvbersOph

— UNH Women's Hockey (@UNHWHOCKEY) April 30, 2020
In the fourth round, the Pride selected Clarkson defender Taylor Turnquist, who also saw time offensively last season to help out an injury-shortened team (scoring two of her three goals on the power play and assisting on nine others), blocked 43 shots in 2019-20.
Northeastern captain Paige Capistran was selected in the fifth round, concluding the 2020 NWHL Draft. The Manchester, N.H. native won the Hockey East Sportsmanship Award while helping the Huskies to the conference's regular-season title and tournament championship, as well as the Beanpot. In her four years as a defender, she skated in 145 games, the sixth-most in program history.
If the 𝗖𝗮𝗽 fits, you draft her!

Paige Capistran has been selected by @TheBostonPride in the 5⃣th round of the @NWHL draft! #HowlinHuskies pic.twitter.com/ebrDnpPYRj

— Northeastern Women's Hockey (@GoNUwhockey) April 30, 2020
Here's a complete list of the Pride's 2020 draft picks:
Round 1: Sammy Davis, Boston University
Round 2: Tereza Vanizova, Maine
Round 3: Taylor Wenczkowski, New Hampshire
Round 4: Taylor Turnquist, Clarkson
Round 5: Meghara McManus, New Hampshire; Paige Capistran, Northeastern