Local
Former Somerville athletes say hazing went undetected before assault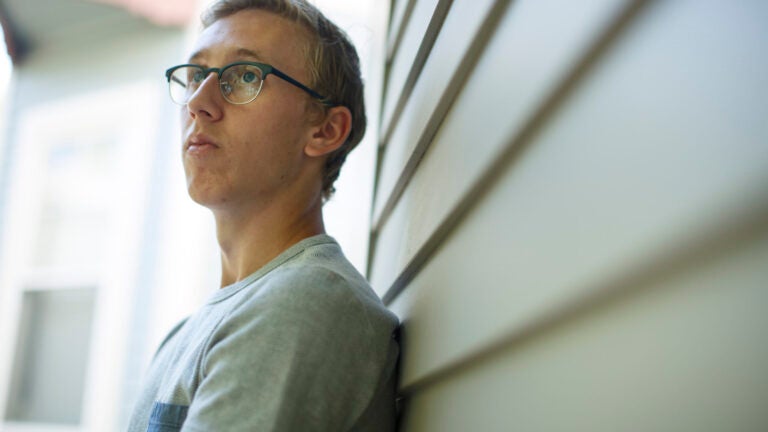 Somerville's mayor and school officials have insisted for nearly four years that they did all they could to prevent members of the high school soccer team from indecently assaulting three teammates during a city-run summer sports camp in the Berkshires. They described the incident, which involved the crude use of a broomstick, as an isolated crime.
But three former captains of the Somerville High School soccer team and at least five other players who attended the 2013 camp have testified under oath that the broomstick assault was preceded that weekend by numerous incidents of sexualized misconduct that purportedly went undetected by Somerville coaches and chaperones who were responsible for supervising the student-athletes.
The two juveniles who pleaded guilty to the assaults and served 13 months in youth detention facilities also gave sworn statements that they were victims of hazing or sexual misconduct at Somerville's sports camp the previous summer.
Somerville officials, including Mayor Joseph Curtatone, who helped organize the 2013 camp and served as a volunteer coach and chaperone for the football team, have stated that they acted properly in every way.
"The city, the schools, and our athletic programs have been and remain committed to preventing any harmful conduct and to ensuring the safety of our students,'' said Denise Taylor, a spokeswoman for the Somerville officials.
She said city officials "broadly deny these latest allegations'' but she declined to comment directly on them, citing the ongoing litigation.
The disclosures were made in the federal civil rights case of another 2013 soccer camper, Galileo Mondol, who is suing the city for more than $1 million. Mondol alleges his life was shattered after he was falsely accused of participating in the broomstick attack.
Mondol, then a 17-year-old transfer student from Thayer Academy, was attending a Somerville school sports camp for the first time. He initially was charged as an adult with aggravated rape of a child under 16, among nine other counts, until the charges were dropped 20 months later.
One of the victims also has filed a federal lawsuit against the city of Somerville, Curtatone, and school officials, alleging their "deliberate indifference to sexual assault and sexual harassment'' created the environment in which he was accosted.
The Globe reviewed depositions and affidavits given in the pretrial phase of the Mondol case. The names of the minors were redacted.
Taylor said Somerville officials are committed to student privacy and would not specifically comment on the disclosures because members of the community might be able to identify the minors based on accounts of their statements.
"We look forward to the court's full and proper review of the entirety of the testimony on this matter,'' she added.
Mondol's attorneys, who did not comment for this story, wrote in a statement to the court in April that the pretrial discovery process has produced "a wealth of evidence'' to support their allegations that Somerville officials conspired to frame Mondol "for crimes they knew, or should have known, he did not commit, and to publicly vilify him so as to cover up their own wrongdoing.''
The dispute comes amid state and national efforts to curb hazing by holding coaches and other school officials accountable for the actions of students under their supervision.
On Beacon Hill, antihazing advocates are pressing for a state law that would mandate training for coaches and require school officials to report hazing incidents, as they are required to do with bullying.
Matthew Weymouth, who was hazed as a Pentucket Regional High School football player in 2001 and founded the advocacy group Hazing Hurts, is scheduled to testify before the Legislature's Joint Committee on Education on June 6 to support a bill that contains those proposals.
Weymouth said by e-mail that the bill presents part of the "solution to ending and preventing situations like those involving Somerville, Pentucket, and many other schools.''
Chelmsford is also contesting a federal lawsuit by a former public high school student who alleges he was forcibly raped at a school-sponsored football camp in 2013 when he was 15.
The plaintiffs in the Somerville and Chelmsford cases are putting forward similar claims — that school officials created team-building cultures that fostered hazing, bullying, and sexualized misconduct. School officials from both communities denied the allegations.
In Somerville, two juveniles on the soccer team, initially charged with aggravated rape for the 2013 incident, pleaded guilty to three counts of indecent assault and battery as well as assault with a deadly weapon, resulting in their 13-month detention.
The Somerville High School summer sports camps have been a tradition since 1998, according to testimony. After the 2013 assault, the boys soccer team did not attend the 2014 camp. When the team returned in 2015, there were new protocols, including chaperones assigned to monitor each cabin.
Somerville officials have defended their plan to prevent misconduct at the 2013 camp by saying in part that Curtatone delivered an antihazing lecture to every attendee before the buses departed for the Berkshires. Every student-athlete also was instructed to sign an antihazing pledge.
But the warnings allegedly went unheeded, according to at least seven student witnesses. In sworn statements, they reported seeing misconduct that ranged from students forcibly rubbing Icy Hot muscle cream on the genitalia of teammates to a player placing his genitals on the face of a sleeping student and photographing the image.
Witnesses cited numerous instances of alleged inappropriate contact between boys in showers as well as students spooning together in bed while naked or wearing only underwear. The spooning was described as consensual, a form of friendship that was practiced primarily by Brazilian students. But the contact was considered improper in a school-controlled setting.
At least three freshmen also said they heard upperclassmen utter the classic hazing threat, "Freshman beat-down.''
In all, 16 of the 61 soccer players who attended the 2013 camp have testified in depositions or submitted sworn affidavits in Mondol's case. Among them were 10 students who said they witnessed the broomstick incident: Mondol, the two convicted perpetrators, the freshman who was injured by the broomstick, two other freshmen who were abused less seriously, and four freshmen eyewitnesses. The episode occurred in the freshman cabin.
Of those who testified or submitted affidavits, Mondol and one of the soccer team's four captains presented the most detailed allegations about sexualized misconduct before the assault.
The Globe is not identifying the students who were juveniles at the time of the 2013 camp.
When one of the soccer captains was asked by Somerville's attorney to describe alleged hazing at previous city-run sports camps, he said, "If a person is showering, other guys would, like, get in the shower and, like, spank him or just get in the shower to bother them, open the shower door so everyone could see.''
The captain said he also witnessed players' indecently applying muscle cream to teammates at a previous camp.
Nearly every student who testified said Somerville coaches and chaperones appeared unaware of the misconduct because they rarely entered the students' cabins. Somerville officials asserted that coaches regularly checked the cabins.
At least two captains of the 2013 soccer team testified that before the broomstick incident they saw teammates engaging in sexualized misbehavior in the showers and the cabins. In one episode, a captain said, he grabbed teammates and urged them to stop the misconduct.
One captain said he also witnessed three instances of students using cellphones or cameras to photograph or videotape themselves or others naked. In addition, he said, he saw teammates jokingly pretend to sexually assault each other with a broomstick, without making physical contact, before the attack.
When the captain was asked by Mondol's attorney if it were true that there was "perhaps a somewhat sexualized environment or culture at this camp,'' he said, "Yeah,'' but he tied the culture to the team rather than the camp.
"It existed long before and after the camp,'' he said.
Most of the freshmen soccer players who were questioned testified that they did not see any hazing or misconduct at the camp other than the broom assault but heard about such incidents. They bunked in a separate cabin from the upperclassmen.
As for the two students who were convicted of the assault, both were undocumented immigrants, one from Brazil, the other El Salvador. The Brazilian student, in an affidavit in Mondol's case, stated that while he was a sophomore at Somerville's 2012 summer camp "some varsity soccer players held me down and put Icy Hot on my genitals.''
The Salvadoran youth testified in a deposition that when he was a freshman at the 2012 camp he complained to the Somerville High soccer coaches that his teammates were invading his privacy while he was showering. He said head coach George Scarpelli spoke to the offenders but they continued to bother him in the shower against his wishes.
The next summer, those two boys went from being alleged victims to perpetrators, which antihazing specialists say is not uncommon. They paid for their convictions both by serving 13 months in detention and facing immigration problems.
While the young Brazilian remains in the area, the Salvadoran boy was less fortunate. He had fled to the United States when he was 10, after his brother was murdered in their native country.
Earlier this year, rather than be detained and deported because of his wrongdoing at the Somerville sports camp, he returned to El Salvador, where he faces an uncertain future in one of the world's deadliest countries outside of a war zone.