Local
Meet the 13-year-olds competing in the Head of the Charles—and fundraising for charity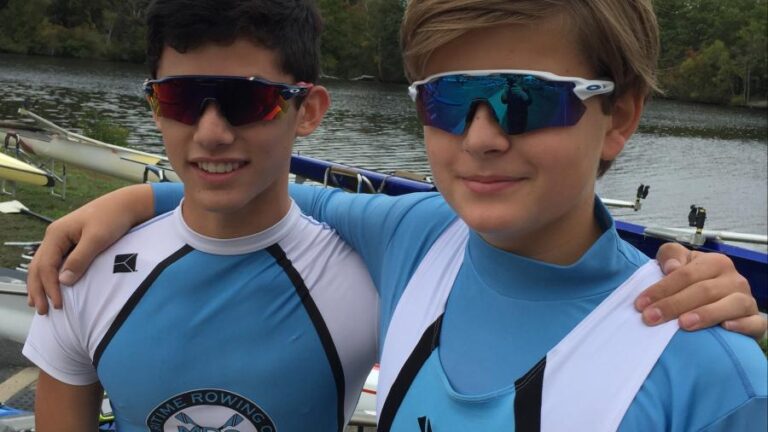 Two 13-year-olds from Connecticut are competing in this weekend's 53rd Head of the Charles Regatta to fundraise for charity.
Quinlan "Quin" Daly, of Darien, and George Lathrop, of Old Greenwich, are raising money for Children of Fallen Patriots, a Virginia-based organization dedicated to providing scholarships and educational counseling to children who have lost a parent in the line of duty.
"I was really drawn to supporting this charity since both my grandfather and great-grandfather were in the Navy," Quin told Boston.com Monday. "My great-grandfather actually served in the Pacific Front in World War II. He was away from my grandmother for the first three years of her life."
Though his great-grandfather survived, Quin said he can't imagine what it's like for children whose parents don't come back.
"Rowing takes up a lot of our time, so most of my other time I spend doing homework, going to school, and sleeping," Quin said.
"And eating," George added. "Any time playing video games or watching TV is time wasted. [We're] turning the blinders on crew right now."
The eighth-graders have both been rowing since the beginning of sixth grade, but they have only trained together for the past three months.
"It's been very tough," George said. "We've had to train two to three hours a day, six to seven days a week."
The two will make up the youngest team ever to compete in the Men's Youth Doubles event, which is usually reserved for high schoolers.
George said it would be an "amazing experience" to meet Harvard's rowing team at the regatta.
"I want to hopefully get recruited to Harvard," he said. "That's my number one goal and probably will be my dream college."
Quin is also looking ahead.
"My goal is to row all the way through high school and hopefully get recruited in college for rowing," he said, adding, "I have a decent amount of time to decide."
For now, the eighth-graders are more focused on the big race.
"We're both really excited to be alongside some of the best rowers in the world," said Quin. "We're also a bit nervous because we want to make our coaches, parents, and everyone who's been pushing us along the way proud of us."
Their Crowdrise campaign, "George & Quin's World Record Race to Educate," had raised more than $16,000 of the $30,000 goal as of Friday afternoon.