Red Sox
Red Sox file petition to officially change name of Yawkey Way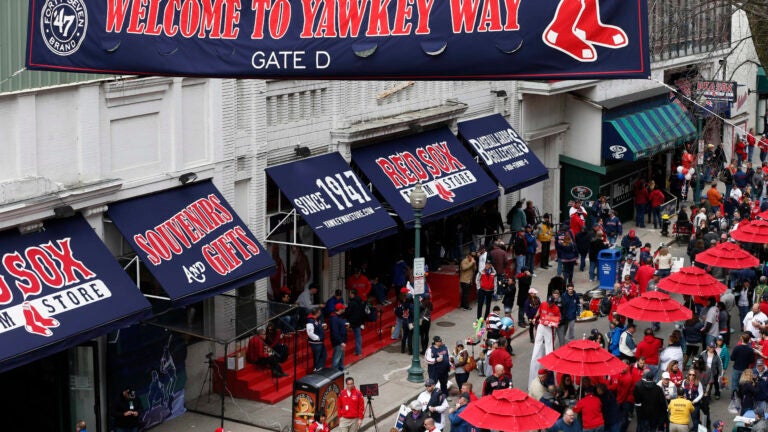 The Red Sox announced Wednesday the organization has filed a petition to the City of Boston Public Improvement Commission to formally restore Yawkey Way to its original street name: Jersey Street.
The street adjacent to Fenway Park was initially named Jersey Street before the club asked the City of Boston to change it to Yawkey Way in 1977 to honor former owner Tom Yawkey. Current team owner John Henry expressed his desire to change the street's name again last August, citing Yawkey's complicated racial history as his primary motivation.
In response to the team's plans, the Yawkey Foundations issued a statement that "urged the commission to consider all the facts concerning Tom Yawkey's ownership of the Red Sox and the sweep of his life."
"We are confident that if it does so, it will reject Henry's petition," the statement read.
Henry is also the owner of Boston Globe Media Partners, the parent company of Boston.com.
Read the team's official statement below:
The Red Sox, with the approval and cooperation of all abutters on Yawkey Way, have filed a petition with the City of Boston Public Improvement Commission requesting that the Yawkey Way street name be restored to its original Jersey Street name. Restoring the Jersey Street name is intended to reinforce that Fenway Park is inclusive and welcoming to all.

It is important to separate the unfortunate and undeniable history of the Red Sox with regards to race and integration from the incredible charitable work the Yawkey Foundation has accomplished in this millennium and over the last 16 years. The positive impact they have had, and continue to have, in hospitals, on education programs, and with undeserved communities throughout Boston and New England, is admirable and enduring. We have the utmost respect for their mission, leadership, and the institutions they support.

We appreciate the partnership of the other property owners, and the consideration of city on this important matter.