Local
Chanda Gunn leads Charlie McAvoy and host of hockey stars in trying to 'Slap Out Epilepsy'
"As much as this event is really exciting, awareness and education is a big part of it as well, because it is a very, very serious and devastating disease that people suffer from."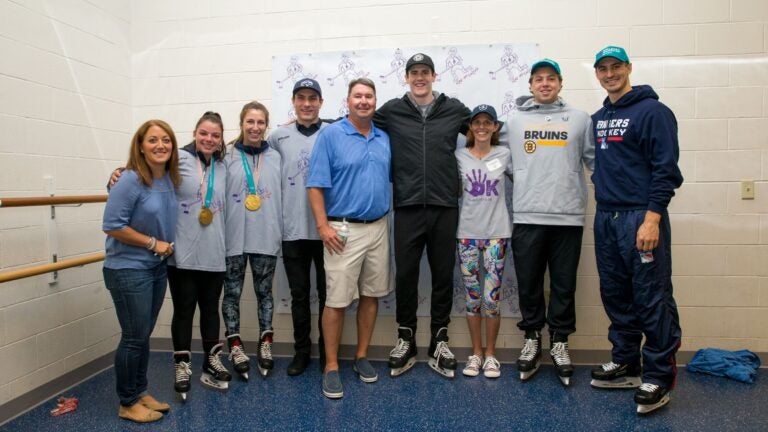 Chanda Gunn listened as her coaches grew increasingly frustrated.
"This was your fault," they told her. "This game was your fault. You let this goal in."
The goaltender tried to explain that she hadn't been able to see the puck before it flew past her. Gunn was convinced another player had screened in front of the net, but the coaches pointed to a replay which proved that wasn't the case. The coaches knew she should have been able to see the puck. Gunn knew she hadn't seen the puck.
They were both right.
There was nothing but clean ice between Gunn and the shooter, but she suffered a lapse of consciousness during an epileptic seizure as her opponent let fly. Her epilepsy was neither properly diagnosed nor treated at the time, so Gunn simply threw herself even harder into training to try and improve her performance. The extra hours of on- and off-ice workouts had the opposite effect, ramping up her stress levels and contributing to even worse seizures.
Eventually, she was forced to leave the ice and the University of Wisconsin. But not for long. Gunn got on the phone until she found a place where she could play — Northeastern University — and play she did. She won the 2003-04 Hockey East Player of the Year Award with the Huskies, then led Team USA to two Olympic Games and a World Championship in 2005.
When asked if her experiences opened the door for young athletes today, Gunn demurred. But Pam Higgins, who's 11-year-old daughter Julia has epilepsy, stepped in.
"I can answer that," Higgins said.
Pam and her husband decided to pull Julia off the ice when she was first diagnosed, then changed their minds after learning about Gunn's career and receiving medical permission. Julia should have missed about 30 days of school this year, Pam says, but she didn't miss one. Her mother attributes some of that determined mindset to the game.
"For that alone, we'll make the sign of the cross and let her go on the ice," Higgins said.
The Higgins family are far from the only ones to draw strength from Gunn's story. She's been a spokesperson for the Epilepsy Foundation since she was an Olympic athlete and spends an incredible amount of time meeting with families affected by the disease. When she meets them, Gunn makes sure they're welcomed into the fold. Her biggest trophy is that bittersweet moment when she finds out one of her new contacts has built up their own circle in the community and outgrown her assistance.
The Higgins's aren't there just yet. On Saturday at Phillips Academy in Andover, they joined Gunn for the Slap Out Epilepsy Hockey Clinic. The event took months of planning by Pam and Chanda, and culminated in a buzzing day on the ice alongside college, NHL, and NWHL stars.
Pam's nephew, Chris Kreider, is a forward for the New York Rangers. The idea for Slap Out Epilepsy came from Thanksgiving at his house, when Julia had multiple seizures over the course of the weekend and his eyes were opened to the disease.
"It's amazing when you come to an event like this and you see how many people are affected by epilepsy — how many people have epileptic seizures or episodes," Kreider said Saturday. "Obviously, every person's is a little bit different, but every single one of them is scary, regardless of what age. Having your baby cousin struggle with it is really scary."
When Kreider reached out to the tight-knit hockey community, the response was immediate. On Saturday, there were two Olympic gold medals glittering in the Phillips Academy hockey rink, courtesy of Cayla Barnes and Kali Flanagan. Kreider's teammate Rob O'Gara was also helping out at the clinic, as were members of the Boston Pride and Bruins defenseman Charlie McAvoy.
"It's an opportunity for me to learn something about epilepsy — something I didn't know too much about," McAvoy said. "It's under-researched and underfunded."
For all the hype over the star-studded guest list, the organizers didn't lose sight of the event's mission.
"As much as this event is really exciting," Gunn said. "Awareness and education is a big part of it as well, because it is a very, very serious and devastating disease that people suffer from. And that includes Julie and that includes me."
There are times when Gunn's son will say goodnight, then ask whether he'll see her in the morning. The question exists because one uncommon but tragic consequence of epilepsy is SUDEP, or sudden unexpected death in epilepsy patients. Gunn never tells her children, "Goodnight." Instead, she says, "I love you."
"Because, you know, you just don't know," she said.
It's the same reason Julia refuses to go to bed until she tells every member of her family, "See you in the morning," and hears the words in reply.
One hope with Slap Out Epilepsy (and Higgins and Gunn have no intention of letting this be a one-off event) is that the players at the clinic who don't have epilepsy asked their parents about the disease on the ride home. Conversations like that raise awareness — and there is a desperate need for awareness. Emergency responders and school nurses, never mind the general public, can be woefully uneducated about the symptoms of the disease.
To address those concerns, Gunn runs a social service organization called the Young Leader's Network, while her wife, Susan Linn, is the president of a research organization, the Epilepsy Foundation of New England. They believe strongly in both approaches. Higgins hopes that the NHL players' involvement in Saturday's event might nudge the league's charity arm towards giving to the cause. Either way, Gunn — and Slap Out Epilepsy — won't be slowing down. There are families to help, children to meet, lives to change.
One of those families found out about the event late last week. Their son had recently been diagnosed with epilepsy and his favorite player just so happened to be Kreider. They live in upstate New York, but they were the first ones in the door Saturday morning.
"It's that type of story that we've been just amazed at," Higgins said. "…We surpassed our expectations. It's been really wonderful for our family, and for a lot of families out there who suffer from dealing with epilepsy on a daily basis."