Local
Massachusetts runners are the fastest in the country, according to a study of marathon results
Researchers say the Boston Marathon has something to do with it.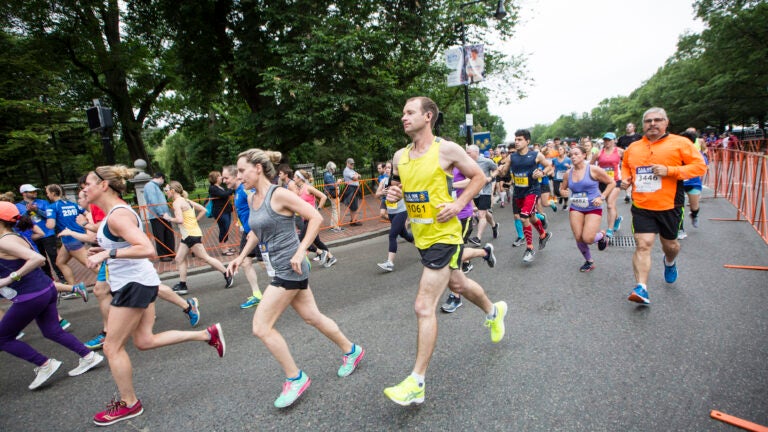 A massive new study says that Massachusetts is outpacing the country in, well, pace.
According to a survey of the results from more than 16,000 marathons in the United States over three decades, Massachusetts runners were tops in the nation with an average finish time of 4:04:20 — nearly 14 minutes faster than the next fastest state. The Bay State was followed by Washington (4:18:09), Indiana (4:18:57), Oregon (4:19:00), and New Jersey (4:19:50).
Alaska, Florida, and Hawaii were the slowest, with average times of 5:30:15, 5:33:19, and 6:16:06, respectively.
The findings, which were released Tuesday, come from an unprecedented analysis of more than 107 million recreational race results across more than 70,000 international races from 1986 to 2019 conducted earlier this year by the International Association of Athletics Federations and the shoe review site RunRepeat.com. Elite runners were excluded from the study.
While researchers found that overall times have increased — both in the state and across the country — over the last decade as marathons changed from an elite activity to more of a mass participation sport, Massachusetts remained the fastest state for both men and women. The average male finished in 3:54:31, more than 11 minutes faster than male runners from second-place Washington. Bay State women finished in 4:15:01 on average, more than 14 minutes faster than their female peers in the next-fastest state, Connecticut.
Massachusetts women also had faster finish times than their male counterparts in 36 states and Washington, D.C.
What explains the Bay Staters' blazing speed?
Danny McLoughlin, the content and research director for RunRepeat.com, said that one factor may be age; Massachusetts runners were, on average, the youngest in the nation at 35.7 years old. The state also had the fifth-most marathon participants — and the fourth-most participants per capita. McLoughlin said the Boston Marathon, as a source of inspiration, is another factor.
"As such a big event, local runners see it as a goal to qualify and this perhaps pushes them to train harder to meet the strict qualifying times," he told Boston.com.
Meg Reilly, the director of communications for the Boston Athletic Association, agreed.
"The exposure to elite competitions and fast runners is definitely one reason as to why Massachusetts is a fast place to be. As experienced marathoners know, qualifying for the Boston Marathon continues to be a highly competitive endeavor," Reilly said in a statement. "Our neighbors and communities train through all conditions to make it to our starting line in April and we are continually awed by their accomplishment and achievements."
Despite not having the most running-hospitable weather in the country, Reilly said the early-spring tradition of the marathon also serves as an "an impetus for all residents get outside and run, even if they aren't making the 26.2 mile trek." She also noted that Massachusetts has a wealth of running paths and a history of competitive running clubs. Local figures, like four-time Boston Marathon winner Bill Rodgers, played central roles in the country's running boom of the 1970s and 1980s.
The study also found that marathon participation peaked in 2014, "possibly in defiance of the 2013 Boston marathon bombings."
More broadly, the study found that participation in races across the world — from 5Ks to marathons — declined from its peak of 9.1 million results in 2016 to 7.9 million in 2018, even though overall participation is still up nearly 58 percent over the last decade. According to the IAAF, the recent, small decline can be attributed mostly to Europe and North America,
"Any sport, as it attracts the masses, will have a period of decline," RunRepeat founder Jens Jakob Andersen wrote in a post last month. "We cannot say if this is a short-term trend or a long term one. Of course, the industry should be alert."
Since 1986, runners worldwide have never been slower or older, according to the study. The average age has increased from 35.2 to 39.3, while the average marathon time has gone from 3:52:35 to 4:32:49. Over the last 10 years, Massachusetts runners have slowed down by an average of 13 minutes. Again, according to Andersen, this trend speaks to the growing popularity of the sport and the reasons for which people run marathons — the growing "experience economy" as opposed to competitive motives.
"It's not the individual who's getting slower, but the average of all runners, meaning that the 'demography' has changed," he wrote.
And while Massachusetts runners remain on top in the United States, they still don't quite compete with some of their international peers. According to the study, four countries had sub-four-hour average marathon times, led by Spain at 3:53:59 followed by Switzerland, Portugal, and Ukraine. The United States placed 37th with an average time of 4 hours and 42 minutes.