Local News
'I would not have loved him any differently': Shayanna Jenkins-Hernandez reacts to Netflix documentary on Aaron Hernandez
"Although I've had a child with Aaron, I still can't tell you how he was feeling inside. No one can."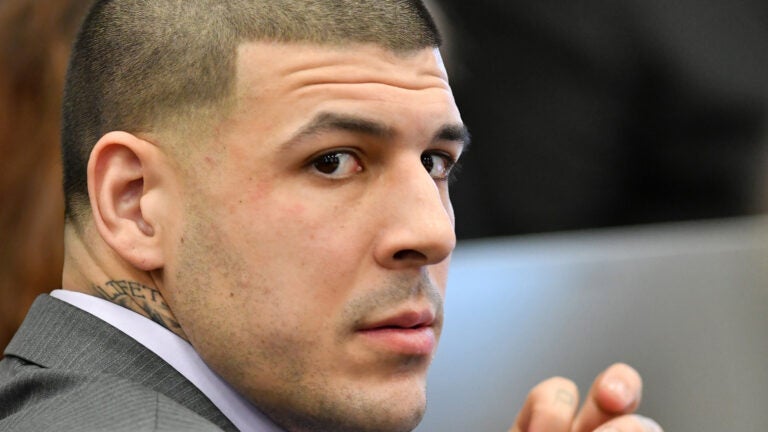 Shayanna Jenkins-Hernandez shared her thoughts on the new documentary from Netflix about her late fiancé, former New England Patriots tight end Aaron Hernandez, in an interview that aired Wednesday morning.
Jenkins-Hernandez told ABC's "Good Morning America" she was approached by the filmmakers about participating in the the three-part series, "Killer Inside: The Mind of Aaron Hernandez," but declined, pointing to wanting to protect the daughter she shares with Hernandez.
"I wanted to leave it in the past and let my daughter grow without her having to have bad memories to look back on," she said.
The docuseries features interviews with those who knew the native of Bristol, Connecticut, who was convicted of murdering Odin Lloyd in 2013, delving into his tumultuous childhood, which was examined by The Boston Globe's Spotlight team, and rumors about his sexuality. Hernandez took his own life in prison in 2017 at the age of 27, days after he was acquitted in a 2012 double murder in South Boston. After his death, it was found that Hernandez had a severe case of the degenerative brain disease chronic traumatic encephalopathy, or CTE, caused by repeated trauma to the head.
Jenkins-Hernandez told "Good Morning America" that she didn't think her fiancé's purported sexuality should have been included in the series.
"You can't describe someone's sexuality without them being here," she said. "Although I've had a child with Aaron, I still can't tell you how he was feeling inside. No one can."

She said that whatever he felt, she wishes that she "was told."
"I wish that he would have told me because I wouldn't, I would not have loved him any differently," Jenkins-Hernandez said. "I would have understood. It's not shameful, and I don't think anybody should feel shameful on who they are inside, regardless of who they love. I think it's a beautiful thing. I just wish I was able to tell him that."
Watch the full interview below:
https://twitter.com/GMA/status/1222503139854749696