Local
Arlington trio bikes cross-country to support suicide prevention and combat substance abuse
They've raised over $18,000 for The Jed Foundation and $5,000 for National Alliance on Mental Illness.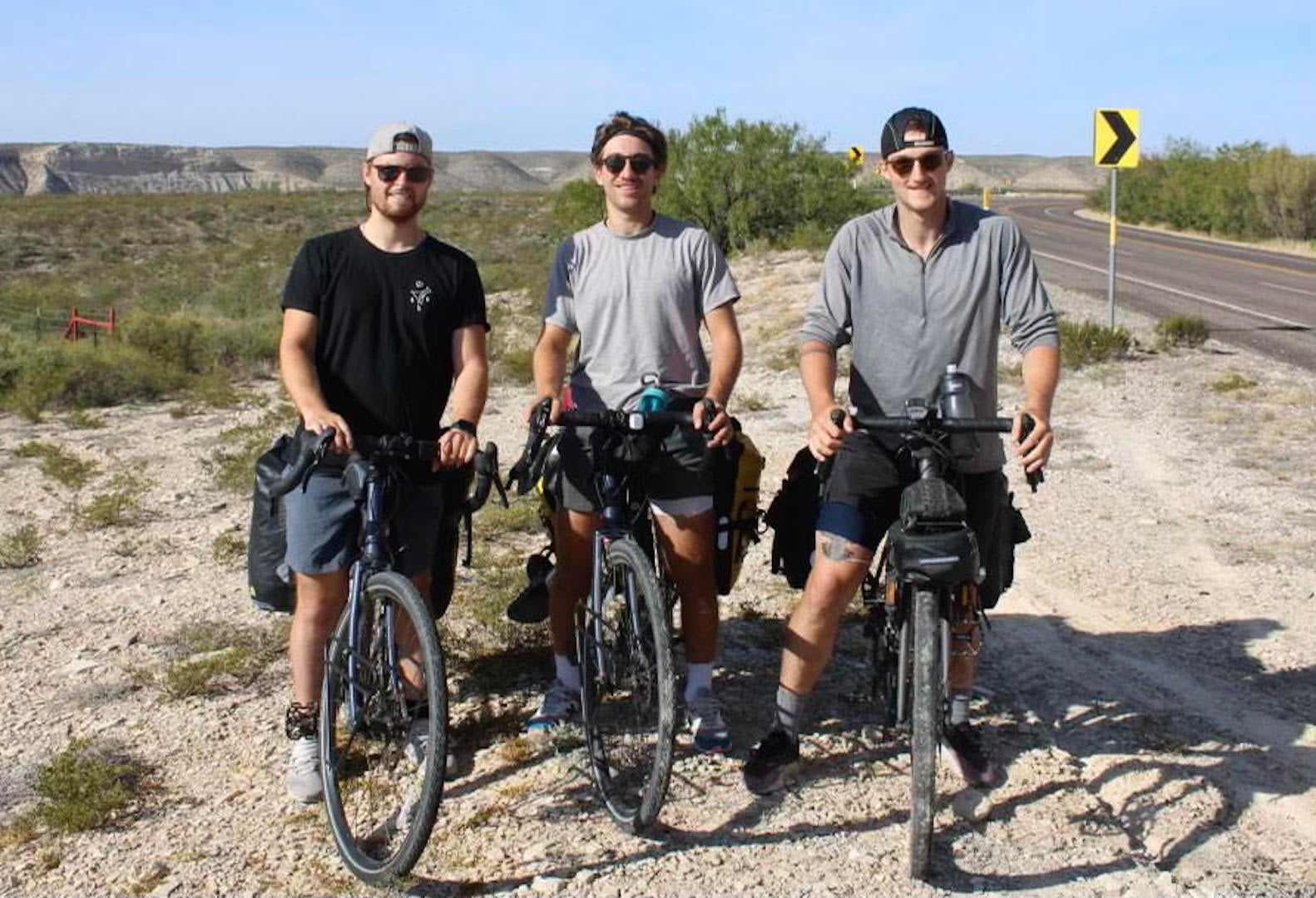 Growing up, Arlington's Luke Tremblay had some "dark times," where he contemplated committing suicide and lost his sense of self.
As he's found help over the years, and figured out tactics for coping with his depression, he's gradually gotten to a more stable place. When the pandemic hit, and he found himself spiraling without a job, Tremblay reverted to some of his old habits and thoughts, and he realized he needed an escape.
He and his best friends, Hunter Sleeper and Mike English, also from Arlington, decided to act on a pipe dream they had envisioned for quite some time. They set an ambitious yet attainable goal of biking across the country, from Jacksonville, Florida, to San Diego, California, to raise money for The Jed Foundation (suicide prevention) and National Alliance on Mental Illness (substance abuse disorders).
As of Wednesday, the trio of 25-year-olds has collectively raised over $18,000 for The Jed Foundation and over $5,000 for NAMI. They've already trekked all the way to New Mexico, and they're planning to finish their grueling yet gratifying "Ride for Recovery" in mid-December.
We're all in this together.

If you need crisis support, text NAMI to 741741. For our tips for people affected by mental illness during COVID-19, visit https://t.co/6rRJyzN47J pic.twitter.com/QWfz9KK2RL

— NAMI (@NAMICommunicate) March 23, 2020
Tremblay said this journey has allowed him to find his passion, and he hopes to continue to normalize getting help well beyond this trip. While mental health is a constant battle, he said the malaise and purposelessness he felt when the pandemic began has largely disappeared.
"This trip has given me some life back," Tremblay said. "Doing a fundraiser, and biking cross-country with my two best friends has made me feel like I have so much purpose."
A reminder to check in with a friend today.

— JED (@jedfoundation) November 7, 2020
They knew now was the right time to act on the idea.
The idea first sprouted when Sleeper and English visited Tremblay in San Francisco last year and got dinner with English's uncle. His uncle was an avid biker, who had ridden cross-country six times himself, and he planted the idea in their minds.
They were immediately intrigued, but they elected to wait and pursue other goals in the short term. When the pandemic came, and gyms were closed, they collectively agreed they needed a way to stay active. Tremblay (a former Gordon College lacrosse player), English (a former Pace University football player), and Sleeper (a former Salve Regina University baseball player) all missed exercising, so they bought bikes to find a temporary replacement.
Despite the initial jolt, they were still uncertain about their career paths and puzzled about their next move. English and Sleeper's real estate jobs slowed down, but they all had some money saved up. Close to a year after they first considered the idea, they decided to put it in motion.
"We set a date, bought a plane ticket, and took off," English said.
They've been able to help others in their mental health journeys.
As they've posted on social media and raised funds, they've gotten consistent feedback from people who have opened up and shared their own personal struggles that they had previously kept bottled up.
"It felt really good feeling like people who felt like they had no one to go to could turn to us and ask us for advice and help," Sleeper said. "It really meant something to them that we were doing something like this."
Sleeper said both people he sees weekly and old friends he hadn't talked to in a few years reached out and told him they're struggling. He said the experience has been a refreshing reminder that everyone has battles in private that are often not visible in public. Just because someone may look fine, that doesn't mean they are fine.
Tremblay said people have reached out to him to ask if he preferred a male or female therapist and to seek his guidance for the best way to get help. People who weren't comfortable opening up to their families did so to him, and he reminded them that they're not a burden and it's OK to ask for help.
Strangers have lifted their spirits and provided shelter.
When the trip began, they knew they'd have to rely on some chance encounters to find places to stay, but they had no idea how serendipitous some of those interactions would be.
They've met strangers along the way who have asked to help within a few minutes.
In Lee, Florida, on day three of 40 (to this point), they approached a gas station on their right and a Dollar Tree on their left. Tremblay looked over and saw that the Dollar Tree was selling two Powerades for a dollar, so they strolled over. While Sleeper and English were inside, a kind and curious woman approached Tremblay as he watched their bikes and inquired about their backstory.
They hit it off, and she told them they could stay at her pavilion a few miles away. She hopped in her truck, with her four dogs in the back, and they followed her to her home. There, she provided shelter, dinner, a couple of beers, and a place to stay for the night. English has kept in touch via text with the woman and her husband.
In Milton, Florida, they moseyed down to a dock to catch the sunset, and within a few minutes, a couple offered them a place to stay. If they had gotten there a few minutes later, they might have missed them. The couple showed them a local peanut farm and introduced them to their kids, and they're now keeping tabs on the rest of their journey.
"They're the type of couple that will probably remain somewhat in our lives for a long time," Tremblay said.
It's been a grueling yet gratifying journey.
Typically, they've been riding 50 to 80 miles a day, and some days have been tougher than others.
In Louisiana, they tried to veer away from Hurricane Zeta but ended up directly in the eye of it. They managed to safely make their way to a hotel and avoid winds that ultimately rose to 110 miles per hour.
Sleeper dealt with some tire troubles in Texas, as it "literally made a gunshot sound and exploded" and became unusable. Another stranger, who didn't charge him, made the necessary fix, and they ended up enjoying some barbecue to end a long day.
Later on, they made friends with a fellow biker, Alex, from the Ukraine, and welcomed him to the group. English had some tire troubles as well, but they managed to keep moving forward.
Tuesday was the most draining day yet, and all three former college athletes agreed it was the most exhausting, extended workout of their lives. They started in Hillsboro, New Mexico, traversed Emory Pass, and ended up in Silver City, New Mexico. At one point, they thought it was downhill the rest of the way, so Sleeper made a peanut butter and jelly sandwich, but they soon realized there was much more to ascend. They got to 5,710 feet, and eventually, they walked their bikes for the first time all trip.
The journey has been a grind, but it's one they're delighted to complete because of how much it's shaped both the lives of others and their own outlooks.
"We're in the home stretch," Sleeper said, "so hopefully we can get through these next two or three weeks."
You can learn more about their trip, and their mission, at the Ride for Recovery website. 
Get Boston.com's browser alerts:
Enable breaking news notifications straight to your internet browser.