Local
UConn basketball: How Milton native Caroline Ducharme became one of the nation's top prospects
"I was willing to do anything to get back on the court."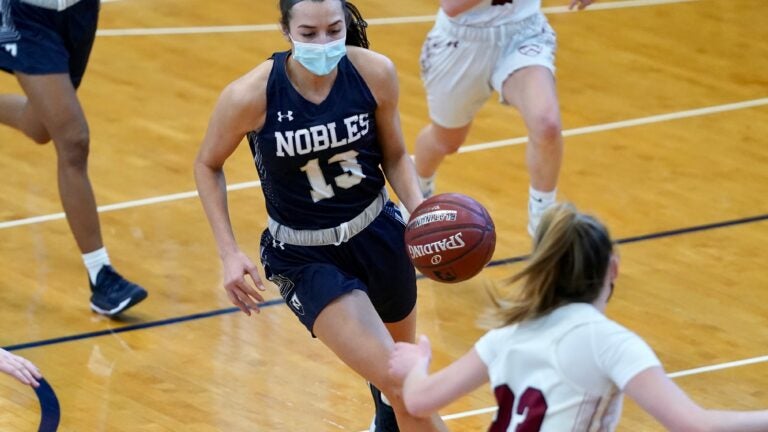 Caroline Ducharme remembers listening to "The Obstacle Is The Way" — a book based on the third-century Hellenistic philosophy of stoicism — as she rehabbed from a torn ACL. 
"The obstacle in the path becomes the path," the book's author Ryan Holiday wrote. "Never forget, within every obstacle is an opportunity to improve our condition."
After her eighth-grade year, Ducharme — a native of Milton — was already considered one of the best girls basketball players in the country. Her AAU team at the time, the MCW Stars, traveled to Virginia to take part in the Boo Williams Summer League tournament. Ducharme jumped to block an opponent's shot, and the opposing player's knee collided with hers. She landed strangely. Doctors were unable to pinpoint exactly what tore her ACL, but her ACL was unquestionably torn.
Ducharme rehabbed at Tom Brady's TB12 Center in Foxborough. Unable to run, jump or cut, she patiently rewired her jumper, which "was a pretty big hole my game." She wrapped bands around her knees and took set shots over and over in the paint. 
All the while, Ducharme — who was yet to take a high school class — internalized philosophy.
"A lot of times when you're fixing your shot, people don't have the patience to just only stay in the paint and just try to rewire everything," Ducharme said. "But for me, I physically couldn't leave the paint. So it was the perfect time for me to do it."
Ducharme's single-minded dedication to improvement wasn't a surprise. When she was in second grade, her older sister Ashley was taller and stronger. Caroline complained to her parents, and they explained that to beat players like Ashley, Caroline would need to improve her handling. The nine-year-old spent an entire summer learning how to dribble between her legs. 
Ducharme returned from her ACL injury an improved player. After an impressive freshman season, ESPN's scouting service described her as a "Fundamental off-guard [who] offers smooth stroke on jumper to the arc; brings back court size, manufactures, delivers off the dribble." 
"I was just starting to feel good again," Ducharme said.
Then in the summer, playing in the U.S. Junior Nationals tournament in Washington D.C., Ducharme jumped for a rebound and felt her shoulder pop out of its socket. A week later, it popped a second time. A trainer told her the shoulder was "a little loose" but that it was nothing serious.
So Ducharme kept playing. The next day in the USJN semifinal, she deflected a pass and her shoulder came out completely. Something was clearly wrong.
Ducharme didn't want to stop playing. The final game was against an EYBL (Elite Youth Basketball League) team — an opportunity for Ducharme and the MCW Stars to prove themselves against a top national team. But Ducharme's parents — Todd and Chrissy — had the unenviable job of telling Ducharme she couldn't suit up.
"We said, 'Sorry honey, you can't play,' and you would have thought we sold her dog,'" Todd said. 
Ducharme made a compelling case: If her shoulder was torn, it was already torn. Finally, her parents relented, and sure enough, the MCW Stars won.
Bad news was on the horizon, however. When she returned, Ducharme received an MRI and an X-ray, which confirmed a painful diagnosis: She had a torn labrum in her shoulder. The injury ended her entire sophomore season before it began.
"It was definitely like, 'Why is this happening again? I just got back,'" Ducharme said.
This time she couldn't shoot. Instead, she studied the game. She put together scouting reports on every Noble and Greenough opponent — scouring clips on YouTube, revisiting old games, and identifying the best opposing players. Ducharme enjoyed the practice so much, she continued it even after she returned to the court. As a result, she knows the tendencies of every potential opponent in New England in painstaking detail. 
"I think you find out who you are as a player when it's taken away from you, and I think you find out how much you really love the game and how much you're really willing to work for it and how much pain you're willing to go through," Ducharme said. "Rehab and the mental side of it, how much you're really willing to do to get back on the court. And for me, I was willing to do anything to get back on the court."
Fast forward to now. Ducharme is the No. 5 prospect in the country according to ESPN — a 6-foot-2-inch sharpshooter with a tight handle who can score at all three levels. She is headed to the storied University of Connecticut women's basketball program. On Tuesday, she won the AMFAM Girls 3-point Championship and then proceeded to beat her male counterpart — Villanova-bound small forward Jordan Logino.
Ducharme, obviously, can shoot now. Her obstacles became an opportunity to improve her condition. 
"The only guarantee, ever, is that things will go wrong," Ryan Holiday wrote in "The Obstacle Is the Way." "The only thing we can use to mitigate this is anticipation. Because the only variable we control completely is ourselves."
Nobles and Greenough girls basketball coach Alex Gallagher was unsurprised by Ducharme's stardom. Her skills were honed by drills and games in her backyard against her older sister Ashley — who is now a junior forward at Brown — and her younger brother Reid, who holds scholarship offers from schools like UMass and DePaul with plenty of interest from others. Her father, Todd, played collegiate football at Williams College and ran track. Her mother, Chrissy, also attended Nobles and Greenough, where she was the first girls' basketball player to score 1,000 points in 1987. Chrissy went on to score 1,000 points at Williams as well.
Caroline Ducharme's basketball stardom did not come out of nowhere. 
"The Ducharme family is very special," Gallagher said. 
Still, Caroline needed to learn to love the game on her own. Her passion began early, tagging along with her older sister Ashley to AAU events.
"I wanted to be just like her," Caroline said. "I wanted to do everything she did."
Like many elite basketball prospects, Ducharme learned to be a guard first, then hit her growth spurt. The results of her guard training are obvious in her game. While she's taller than most of her opponents, Ducharme makes footwork look effortless. She creates space and squares up from far behind the 3-point line, both off the dribble and off the catch. Around the rim, she is unbothered by contests and can finish with either hand. As ESPN's scouting report put it in 2020, she has a "scorer's mentality."
Ducharme says her favorite player is Diana Taurasi (Ducharme said she doesn't talk as much trash, "but I do admire [Taurasi's] confidence"). In October, she traveled to Las Vegas and worked out with Kelsey Plum — the No. 1 overall pick in the 2017 WNBA Draft, who was rehabbing at Impact Basketball for a torn Achilles. Recently, Plum — who was asked to speak to the McDonalds All-American class — shouted out Ducharme, calling her a fierce competitor who was being slept on. 
Ducharme and her parents, Todd and Chrissy, claim she wasn't laser-focused on going to UConn. 
Still, Caroline says she's been a "huge UConn fan" since she was a child. Todd and Chrissy have a blurry photo of legendary UConn women's coach Geno Auriemma somewhere, taken long ago in a moment of "fan-girling and fan-boying" before they knew their middle child would one day be coached by the 11-time NCAA champion.
On the recruiting trail, Ducharme knew all the challenges associated with playing for the Huskies. Auriemma is blunt with his players and pushes them hard. There is always an incoming class of players looking to steal your spot.
"You don't just say, 'Hey, this is a great fit for me, I'd like to go play them,'" Todd said.
Todd and Chrissy stayed out of Caroline's decision, but they weren't exactly upset when Ducharme chose the Huskies in April.
"It just felt right from Day One," Todd said. 
Chrissy agreed.
"Many girls dream about going to UConn," she said. "But when you really get down to brass tacks, and you really look at it, we know many girls that said, 'That's not for me' whether or not they were going to be going there. There's a different way. But I think that's actually what drew Caroline in even more. …
"She wants to be pushed."
The WNBA is part of Ducharme's long-term goal. 
"Right now, I'm focused on being as successful as I can be at UConn," she said. "And then part of the reason I went there is because being able to play for Coach Auriemma, he'd be able to get the most out of me and prepare me the most for the next level after that. So I think being as successful as I can in the WNBA, I want to play for as long as I can, play on national teams, and try to soak up as much as I can."
Chrissy's brother recently brought up buying UConn season tickets — something Chrissy said she hadn't even considered yet. 
"It just feels so surreal," she said, chuckling. 
But Ducharme's freshman season is looming, and attention is starting to build. Caroline and Chrissy were sitting in their car at the grocery store recently when a teenage boy pulled up next to them and noticed Caroline. She rolled down her window.
"Are you Caroline Ducharme?" the boy asked.
She was. 
"Congrats on UConn," he enthused. "I'm a big fan. Good luck."
"That kind of stuff is not what you expect," Todd said.
Caroline has watched every UConn game multiple times this season, including Monday's controversial finish against Baylor ("If they didn't call it it's not foul," Caroline said, according to her father). She is working on her body, trying to get stronger for the next level. 
"She willed this by working her butt off, by never being complacent," Chrissy said. "Maybe it's typical. The top players, they are the ones who actually come early, stay late. It's not a coincidence."
UConn won't be easy. Everything won't go perfectly. Caroline Ducharme has been preparing for that.
"All great victories … involved resolving vexing problems with a potent cocktail of creativity, focus, and daring," Ryan Holiday wrote in "The Obstacle is the Way." "When you have a goal, obstacles are actually teaching you how to get where you want to go — carving you a path."
Get Boston.com's browser alerts:
Enable breaking news notifications straight to your internet browser.