Local News
Terrence Clarke, Boston native and former Kentucky basketball player, dead at 19 after car accident
Clarke played one year at Kentucky before declaring for the NBA Draft.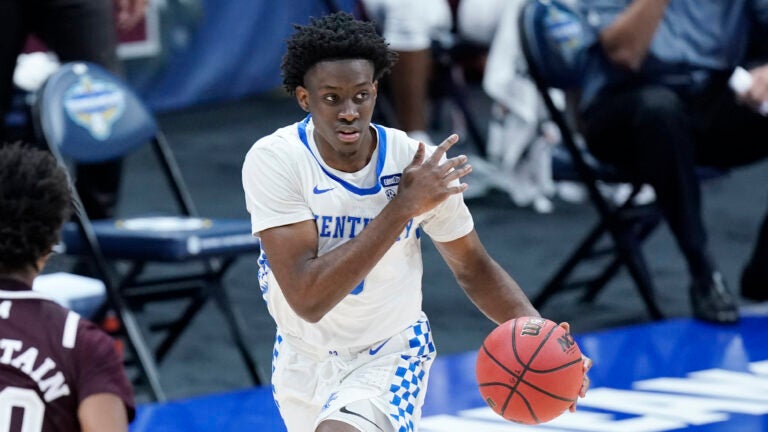 Boston native and former Kentucky basketball player Terrence Clarke died in a car accident in Los Angeles Thursday afternoon. He was 19.
The accident occurred at 2:10 p.m. as Clarke was driving south on Winnetka Avenue and collided with another car making a left turn, an LAPD spokesperson told Boston.com. He was transported to Northridge Hospital and later pronounced dead.
Per ESPN's Adrian Wojnarowski, Clarke's mother was at his side when he passed.
Clarke, who grew up playing basketball in Roxbury, was a five-star prospect who spent his prep years at Brewster Academy. He went on to play one year at Kentucky before declaring for the NBA Draft.
Kentucky coach John Calipari tweeted a statement, saying he is "absolutely gutted and sick tonight."
"A young person who we all love has just lost his life too soon, one with all of his dreams and hopes ahead of him," Calipari wrote. "Terrence Clarke was a beautiful kid, someone who owned the room with his personality, smile and joy. People gravitated to him, and to hear we have lost him is just hard for all of us to comprehend right now. We are all in shock."
Calipari added that he was on his way to Los Angeles to be with Clarke's family.
Clarke would have entered the NBA Draft in three months. He was close with multiple members of the Celtics, including Jaylen Brown and Kemba Walker.
Walker was asked about Clarke after Thursday's game.
"Very, very, very tough," Walker said. "Very tough news, man. He's a very, very good kid. Just always smiling, always energetic. And he was about to get his opportunity, too. My condolences to his family. It's a tough time, man. That's really tough news to hear."
Clarke signed with Klutch Sports earlier this week, along with Kentucky teammate Brandon Boston Jr.
"We are saddened and devastated by the tragic loss of Terrence Clarke," Klutch Sports CEO Rich Paul told ESPN. "He was an incredible, hard-working young man. He was excited for what was ahead of him and ready to fulfill his dreams. Our prayers go out to Terrence and his family, who ask for privacy during this difficult time."
In 2019, Clarke told Boston.com he wanted to be an inspiration to his community.
"There's kids out here that play basketball [but are] never known because they never had the opportunity," he said. "I want to do a lot for the community, [be] the guy the younger kids to look up to and say, 'I want to be like him, or better.'"
Get Boston.com's browser alerts:
Enable breaking news notifications straight to your internet browser.